My first period
Hair is starting to appear under your armpits, your breasts are starting to grow... and you're expecting your first period ? We understand you :). The first periods indeed mark the beginning of fertility; your body is ready if you wish to conceive a child. It's still crazy to say that!
We have put together this little article for you to answer frequently asked questions on the subject:
When will they arrive? How do you prepare for your period? Which protection to choose? How to welcome them as serenely as possible?
At what age do you have your first period?
In France, the average is 13 years old, but above all don't panic if you don't have them at that age yet, there is no rule (it's the case to say it) in the matter. They will arrive sooner or later and even if we would prefer to have them at the same time as our friends, it is your body that will choose its moment :). Some girls have them at 9, others at 18, c'est la vie!
Can you trigger your first period?
Many young girls ask themselves the question of how to bring forward the onset of their first period and you will undoubtedly find a lot of things on the internet on this, but know that it is your body that decides and that it is always your body that decides. will decide. The only thing to do is to continue to lead your life as simply as possible, avoiding stress, eating healthy foods, in short, having a healthy lifestyle and thriving.
What happens to your body when you have your period?
The life of a woman is punctuated by its cycles and with each cycle, the uterus prepares to welcome an embryo, which could become a fetus, then a baby. When there is no fertilization, the uterus gets rid of the superficial layer of its mucous membrane (the endometrium - which had been created to accommodate a fertilized egg), causing blood to flow : your period therefore. And this phenomenon happens every month. If you're interested in understanding in more detail how cycles work in women, it's here .
What are the symptoms of the onset of the first period?
It can be stressful to think that our first period could arrive at any time, without warning, but there are still often some warning signs, even if some women have none. Again, all women are different and there is no one size fits all. Here are the few symptoms you can expect when your first period arrives:
- white discharge : you will often have white or whitish discharge before the arrival of your first period. Nothing serious, on the contrary. They clean the vagina and prevent it from drying out. If they are more and more important, it is probably that you are getting closer to the date of your first period.
- Mood swings : under the effect of hormones, one can indeed feel on edge, sensitive or irritable. Don't panic, it's completely normal, your body is in complete upheaval, especially at the hormonal level, and that's what affects your emotions.
- stomach aches / headaches: as a bonus, some girls experience stomach pains and headaches. Again, this is normal, but not systematic. And above all, there are solutions!
How to prepare for the arrival of the first period?
You feel it's coming soon, but you fear finding yourself helpless on D-Day, there are some precautions to take to avoid embarrassing situations, even if you have to know that there is no ashamed of menstruating, quite the contrary. A few basic rules:
Wear a panty liner : this very simple protection will allow you to feel more serene on a daily basis, because if your period arrives, it will allow you to absorb the first flows. If you prefer a slightly more robust solution, you can opt for menstrual panties, which will also allow you to prepare for all eventualities.

Provide a small pocket where you can keep the protection you have chosen and which you can put in your bag (classes, sports) to always be ready: read the rest of this article to find out which type of protection to choose.

Add extra panties in case you leak.
Which protection to choose?
To choose your protection, you must first know that there are 2 main types of protection: internal and external.
External protections ; these will undoubtedly be the simplest for you at the beginning, and which consist in absorbing the flow which flows outside your body . You have the choice between:

pads : disposable (classic sanitary pads) or reusable (it will therefore be necessary to wash them): try, in this case, to favor those made of GOTS-certified organic cotton, they are guaranteed without chemical substances. Here is our selection

period panties ; we offer you some specially adapted to your first period on our e-shop.
Can't decide between period pads and period panties? We help you decide in this article .
Internal protections : these are all the protections that store the blood inside your vagina and which must therefore be introduced into your vagina: this is obviously a little more technical than the external protections.
Among these protections, you have:
tampons, single-use and that you throw away with each use. You can choose them with or without an applicator ; it's often easier to get familiar with tampons by choosing them with an applicator. Try to favor tampons that are GOTS certified, organic, chlorine-free. See stamps.

the cups, which you can reuse after having sterilized and cleaned them. It's very practical and very ecological, but you need the hand and have access to a tap to rinse it. See cups .
To help you choose between tampons or the cup, do not hesitate to browse our article dedicated to the subject.
Whatever internal protection you choose, don't forget to change / clean them every 4 to 6 hours to avoid Toxic Shock Syndrome (TSS) : it is a rare infectious disease that can be very serious, caused by a bacterial toxin that enters the bloodstream. More info in this article.
And finally…if I have my period this summer and/or want to play sports?
We've got it covered: start by taking a look at our "Little Survival Guide: Periods in Summer" , especially if you're not comfortable using tampons.
For sport, we have selected menstrual shorties and leggings for you: ideal if you want to be sure of not having any leaks while continuing to have fun in sport, to be used alone or in addition to internal protection.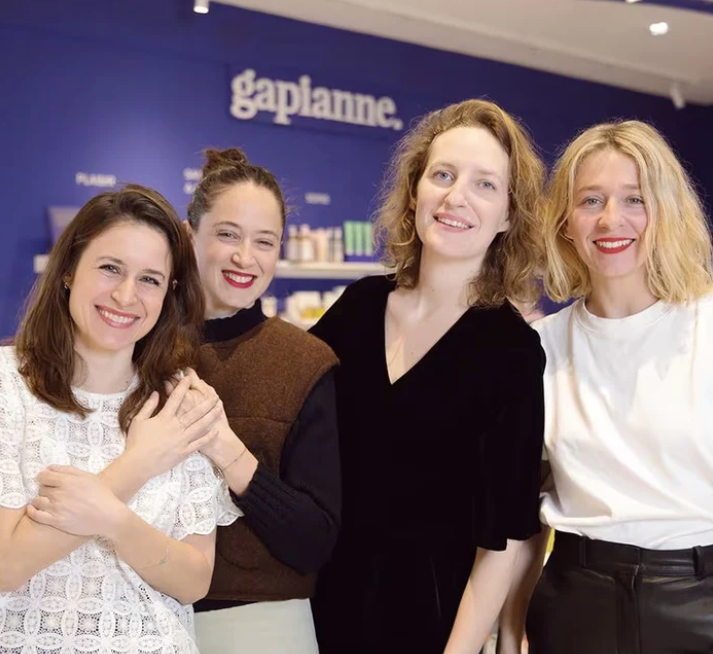 Nice to meet you
Welcome to Gapianne
We are 4 friends: Jen, Victoire, Anne and Marine. Like the 34 million French women, we have encountered various issues related to our intimacy. That's why we created Gapianne, a shop that offers the best organic, Made in France and non-toxic solutions for health, as well as detailed resources to support you. We met ?
Discover Gapianne