Dysmenorrhea: how to relieve painful periods naturally?
AND YES, ONCE A MONTH, THEY ARE LANDING TIRELESSLY... WE ARE TALKING ABOUT PERIODS WHICH, FOR SOME PEOPLE, CAN BE INCREDIBLY DIFFICULT . THE PAIN CAN RANGE FROM LOWER BELLY CRAMPS TO MIGRAINES AND CAN AFFECT DAILY LIFE. WE ALL KNOW YOUR GRANDMOTHER'S REMEDY OF THE BOUILLOTTE ON YOUR STOMACH OR BACK BUT WHAT ABOUT NATURAL REMEDIES AGAINST THE MENSION, MORE EFFECTIVE ? DIRECTLY CONCERNED WITH MENSTRUAL PAIN, OUR TEAM HAS GATHERED THE BEST NATURAL REMEDIES TO HELP YOU REDUCE THE DISCOMFORT ASSOCIATED WITH PMS (PREMENSTRUAL SYNDROME). HERE IS AN OVERVIEW OF THE MOST EFFICIENT SOLUTIONS TO HELP YOU DEAL WITH ANY SITUATION 💪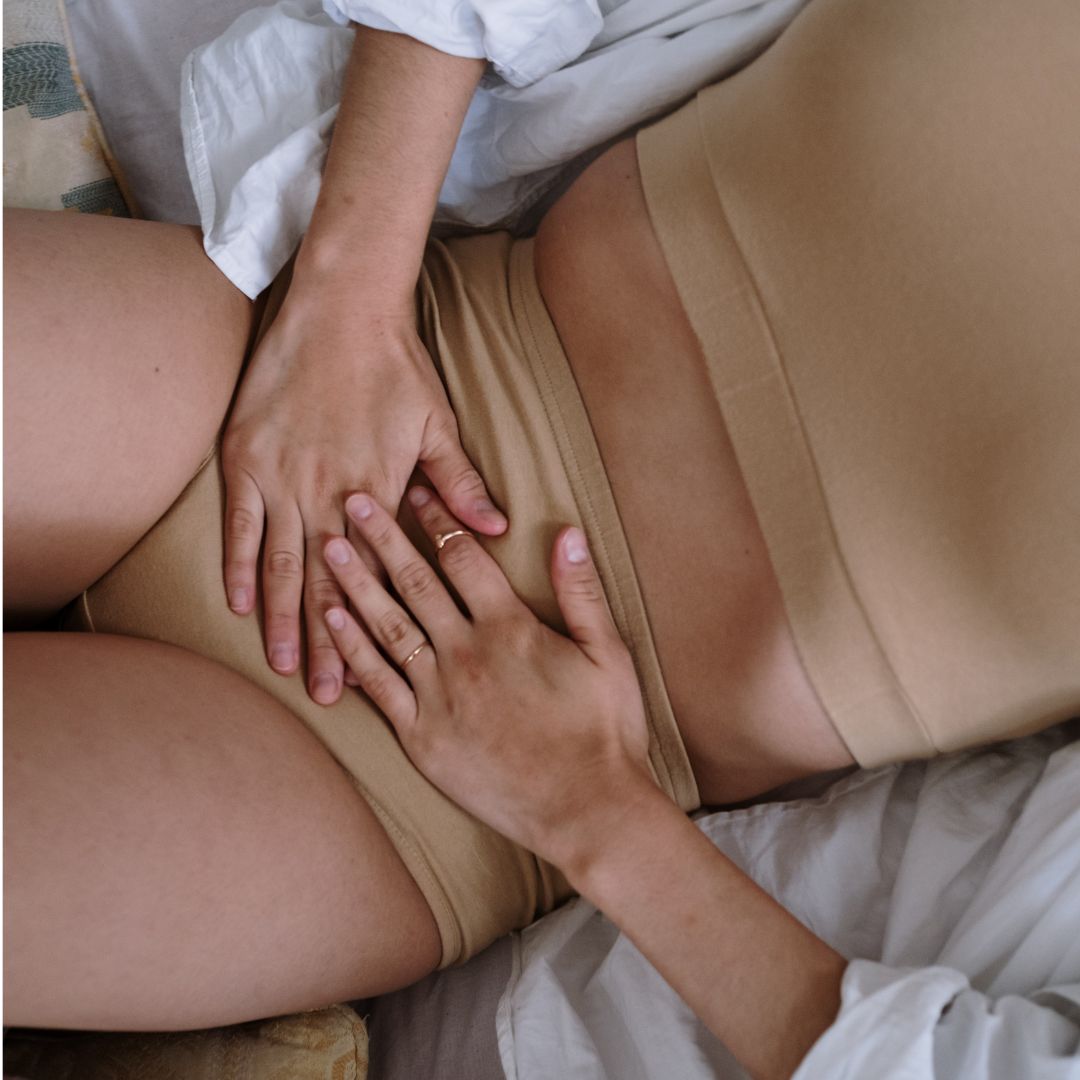 WHAT IS DYSMENORRHEA?
Dysmenorrhea is a medical term for pain experienced during menstruation . It can be primary, when it has no apparent cause, or secondary, when it is due to a pathology such as endometriosis or a gynecological disease.
WHAT ARE THE SYMPTOMS ?
Symptoms of dysmenorrhea include pelvic pain, lower back pain, uterine contractions, vomiting, bleeding, and menstrual pain. They can start a few hours or days before menstruation and last up to a week.
WHAT IS THE DIFFERENCE BETWEEN DYSMENORRHEA AND ENDOMETRIOSIS?
Dysmenorrhea and endometriosis are two different conditions although often confused. Dysmenorrhea, also known as menstrual cramps , is pelvic pain that occurs during menstruation. It can be mild to intense and may be associated with headaches, nausea or vomiting. However, endometriosis is a chronic condition where the tissue that lines the uterus grows outside of it, often in the pelvic area.
Symptoms can include chronic pelvic pain, severe menstrual cramps, heavy bleeding, and difficulty getting pregnant.
MENSTRUAL PAIN: WHEN TO CONSULT A DOCTOR?
If you experience significant pain during your period, you can consult a gynecologist to confirm whether it is dysmenorrhea . She or he will be able to carry out an examination as well as additional tests to determine if the period pains are due to another pathology such as endometriosis.
HOW TO RELIEVE PAINFUL PERIODS WITHOUT MEDICATION: PERIOD HERBAL TEA
NATURAL REMEDY FOR PERIOD PAIN
We start this list of the best painkillers with specialized herbal teas . Honestly this is one of the most simple and natural tricks. A little herbal tea before going to bed can make a big difference to your well-being! This is the goal of the French company Mijane , the number 1 infusions to soothe your body during your period. Mijane offers 100% natural and made in France alternatives . Their infusions are designed with plants from Organic Farming that will relax the muscles and relieve premenstrual pain during menstruation. This gentle solution is also recommended during the first period.
These menstrual panties are super comfortable to wear, soft and seamless, invisible and very absorbent. Suitable for heavy flows (4 pads), up to 12 hours of absorption.
Sale price

$15.00
Regular price
(/)
FOCUS ON CBD INFUSIONS: REALLY EFFECTIVE DURING PERIOD?
Yes it is proven! CBD herbal teas offer a natural solution to symptoms associated with menstruation. Cannabidiol (CBD) is a non-psychotropic relaxing substance that allows you to relax, relieve contractions, and soothe without the euphoric effects of cannabis. CBD has been found to have a variety of healing effects on the body, including helping to reduce inflammation in the lower abdomen and easing headaches, nausea, fatigue, and anxiety. That's good, on the Gapianne shop you can find the Elixir de Vénus CBD herbal tea, tested & approved by the team!
A 100% natural herbal tea to relieve painful periods, PMS and other discomforts during your period: cramps, pain, fatigue, headaches. Mijane infusions are known to soothe pain in just a few sips.
Sale price

$17.00
Regular price
(/)
NATURAL CARE: TREATMENTS TO FOLLOW DURING MENSTRUAL
To accompany the infusions, we advise you to regularly massage your stomach, lower back, breasts and legs with products such as serum, oil or balm . You can also take the opportunity to have a cocooning session by massaging the painful areas, or by having your partner massage you (as long as you can!).
ANTI-MENSTRUAL PAIN BALM WITH ESSENTIAL OILS
There are balms composed of essential oils that soothe menstrual pain, such as the organic balm from the Jho brand. The 9 essential oils of this balm made with an aromatherapist will act in depth to relax your muscles. The balm can be used directly on the abdomen or applied to a warm compress to relieve menstrual pain.
This balm composed of essential oils calms menstrual pain.
Sale price

$22.00
Regular price
(/)
DECONGESTANT AND ANTI-INFLAMMATORY SERUM
We present to you a little nugget, the certified organic Miyé serum, and concentrated in decongestant, draining and soothing active ingredients . More than a simple moisturizing treatment for the body, this serum can be used in localized massage to relieve and act on swelling in targeted areas during menstrual cycles (breast and stomach tension, swollen legs, etc.).
Menstrual panties perfect for the 1st period, cut designed for teenagers, they are very comfortable to wear, effective, leak-free and odorless. She avoids classic panty marks. Suitable for medium flows (i.e. 2 tampons).
Sale price

$46.00
Regular price
(/)
CBD OIL: 2 DROPS UNDER THE TONGUE AND A NEARLY IMMEDIATE BENEFIT ON PMS
Recommended for relaxing muscles and limiting spasms thanks to its anti-inflammatory properties, cbd oil from the Equilibre brand is extracted from natural hemp via the best possible extraction to guarantee a very high quality cbd oil . The L'accord parfait range calms pre-menstrual pain, boosts the immune system and helps relieve daily stress.
15% CBD oil relieves pre-menstrual pain, boosts the immune system, helps release stress and promotes sleep... Discover all the benefits of full spectrum CBD with Equilibre.
Sale price

$97.00
Regular price
(/)
ANTISPASMODIC FOOD SUPPLEMENTS FOR PAINFUL PERIODS
If your period really hurts you to the point of curling up, we recommend taking supplements to help reduce muscle spasms in the uterus that can cause menstrual cramps . 28 brand pain relief supplements contain ingredients that restore hormonal balance , soothe pain and regulate heavy periods. You can opt for a cure lasts for a month but we recommend that you take the capsules for 3 months in order to feel all the benefits and to feel really good for several months in a row during your period. Taking antispasmodic dietary supplements is an accessible way to get relief from menstrual cramps without having to take over-the-counter medications.
This cure relieves emotional disorders such as irritability, low morale, stress and restless sleep in the premenstrual phase and during menstruation.
Sale price

$33.00
Regular price
(/)