My Lubie: intimate lubricants, organic massage oil and naughty accessories
ADD A LITTLE SALT (OR HEAT) IN SEXUALITY? AT GAPIANNE WE SAY YES, SEXUALITY SHOULD BE EXPLORED WHETHER ALONE OR WITH SEVERAL PEOPLE. BUT LEAVES TO MAKE NEW EXPERIENCES, AS WELL AS DOING IT WITH INTIMATE PRODUCTS WITHOUT CHEMICAL INGREDIENTS , HEALTHY FOR THE BODY (AND THE PLANET). THIS IS WHERE THE FRENCH BRAND MY LUBIE COME IN! CREATED IN 2020, THE INTIMATE PRODUCTS BRAND OFFERS NATURAL WATER-BASED LUBRICANTS, ULTRA THIN CONDOMS WITHOUT ENDOCRINE DISRUPTORS, BIODEGRADABLE INTIMATE WIPES, NON-GENDER SEX TOYS AND ALL MADE IN FRANCE 🇫🇷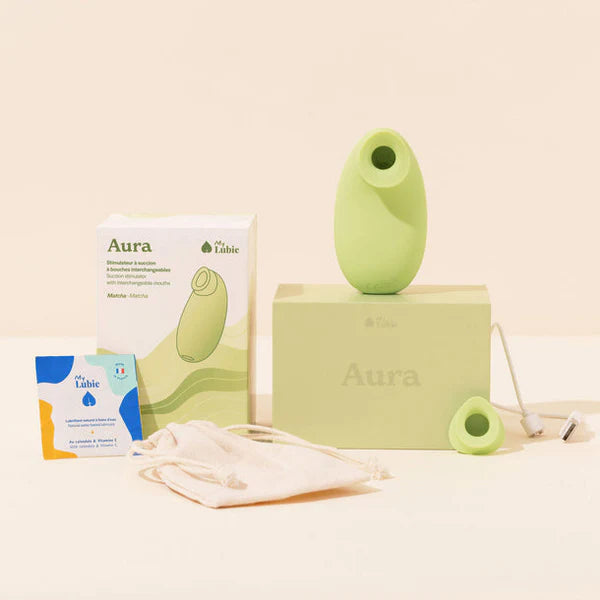 CREATION OF MY LUBIE: A RESPONSE TO TABOOS AROUND SEX
Through her range of intimate products, founder Anne Kerveillant wanted to break the stigma of sexuality . At the time, sex was still a taboo subject, access to information on safe and benevolent sexuality remained difficult. New initiatives are emerging: feminist Instagram accounts, TV series (such as Sexeducation) but in terms of brands of intimate accessories, the market is occupied by Durex, Manix, Dorcel. Not very inclusive, very phallo-centric , these brands are not unanimous among women and especially Anne who is also looking for healthy products with non-controversial ingredients .
THE 1ST MY LUBIE LUBRICANT BASED ON WATER AND INGREDIENTS OF NATURAL ORIGIN
The success story of My Lubie begins with the launch of the range's famous natural and fragrance-free intimate lubricant. Why the lubricant? To demystify its use, considered superfluous, useless and sometimes synonymous in people's minds with a lack of lubrication (and therefore with the pleasure of Madame). Through a crowdfunding campaign, the company seeks to break the taboo around the intimate gel by offering a lubricant with natural ingredients, of vegetable origin, made in France and at the right price. With a target of 1741% achieved, My Lubie is very successful, particularly with women between the ages of 25 and 40.
My Lubie natural water-based lubricant is one of the best intimate gels made in France. It is non-sticky, glides on for a long time and is lickable for more pleasure during your intercourse. Moisturizing and soothing, it will keep a feeling of freshness and lightness.
Sale price

$28.00
Regular price
(/)
MY LUBIE INTIMATE OIL WITH CBD: A LUBRICANT AND A MASSAGE OIL AT THE SAME TIME
After having won the bet of the water-based lubricant , the young company decided to produce an oil-based intimate gel to make it a treatment thanks to CBD which relieves discomfort, menstrual pain and intimate dryness. This intimate CBD oil helps soothe pain by relaxing the body, but above all its use leads to better blood circulation in the vulva and clitoris which makes these areas more sensitive and increases the pleasure tenfold . If you are looking for a lubricating intimate oil for your sexuality while benefiting from moisturizing and soothing ingredients (sunflower, apricot, sweet almond, plum oil - and all that organic and more) then CBD intimate oil from My Lubie is made for you. Attention, its use is not recommended with sex toys because the oil does not mix well with the latex, rather use the water-based lubricant for that.
This CBD intimate massage oil lubricates your private parts to warm up and accentuate your pleasure. My Lubie CBD intimate oil also nourishes and relieves pain related to penetration or menstruation.
Sale price

$42.00
Regular price
(/)
MY LUBIE MASSAGE AND BODY CARE OIL
In addition to lub' and intimate oil, My Lubie has developed a treatment oil that deeply nourishes the skin with a light, non-greasy and sticky texture. Use this massage oil on your partner for a thoughtful, relaxing or even erotic moment if you feel like it. You can also put it on daily to soften and illuminate your skin. Being 100% natural, organic and vegan, the massage and body care oil from the French brand My Lubie takes care of your skin and your well-being.
Explore your body and that of your partner, indulging in a moment of pleasure with this captivatingly scented massage oil that soothes the skin. My Lubie massage oil does not leave the skin greasy but penetrates easily to moisturize the skin of your body, making it more radiant, soft and plumped.
Sale price

$39.00
Regular price
(/)
AURA: THE INNOVATIVE PULSED AIR CLITORAL STIMULATOR
Stimulate your private parts with Aura, My Lubie's suction stimulator. This little toy will embrace your clitoris with one of its 2 tips to provide a tapping sensation on the clit hood . This so-called "pulsed air" technology (like the Womanizer or the Coco de Puissante) will make you vibrate with 5 pulsation and intensity modes. We advise you to use lubricant (water-based so as not to alter the quality of the sex toy), then to surround your clitoris with the Aura and let yourself be guided by this new sensation of waves of air during your sexual relations, alone or with others. The Aura does not directly touch your clitoris (unlike the Dune that we see below), using the pulsed air method, it does not irritate your intimacy and thus facilitates the multitude of possible orgasms .
Vibrate with pleasure with the new suction stimulator from the French brand My Lubie. Its plus? It's two soft silicone tips, pleasant to the touch which adapt according to the morphology of your clitoris.
Sale price

$99.00
Regular price
(/)
The Dune clitoral stimulator is a vibrating roller in ultra soft silicone, for a gentle exploration of your pleasure. Small, discreet, waterproof you will want to take it everywhere!
Sale price

$93.00
Regular price
(/)