How to use a clit stimulator?
The clitoris, the only organ entirely dedicated to pleasure … powerful! However, it was not until 1998 that we discovered its complete anatomy and it was not until 2017 that the clitoris made its first appearance in school textbooks, as Julia Pietri reminds us in her book The little guide to female masturbation. .
So many of us have discovered the entire anatomy of the clitoris and understood it only in recent years:
Anatomy of the clitoris , excerpt from the guide to intimate well-being by Mia.co x Gapianne.
How big is the clitoris?
The size of the flaccid clitoris varies on average between 8cm and 12cm , it has more than 10,000 nerve endings * and swells up to twice its size when erect .
All bodies are unique, and the figures we give you are only averages. Indeed, like penises, all sizes of clitoris exist , some with a larger glans than others. The clitoris (external and internal parts) also becomes erect during sexual arousal.
*according to new research by doctor Blair Peters presented in October 2022 at a scientific congress of the "Sexual Medicine Society of North America and the International Society for Sexual Medicine".
How do you know if you are clitoral or vaginal?
All people with vulvas experience pleasure thanks to the clitoris. The outer part of the clitoris: the glans of the clitoris is in fact only 5% of the entire organ.
You can stimulate the clitoris in 1000 different ways , you just have to be creative ;)
Attached to the pelvic floor, the clitoris moves during our movements and penetration, sexual pleasure in women and people with vulvas therefore passes through the stimulation of the clitoris, whether external or internal. Several areas in the vagina, vulva and anus are very innervated and provide a lot of pleasure.
They can be stimulated in many different ways, to discover ways to explore these erogenous zones alone or in pairs, we recommend reading the book Jouissance Club, a cartography of pleasure by Jüne Plã .
A real gold mine to put in all hands to explore his pleasure and that of his his partner. An inclusive book that details the different ways to give pleasure to a vulva, a penis, an anus. A must read that we love at Gapianne.
You will therefore have understood that talking about being clitoral or vaginal is extremely simplistic (thank you Freud…), because pleasure cannot be limited to one organ , but it is the whole body that is stimulated to bring pleasure. and it's not just limited to the vulva, vagina, clitoris, perineum or anus, but all of these organs!
How to stimulate the clitoris?
Each anatomy is different and there is no magic recipe, what works for one does not necessarily work for another.
The glans of the clitoris (the external and visible part) can be stimulated in many ways : with the fingers, the tongue, by the technique of "grinding or humping" (rubbing the vulva and the glans of the clitoris against a cushion or on the corner of a sofa, for example) or with a vibrator or an air-pulsating sex toy.
Want to discover more techniques to stimulate a vulva and a clitoris? We recommend CLIMAX the educational series which shows you 70 different masturbation techniques face to face.
The sensitivity of the clitoris varies from person to person , if you have a very sensitive clitoris , stimulating it directly can be uncomfortable or even cause pain. You can touch it over a sheet, an undergarment to come into contact with it gently.
What is the best clitoral stimulator?
In recent years, THE revolution in the world of sex toys has been forced air technology which blows air on the clitoris and induces powerful orgasms that vibrate the clitoris in depth.
The pioneers of this technology are the Womanizer brand (we grant you that, we're not a fan of the name either!) who invented this technique of sonic pulsations.
There are now many brands of sex toys that have re-appropriated this technology. You can find different colors and textures with more or less flared "mouths" to adapt to all body types. We'll tell you about it below!
How to use a clitoral stimulator?
A clitoral stimulator is a pleasure object that has been designed to stimulate the glans of the clitoris. They come in all shapes and sizes, with vibrations and/or suction .
It is placed on the clitoris and the vibration modes and speeds are varied according to the model you choose. We advise you to use intimate lubricant, in order to feel the sensations more;)
Which clitoral stimulator to choose?
Vibrating clitoral stimulators
We have selected the best vibrators on the market for you:
Dune, a small vibrating pebble with very soft curves and soft silicone. It can be placed on the vulva and clitoris to experience different forms of pleasure. It has several modes of vibration to make you discover a range of sensations. The little extra is that this little object is not gendered, it can also be used on the penis and the scrotum.
Toupie , which bears its name well, it allows you to explore various sensations thanks to its unique shape: you hold Toupie between your fingers to put the little ball on the glans of the clitoris. You can also massage the lips and the entire vulva at the same time… de-li-cious.
For people who like oral sex, we recommend you try The French Lover and its very soft vibrating tongue that gently caresses the clitoris and vulva. Not bad for the penis glans or the scrotum too ;)
Pulsed air vibrators
SILA is specially designed to stimulate your erogenous zones and take you to explosive orgasms. Its elegant and ergonomic design fits perfectly in your hand, allowing you to use it with ease. Featuring 8 vibration modes, you can customize your experience to your preference, going from gentle vibrations to powerful pulsations in the blink of an eye!
Discover the fabulous Aura , the pulsed air clitoral stimulator from My Lubie . This revolutionary sex toy takes up the challenge of adapting to all body types. It is equipped with two different sized tips that attach easily and guarantee a personalized experience.
There are also remote-controlled clitoral stimulators and dual stimulation, such as the Tiani , which works with a remote control that can be used alone or in pairs. The small vibrating rod can be placed in the vagina and the vibrating head on the clitoris.
Discover our entire selection of sex toys for the clitoris and vulva here .
How to use a vibrator for the clitoris as a couple?
Vibrators for the clitoris can very well be used by two people, during penetration or not. This allows you to discover new sensations between partners and enjoy the vibrations of your favorite vibrator! There are no rules as long as both partners are consenting. It can also be a good way to renew your practices and explore new things.
How to find the g-spot?
We prefer to speak of g-zone rather than g-spot : this zone is located on the anterior wall of the vagina , approximately 4cm from the entrance of the vagina. This area becomes rough when you are aroused, as Jüne Pla very rightly explains in her book A Cartography of Pleasure.
Zone G is not a magic point but the confluence of the pillars of the clitoris which is also very close to the para-uteral glands . When this area is stimulated, it can cause a "squirt": the bladder fills with a liquid from the para-uteral glands and can be expelled through the urethra.
If you feel this irrepressible urge to pee during a report, it means that you are close to this female ejaculation. It's not always easy to let go and let go in these moments, no pressure, sex is not a performance but an exploration of your body and that of the other. So, we go at our own pace, we listen to each other and we let ourselves be carried away by our desires. We can discover and rediscover ourselves throughout our lives!
How to use a vibrator for the g-spot and the clitoris?
There are different vibrators that can stimulate the G-zone and the clitoris at the same time. At Gapianne we chose Coco , a sex toy designed by Puissante , with a clitoris suction head and a vibrating rod that can be inserted into the vagina at the same time to stimulate the G zone.
The stimulation of these two points can lead to an intense orgasm.
Ready to take off? Find other advice on the different clitoral stimulators available on Gapianne.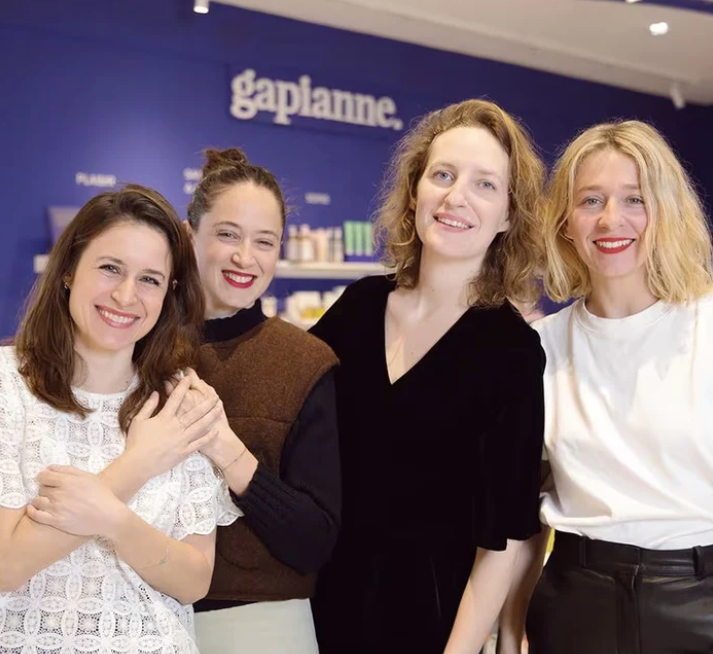 Nice to meet you
Welcome to Gapianne
We are 4 friends: Jen, Victoire, Anne and Marine. Like the 34 million French women, we have encountered various issues related to our intimacy. That's why we created Gapianne, a shop that offers the best organic, Made in France and non-toxic solutions for health, as well as detailed resources to support you. We met ?
Discover Gapianne