G-spot or clitoris: Which clitoral stimulator or vibrator to choose?
Do you want to treat yourself and buy an intimate accessory ? We understand you! But which vibrator to choose? When you know that there are a multitude of options such as the type of stimulation (clitoral, vaginal), power, size, vibration modes... Not so easy to navigate.

The first question to ask yourself before exploring your pleasure is this: when you masturbate or have sex, is your thing more clitoral stimulation, penetration or both? Depending on your answer, your thoughts will focus on different solutions. But don't panic, Gapianne will guide you with advice and some stimulators that should please you.
Find and stimulate the famous G-spot
Misinformation has long created confusion between vagina and vulva . As we have seen, the vulva is the external part of the genital organs including the labia and the clitoris. The vagina, on the other hand, corresponds to the internal part , it connects the vulva inside the cervix and to the reproductive organs.

Vaginal sex is called penetration. Even if the clitoris plays a central role in sexual pleasure , penetration is also a source of pleasure to explore (if you wish, of course!).

NB: By internal stimulation, we can also speak of anal penetration: the anus and the rectum are nervous tissues that capture pleasure, therefore potentially rich in sensations, if you are ready to explore, we have an anal plug to advise you .
What is the G-spot?
First, yes the g-spot exists ! Although there is no magic orgasm button, when we talk about vaginal penetration, we often talk about the "G-spot": a bundle of nerve endings located in the vagina, about 2 to 3 centimeters from the penis. entrance, on the anterior (ventral) side of the vaginal wall. The "G-spot" or the "Gräfenberg point" is a more sensitive area that can be a source of more intense pleasure.
How to find your G-spot or that of our partner?
Each person is unique and may have different preferences when it comes to sexual stimulation. Stimulating the G-spot does not necessarily lead to an orgasm . The best way to find your G-spot is to try different actions, in particular thanks to special sex toys. And to find a person's G-spot, communicating with them and asking them what they prefer is what we can advise you the most. You can also explore their body and ask your partner what makes them feel good.
Which vibrators stimulate the G-spot?
The "Sextoy Tennis Coach" is a vibrator from Smile Makers , which is designed to stimulate the G-spot . It is shaped like a tennis racket and features gentle curves for comfortable insertion. It is made from medical grade silicone which makes it body safe and hypoallergenic.

The Tennis Coach Sex Toy has 4 different vibration speeds, ranging from gentle to intense, and is waterproof, making it easy to clean and allowing you to use it in the shower or bath.

If you place an order for this vibrator, your Gapianne package will come with a user guide to help you maximize your pleasure.
NB 2: We advise you to use a water-based lubricant , to reduce friction, sensitivity and increase pleasure.
External stimulation: stimulating the clitoris and the vulva
The clitoris is an erectile organ of the reproductive system located at the top of the vulva. 9/10ths of the clitoris is internal and invisible. Large forgotten textbooks, we invite you to see what the clitoris looks like .

The clitoris is filled with thousands of nerve endings , making it a very sensitive area, a source of excitement and pleasure. Contrary to popular belief, most people with a vulva achieve orgasm through clitoral stimulation, not penetration alone .

We quickly continue the debrief: the lips are the thin inner folds of the vulva (which may or may not protrude), and they are often sensitive and erogenous.

That gives us a bunch of reasons to consider external vibrators , which can stimulate the clitoris, massage the lips and the vulva, particularly exciting areas that are good to take care of!

Some people enjoy the direct stimulation of their clitoris, while for others it may be more sensitive or uncomfortable to the touch. Varying the intensity of this stimulation will make your pleasure fluctuate and increase as you wish. Intimate accessories can be more or less intense.

Choose them well according to your preferences (or those of your partner) and the degree of vibration they offer.
Contactless clitoris stimulator: the pulsed air revolution
It's the STAR of the moment. The confinement has exploded the sales of clitoral stimulators of this type. It has the reputation (and we have verified) of giving one or more orgasms in a few minutes, even seconds!

Stimulate your clitoris with revolutionary sonic pulsation technology . "Contactless" stimulation is in vogue! (eh eh)

Sometimes called a clit vacuum cleaner, this sex toy stimulates your clitoris well thanks to a call for air, without ever touching it. Very useful not to desensitize the clitoris , which can sometimes be the case with too intense vibrators in direct contact with the glans of the clitoris.
The "SILA" is a sex toy for women from the Swedish brand LELO , which is designed to stimulate the clitoris in a gentle and subtle way. It features LELO's patented "SenSonic" technology, which uses sound waves to stimulate the surface and inner layers of the clitoris.

The SILA is shaped like a small disc and is made from medical grade silicone making it body safe and soft to the touch. It has 8 different vibration modes, ranging from gentle to intense.
Also discover the pioneers of the genre with the Womanizer range (from €69 to €129).
External vibrators
Do you prefer direct vibrations, variable speeds often allow you to adapt the level of vibrations to increase the pleasure? Are you just starting out? Start easy and work your way up the ladder!

Small ergonomic nuggets to make our favorite organ vibrate, these vibrators have several modes to adapt to your desires and vary the pleasures. The change of pace is key. Follow me, I'm running away from you, run away from me, I'm following you, it's by creating lack that one intensifies desire, so don't hesitate to play with pressure, rhythm and intensity.
The "Galet Dune" is a vibrator from the French brand My Lubie , which is designed to offer discreet and targeted stimulation of the clitoris. It has an oval and flat shape, reminiscent of a pebble, which makes it easy to hold and position during use.
The Galet Dune is made from medical grade silicone, which makes it body safe and soft to the touch. It has 7 different vibration modes, ranging from gentle to intense, as well as a memory function that allows you to recall your favorite vibration mode.
Double stimulation: G-spot AND clitoris at the same time
Well, why choose? The "rabbit" is a very popular vibrator popularized by the 90s series Sex and the city. Double kiss cool effect, it stimulates the so-called "G-spot" and the clitoris at the same time! You have a good chance of finding your account there.

Some recommendations for dual stimulation:
1) The "Coco" is a sex toy for women from the Puissante brand, which is designed to stimulate the clitoris with powerful vibrations. It has a U-shape, with two oval and flexible heads that easily adapt to the contours of the body .
The Coco is made from medical grade silicone, which makes it body safe and soft to the touch. It has 10 different vibration modes, ranging from gentle to intense.
2) The "Tiani" is a sex toy for couples from LELO, which is designed to be worn during intercourse for simultaneous stimulation of the clitoris and the G-spot.
It is also U-shaped, with a larger end for internal stimulation and a smaller end for external stimulation .
Our range of sex toys, vibrators and stimulators is expanding to adapt to your needs, with an affordable entry-level range and ever more stylish, ergonomic, effective and good-for-your-body products. Take a look :)
Want to know more? Also discover our page dedicated to clitoral stimulators.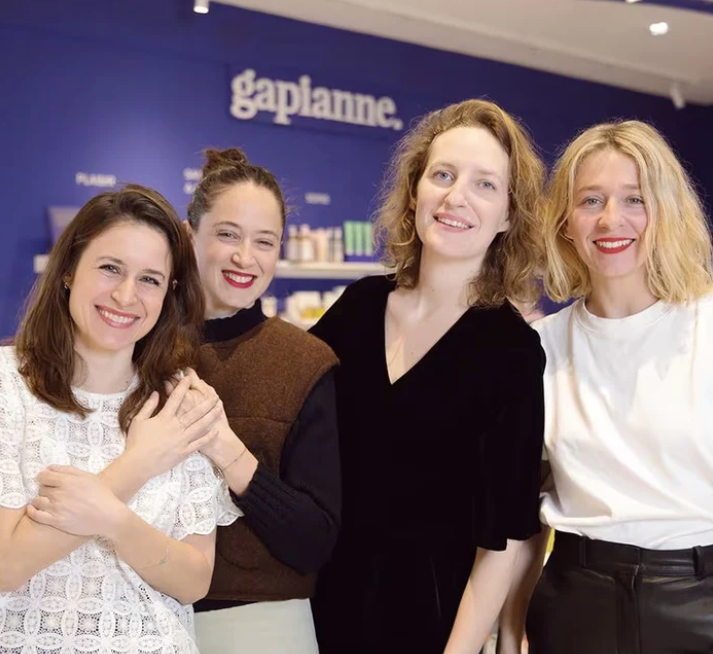 Nice to meet you
Welcome to Gapianne
We are 4 friends: Jen, Victoire, Anne and Marine. Like the 34 million French women, we have encountered various issues related to our intimacy. That's why we created Gapianne, a shop that offers the best organic, Made in France and non-toxic solutions for health, as well as detailed resources to support you. We met ?
Discover Gapianne