Natural lubricant: how to choose the right type of intimate gel?
FOR A LONG TIME WRITTENLY CONSIDERED AS USELESS, INTIMATE LUBRICANT GEL IS INCREASINGLY USED DURING SEXUAL INTERCES WITH SEVERAL OR EVEN FOR SOLO INTIMATE PLEASURE . TODAY, THERE ARE MANY LUBRICANTS, NATURAL OR NOT, ON THE MARKET. DEPENDING ON WHY YOU NEED (OR WANT) AN INTIMATE GEL, CHOOSING THE ONE CAN BE CHALLENGING. LET'S FIND TOGETHER WHICH LUBRICANT IS BEST TO CHOOSE ACCORDING TO YOUR NEEDS ? 🧴️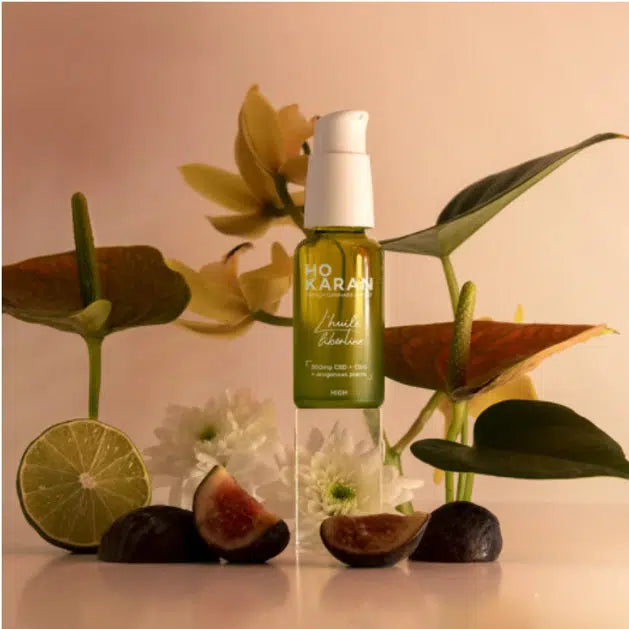 LUBRICATING GEL: WHAT ARE WE TALKING ABOUT?
The intimate lubricant is a gel that is applied before or during intercourse on a condom, on the fingers or on a sex toy type sexual accessory. Its use can help reduce excessive friction during sexual activity or during solo pleasure. Lubrication reduces the feeling of friction and therefore discomfort during foreplay, vaginal penetration or anal penetration. It is also possible to lubricate your private parts during masturbation or even during oral sex for better sensations 🔥
WHAT ARE THE DIFFERENT TYPES OF INTIMATE LUBRICANTS?
Each body is different, each need and desire too. There are different products to choose from, each with advantages and disadvantages. Whether you're trying a lubricant for the first time or considering switching brands, it's important to understand the differences between the variety of products out there.
WATER-BASED LUBRICANT: SOFT AND NATURAL
The water-based lubricant is increasingly popular because it can both be used with latex condoms without altering their protection , but it is also very easy to clean because it does not stain. It's a great choice for sensitive skin and is also safe to use on vibrators and clitoral stimulators . Water-based intimate gels will also be preferred if you experience intimate dryness problems .
If you plan to have sex or masturbate in the shower, be aware that water-based lube dissolves quickly in water . It also dries faster than other lubricants, so you will need to use it more often during longer sexual pleasures. At Gapianne, we particularly recommend the brand of intimate products My Lubie .
My Lubie's natural lubricants are moisturizing and odorless. Their formula has been worked to bring you all the benefits of a nourishing and soothing lubricant while keeping a refreshing sensation.
Sale price

$27.00
Regular price
(/)
This water-based intimate lubricant gel is natural, vegan and has a pleasant, light smell of green tea.
Sale price

$20.00
Regular price
(/)
SILICONE LUBRICANT GEL: RESISTANT AND DURABLE
This type of gel can be used for a long time and safely with latex condoms. This type of product holds up well in the shower . By applying it to the skin you deposit a thin layer on its surface which allows to maintain a slippery texture for a very long time. It lubricates about 5 times more than water-based products.
However, these lubricants can be difficult to wash off and may stain your clothes, underwear or even your sheets. It is also recommended to avoid their use on silicone sex toys, as this will gradually degrade the performance of the vibrators, especially if they have a taste or an odor that can soak into your accessories.
INTIMATE LUBRICATING OILS
Oils last longer than water-based lubricants, hold up well in the shower, and are better suited for external sexual activities like private massage or masturbation . Although you can use an oil-based lubricant for penetrative sex, it's recommended for external use instead to avoid potential irritation. We also do not advise you to use intimate oils with sex toys or latex condoms. This is because the oil can break down the condom, putting you at risk for STIs or pregnancy. On Gapianne, you can find our CBD intimate oils with 100% natural ingredients
100% natural intimate massage lubricating oil enriched with CBD for a moment of pleasure and relaxation. Has aphrodisiac effects to boost your pleasure. This Libertine oil from HO KARAN is edible, vegan and made in France for total respect of your body.
Sale price

$53.00
Regular price
(/)
This CBD intimate massage oil lubricates your private parts to warm up and accentuate your pleasure. My Lubie CBD intimate oil also nourishes and relieves pain related to penetration or menstruation.
Sale price

$41.00
Regular price
(/)
WHICH ANAL LUBRICANT TO CHOOSE?
Lasting longer and drying less quickly, we recommend silicone-based lubricants during anal sex . You will have less pain during and after the sexual act thanks to the thin layer of gel which helps sliding. Because it dries less quickly, the silicone lubricant also limits the risk of cuts and therefore of infection. It is also compatible with condoms.
CHOOSING A GOOD EDIBLE LUBRICANT
If you are looking for an intimate gel for oral sex , you should pay close attention to the composition of the ingredients. Not all lubricants are edible, due to small ingredients that are sometimes hidden. The My Lubie vegan lubricant is ingestible however, as the brand itself specifies, 'the taste is not incredible because we preferred to avoid unhealthy components for the private parts. [...] We formulated a healthy lubricant rather than a taste lubricant".

Do not hesitate to ask the brand you are interested in or the pharmacy directly if their products are indeed consumable.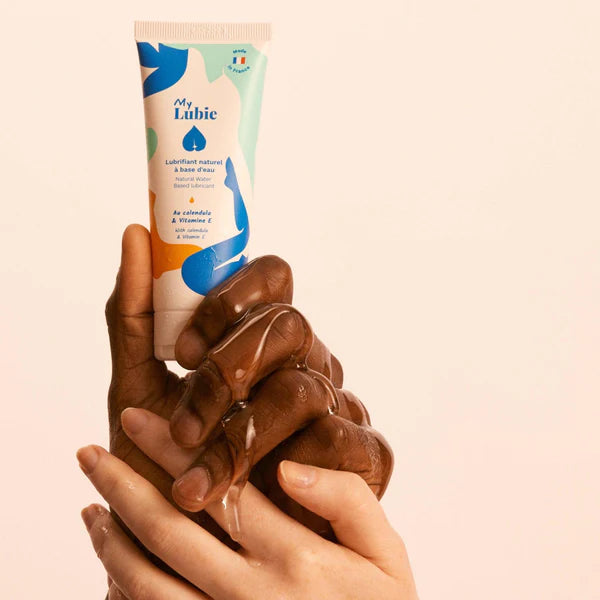 HOW TO CHOOSE THE BEST INTIMATE LUBRICANT?
We don't use lubricants for the same reason. Some people need to lubricate their private parts during vaginal or anal intercourse. Others to experience new sensations during oral sex (felation, cunnilingus) thanks to the texture, taste or heating aspect. You may also need to lubricate a sex toy, vibrator for a moment together or alone.

For vaginal intercourse , we recommend lubricants made of water or silicone . As for anal intercourse , it is best to take silicone ones to avoid tearing and potentially infection. If you are subject to vaginal dryness, favor water-based products.

For oral sex , use edible or flavored lubs.
All lubricants