Female masturbation: how to masturbate for more pleasure?
In this third chapter, it is the - vast - subject of masturbation that is addressed, always with women of all ages and from all walks of life. Through these testimonials, we will start by defining what masturbation is and the different practices it covers, the guilt that is still attached to it, but also some advice to take advantage of its incredible benefits on our lives and our emancipation.
"Touching is not just self-penetration"
Female masturbation: what are we talking about?
First of all, let's remember what masturbation is: masturbation defines a practice aimed at obtaining pleasure.
Female masturbation, far from being limited to penetration , therefore consists of doing yourself good, alone or with others, thanks to the genitals and erogenous zones of our body and in particular the clitoris, but not only.
As reminded Laurène Dorléac in the 2nd episode of Pluriel.le.s , the clitoris has more than 8000 nerve endings, which makes it a sensory bomb when stimulated, but the breasts, the groin, are also erogenous zones that allow us to give us pleasure.
Choosing the right sex toy for masturbating
Touching yourself, humping (which consists of using a cushion or an armrest, for example), the shower head, clitoris stimulators are all ways to increase pleasure, by stimulating the clitoral area in particular.
Clitoral stimulation can of course (and even often) be completed by vaginal penetration, using our fingers or with a sex toy. We cover all this in detail in this article (in collaboration with the lingerie brand Ysé), but here is the basics of how vibrators work:
We also don't forget the intimate lubricants for more glide ;)
"In fact, we can do things for us, there's no shame in that"
"I was lucky, my mother never told me that it wasn't normal, that I shouldn't do that"
Female masturbation and guilt
Yes, female enjoyment and a fortiori female masturbation remains a taboo subject and bears guilt or shame for many women.
- First of all, as we mentioned in our article "Why masturbate?" , let us remember that in the Middle Ages, masturbation in the broad sense was considered a deviant practice and that beyond this period, all religions (except Buddhism) condemned or made masturbation guilty, which does not allow reproduction . Things have changed since - thank God, it is the case to say it - but it is interesting to remember where we start to understand what is playing today in our little heads and why still too of women feel guilty masturbating their erogenous zones.
- Add to this that masturbation is generally better "accepted" in little boys than in little girls, which in adulthood can hinder us in discovering our body, our desire, our intimate happiness. The role of parents is therefore crucial in the future development of young children (another good reason to make these poor parents feel guilty!!). A little girl who is repressed when she masturbates will tend to integrate that the search for her pleasure is culpable… Difficult to talk about it with your children? Discover Julia Pietri's wonderful books " The little guide to sexual pussy " which explains in all benevolence the intimacy to girls who are between 4 and 16 years old.
- Is this normal, Doctor? Beyond masturbation as such, it is often the question of frequency that can make you feel guilty. Is it normal to masturbate several times a week? Day ? In this area, the only limit is that of compulsion. That means that as long as you're doing yourself good and masturbation doesn't distract you from what's important to you, YOU'RE OK !! We're not deviant because one Sunday in November under our duvet, we twirled our sex toy .
Let's recap : first of all, we're starting from afar in terms of masturbation: between medieval condemnation and religious guilt, the path to intimate pleasure was not necessarily all mapped out. For a long time, feminine pleasure, more than masculine pleasure, carries guilt. Because in this area too, we are not yet totally equal, even if things are progressing for our greatest…. pleasure ;).
"It allowed me to understand what I liked quite quickly"
The benefits of female masturbation
Masturbating is a fabulous practice for a thousand reasons, the first being that it allows us to develop:
1. A BETTER KNOWLEDGE OF OURSELVES:
First of all from an anatomical point of view - better knowing all the parts of our body and in particular the genitals - but also from a psychic point of view - what excites us, gives us pleasure, makes us GOOD.
A study conducted by Eve Appeal in 2016 revealed that a large number of women could not identify their vagina (44%) or their vulva (60%) on an anatomical drawing… However, "In matters of sexuality, as in many other things, knowledge is power". So let's start by defining a vulva: these are the external genitalia, namely the internal and external lips, the clitoris , its hood, the urethral meatus, the vaginal orifice and the anus.
Update: The last few years have seen the development of Vulva Mapping which, as its name suggests (mapping of the vulva) designates the fact of studying this anatomy, getting to know it and more recently representing it. Several techniques for this; we arm ourselves with a mirror and our fingers and we explore if we feel comfortable doing it, if not we take advantage of the educational videos (like The first video of the Climax series "the vulva and its infinite diversities" ), and many explanatory diagrams like the one contained in our "Guide to intimate well-being", developed with Mia.co. For the more adventurous, know that there are collective self-exploration workshops that allow you to know how your cycle and your body work, which organs are used for what and where they are placed, then to explore (in isolation) your own anatomy.
2. BETTER SEXUAL RELATIONS WITH OUR PARTNER:
We put less pressure on ourselves to enjoy with our partner: by giving ourselves pleasure, we place less expectation in our partner to feel pleasure and enjoyment. This greatly liberates relationships and allows the development of an often richer intimacy.

We develop our intimacy with our partner thanks to mutual caresses. This practice is a sexual practice in its own right (understand that it is not used as a preliminary) and proves to be a real asset for long distance relationships as well as a great way to show your partner what gives us pleasure. pleasure and in fine, to strengthen his couple, by touching one in front of the other to cause his excitement.
3. GLOBAL WELL-BEING:
Masturbation, through the pleasure it provides, is absolutely essential to a healthy and balanced life, because it notably allows us to regulate our emotions, to relax, to sleep better by taking time for ourselves.
"It should be prescribed"
Orgasm, caresses and sex toy: is stimulation a militant act?
In the same way as a session of sport, reading, massage…. Why not consider the discovery and deepening of our pleasure as an integral part of our personal development?
From this angle, exit guilt (primo). Two, we take care of our sexual and global well-being… We are doing ourselves a favor, and a fortiori those we love and who love us. And that's where we touch on a big subject: our responsibility to take charge of our pleasure, our sexual and intimate fulfillment...in the same way as men.
Activism update:
- By dedicating a book to female masturbation " The Little Guide to Female Masturbation " Julia Pietri offers us a little gem of education and guilt-free female pleasure but also, and above all, a true manifesto for the equality of men and women in terms of sexual pleasure.
- If you haven't heard of it yet: Kama , an app entirely dedicated to sexual pleasure and its practice, replaces Pleasure with a capital P, in all its forms, at the heart of our health and our most fundamental rights (and it feels GOOD to hear). You will find videos that are both extremely sharp and fun, guided meditations, challenges. Everything to build a real routine for developing our knowledge of ourselves and our pleasure. To discover, even if you have to lend yourself a little to the game.
A few tips for more fun
To reconnect with your body, your pleasure, your well-being
A good dose of guilt-free : now that we have understood where these parasitic ideas came from, we become aware that our body, like our desire and our pleasure, belong to us. Exit the guilt.

A good dose of curiosity , starting with his own anatomy. We do not hesitate to explore our own vulva, understand its mechanisms and discover all the techniques available to give ourselves pleasure.

Jumble (and not exhaustive) the few tools mentioned

The educational videos of Climax and Laurène Dorléac's interview on the subject

A nice mirror to understand her vulva

The little guide to Female Masturbation by Julia Piétri, also contained in the Gapianne (s)explorer box

The Womanizer and all the other clitoral stimulators that are simply orgasmic bombs

Our favorite article from Internet users: vibrators for beginners

The app Kama , the app to integrate the discovery of our sexual happiness into a global approach well-being (but in English only, my dears)

The dose you want militancy ? To reclaim our body and our sexual well-being is to participate more broadly in putting men and women back on an equal footing.

And if you feel the need, consult a sexologist for a particular and tailor-made follow-up on this subject.
So on your fingers, ready... (you understood the blagounette)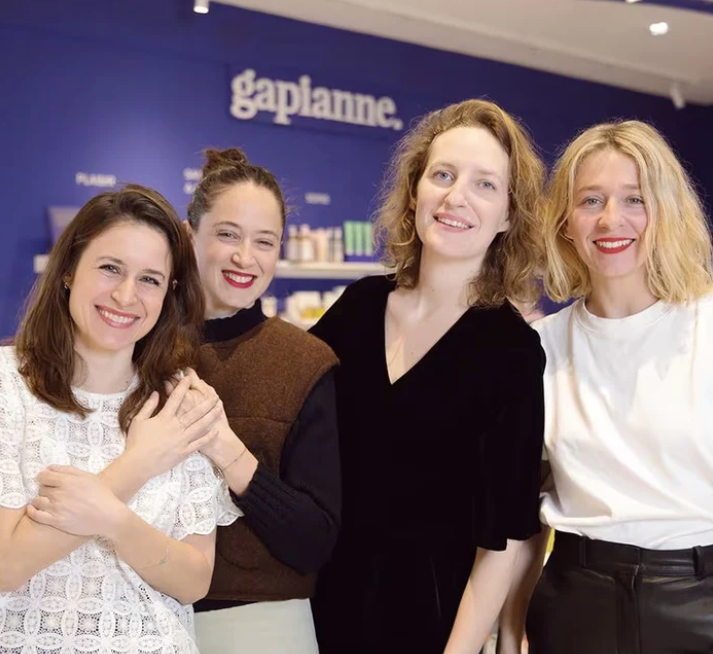 Nice to meet you
Welcome to Gapianne
We are 4 friends: Jen, Victoire, Anne and Marine. Like the 34 million French women, we have encountered various issues related to our intimacy. That's why we created Gapianne, a shop that offers the best organic, Made in France and non-toxic solutions for health, as well as detailed resources to support you. We met ?
Discover Gapianne