Audio porn: Top 6 French erotic podcasts
Team testimonial
Stimulating your senses, cultivating your fantasies , masturbating ( with or without a sex toy ) alone or with others, can also go through listening to audio porn . A good way to discover new pleasures for yourself or to try something new with your partner.
I grew up in a world where porn videos had even become an aesthetic in their own right in the 2000s. Accustomed from an early age to excessively consuming images to stimulate our sexual imagination and our desires, we forget to explore and use our other senses. Of course, looking at yourself and stimulating yourself can be terribly exciting, but in a world where we are constantly overstimulated by images, depriving yourself of sight to create mental pictures can also be exciting, see more!
The Prude podcast, discovering the world of audio porn
When I first heard about erotic podcasts, to be honest, I thought it wouldn't do much for me. That I didn't need this. And then during a dinner, I was told about Prude , these porn audios that bring together testimonials from people who have had experiences that are out of the norm, not to say exceptional. This piqued my curiosity, a great audio lover, I quickly got caught up in the game. I remember in particular an episode where a woman recounts having had a very strong relationship with a man as her submissive. Deeply feminist, her testimony made me think about the place of feminismin BDSM relationships , was it compatible? And above all, I found his story terribly exciting. I found myself having new desires and discovering this part of me that I did not yet know. This is how I started my research on the genre of sensual and pornographic podcasts .
The episodes no longer seem updated but find one here for free:
Voxxx, free and inclusive sounds
I naturally fell on the project of Olympe de Gê (author and feminist director): Voxxx , these plural stories are told by authors and performers with exquisite sound stagings, inspired by ASMR. This time it's the story of two men who find themselves in the toilets of a nightclub, told by a woman who marked me. This extremely sensual scene made me rethink the way I used to consume pornographic images. I never thought I would be turned on by a story with two men. Another discovery and it was delicious.
Here is an example here, for a solo, guided and free masturbation:
Colette confesses herself: sonic and erotic pleasure
Then I met Colette confesses and discovered its eponymous audio channel with sensual stagings from whimsical to the most realistic scenarios. A little too hetero-normative for my taste but stories always told with a lot of delicacies.
Check out an ad-free excerpt:
With Blindher, personalize your sexual desires
Since then I have also discovered newcomers like Blindher , the new erotic fiction platform. This super French company understands that each person has unique desires and will therefore offer a wide range of sensual scenarios. Whether you're interested in role-playing, BDSM relationships, passionate romance , or any other form of naughty fun, you're sure to find recordings that match your desires.
Blindher also emphasized a user-friendly interface that allows listeners to personalize their experience . You can choose the duration of the session, the voices and scenarios that interest you, and even add additional sound effects for an even deeper immersion.
I discovered an episode on Spotify from a collaboration with My lubie (a French brand we love), ready for entertainment?
Melba, educational pornography to explore as a couple
I will say that Melba is the most educational porn podcast, like a step by step to explore new things while having sex with others. For 15 to 30min, the Melba application guides the partners gesture after gesture by bringing new ideas, positions, stories within the couple.
Indeed, the erotic scenarios offered by Melba can serve as an inspiration for shared desires: listening to carnal stories together can open the way to discussions about desires, which strengthens communication and intimacy in the relationship. We take this opportunity to tell you that the audio can be even more exciting with a sex toy for couples or other naughty accessories ;)
Femtasy: ethical female orgasms
Femtasy was specifically designed to meet the needs and desires of women. The application emphasizes female pleasure and offers scenarios that take into account the desires and preferences of women and people with vulvas. This allows listeners to feel understood and to have an exciting experience that is truly meant for them.
What I love about Femtasy is that this app encourages women to explore their desires and their sexuality without judgement. The scenarios offered cover a wide range of themes, from romantic and passionate stories to daring adventures. For better personalization, when creating an account, you answer 4 questions to have a personalized selection of episodes. This allows listeners to expand their sexual horizons, explore new ideas, and find out what really turns them on!
Here, an excerpt talking about masturbation :
Why audio porn is more ethical than mainstream porn?
Well... for several reasons. Erotic readings emphasize consent, respect for privacy and diversity (and we love that!). By encouraging the imagination rather than providing explicit images , these contents allow for a more personalized experience that is less subject to pre-established standards.
As Olympe de G would say very well in her France culture interview : " We invite people to make their own mental film and that's great because it's the most inclusive thing possible, we can really fantasize exactly what we want. We reduce the physical description to the maximum and we push it to the extreme, because we practice non-gendered writing. Instead of always referring penises to getting hard and vulvas to getting wet, we're going to do a happy mix of all that "
Additionally, audio porn limits the risk of sexual exploitation and provides greater freedom of choice for performers and listeners. On the net, a good number of porn movies are available for free (aka pornhub and company). But how do you know if porn actors are paid correctly?
Blindher, Femtasy, Melba and others, these platforms offer a system of paid subscriptions , with free content to create excitement and make you want to discover more. Your subscription makes it possible to pay worthily the artists whose stories awaken all our senses!
In short, you will understand, porn episodes, there is something for everyone, whatever your gender, sexual orientation or kinks . So, audiophile friends or curious novices, why not try something new and let yourself go by closing your eyes and opening your ears?
If you know of other interesting podcasts on the subject, note them in the comments and we can add them to the list 👇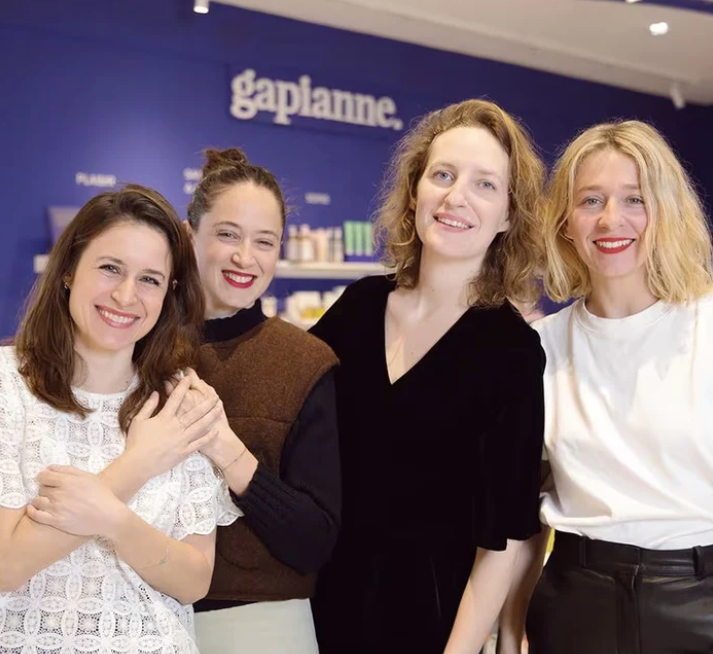 Nice to meet you
Welcome to Gapianne
We are 4 friends: Jen, Victoire, Anne and Marine. Like the 34 million French women, we have encountered various issues related to our intimacy. That's why we created Gapianne, a shop that offers the best organic, Made in France and non-toxic solutions for health, as well as detailed resources to support you. We met ?
Discover Gapianne