Why period panties will change your life
"Take control of your privacy so as not to suffer it anymore" what does that mean? At Gapianne, we wanted to give women the opportunity to find the solution that suits them best. This does not mean that we will have the answer to everything and that all the solutions will be perfect, but at least several options are available to us, and it is up to us to choose the most comfortable and the most suitable!
Which menstrual protection to choose?
We know that periods aren't always fun. Bloating, sensitive breasts, headaches, stomach aches, acne, diarrhea or constipation… What happiness. But, we can try to welcome our cycle with benevolence and try to adopt a vision more in tune with our body, thanking it for its power to renew its endometrium to welcome life during a next potential fertilization (or just expressing healthy cycles and having a healthy body). Preparing your body and your mind for the arrival of your period allows you to live your menstrual cycle with more serenity and to better welcome your period . By adapting your diet, anticipating your symptoms, doing yoga or mediation, for example.
Let's stop suffering, know our options, and find the most suitable. One of the key questions beyond managing pain and other symptoms would be: what protection am I going to wear? Historically, women protected themselves with cloths or sponges. We have identified several protections - apart from a few eccentric or not yet developed enough - and today we have different options:
- Stamps
- Towels
- The cup
- Menstrual panties
They all have pluses and minuses: irritating tampons, smelly pads that make us feel like we're wearing a diaper, the most total embarrassment if you want to change your cup at the office, caught in the act with the saturated Grail blood in the sink or stuffed into period panties that are too tight or not suitable for our flow. OK !
But it's still great to have the choice, and we hope that in a few years, many other solutions even more adapted to our body will emerge. For example, we are currently being told about clip-on panty bottoms to be changed regularly... We will soon be testing them for you. In the meantime, here's what people think about period panties and why they can change your life.
5 reasons period panties will change your life
First of all, Anne my partner, had already worked on the subject and broke down for you the differences between menstrual panties and sanitary napkins with a complete article which goes back over how to choose your menstrual panties , how to use them and how they work concretely. I invite you to read it if you are still looking to be convinced: find the article here. But I will add to that the reasons why we personally think that this invention is revolutionary.
1- PROTECTION THAT LOOKS LIKE NORMAL BRIEFS!
Period underwear resembles what we wear every day, although a special layer allows blood to be absorbed at the bottom of the panties. In fact, their main advantage is to avoid the discomfort that a pad can cause, period panties are much more comfortable while keeping us as dry as they are designed to absorb menstrual blood . We can therefore be confident and comfortable as in our own panties! You can keep them on for sports and staying active, which can be more difficult with a towel or tampon. Invisible, they also limit odors and the feeling of humidity for maximum comfort.
2- ANTI-LEAK BACKUP SOLUTION
There are specific menstrual panties for heavy flows . We also recommend that you consider it - if you are one of those with very large streams - as a security in addition to other protections. If your flow requires several tampons a day and you prefer not to wear your menstrual panties for an extended period, do not hesitate for example to use a tampon or a cup as usual, and wear additional menstrual panties to be ready for any leaks!
It is also for me the best solution I have found for sleep. You have to take panties that are absorbent enough for the first nights and it becomes an ideal anti-leak solution that saves you the 4 a.m. round trip to change your tampon, terrified by the risk of toxic shock syndrome and sleep comfortably all night long (phew!).
Finally, they are an excellent solution for your irregular flows, because they can be worn as a prevention before your period in case they happen unexpectedly, but also at the end of the cycle during the last irregular bleeding.
3- IT DOES NOT IRRITATE YOUR VAGINA
Those concerned know! No more irritating tampons! Removing and inserting them several times a day can very quickly create pain and dryness on our very sensitive mucous membranes. Hygienic underwear, without chemicals and external to your vagina, gives you a softer solution while remaining just as effective.
4- DURABLE PROTECTION
Hygienic underwear is washable and reusable, which means you can go through a full cycle without having to throw anything in the trash! We all start by being sensitive to the reduction of our waste and the protection of the environment (congratulations for those who have always been), the most sustainable options such as cups or menstrual panties allow us to no longer produce as much waste each month as with tampons or pads (9,000 periodic protections during the life of a woman on average)...
5- A LESS COSTLY OPTION
It's true that menstrual panties cost more than a box of tampons or pads. But if you keep it for 3 years by washing it delicately in cold water after rinsing it, the calculation is quickly made. This remains one of the cheapest solutions for its long-term rules, in competition with the CUP.
Gapianne has chosen the Smoon brand
At Gapianne, we have tested many and our favorites are those of the SMOON brand.
Invisible, thin
Pleasant to wear, because seamless, with a very light material that hugs the skin and our shapes
Dries quickly, no wet effect
Odorless
Economic
Durable and eco-designed (French and Italian materials)
High waist, low waist, medium, weak, abundant flow, menstrual shirt, kit to try on... We invite you to look at our different models to find what suits you best.
Gapianne The invisible & effective menstrual panty - medium flow - Smoon | Gapianne 35 € The Smoon menstrual panties made for medium flows offer you up to 12 hours of absorption (2 pads) while ensuring great comfort. Thin, seamless, it keeps you dry discreetly.
Gapianne The invisible & effective menstrual panties - abundant flow - Smoon | Gapianne 39€ Are you looking for period panties for heavy flow? Artémis is the super absorbent ++ menstrual panty from the Smoon range. With twice the absorption capacity of Séléné panties - the equivalent of 4 classic tampons or 2 super absorbent tampons - it offers up to 12 hours of protection, without smell or moisture, day or night . Its seamless technology guarantees incredible comfort and perfect invisibility under clothing.
Our choice does not stop there, because in addition to menstrual panties, the Smoon brand offers a whole range of incredible menstrual outfits: Sports leggings , Sports cyclists , Swimsuits , Shorties and Menstrual panties. for young girls .
And for women cyclists, we are listing an incredible menstrual bib short from the Wilma brand.
We are (very) open to your feedback and suggestions on the subject, do not hesitate to share your experiences and advice with us on the site's chat or on insta!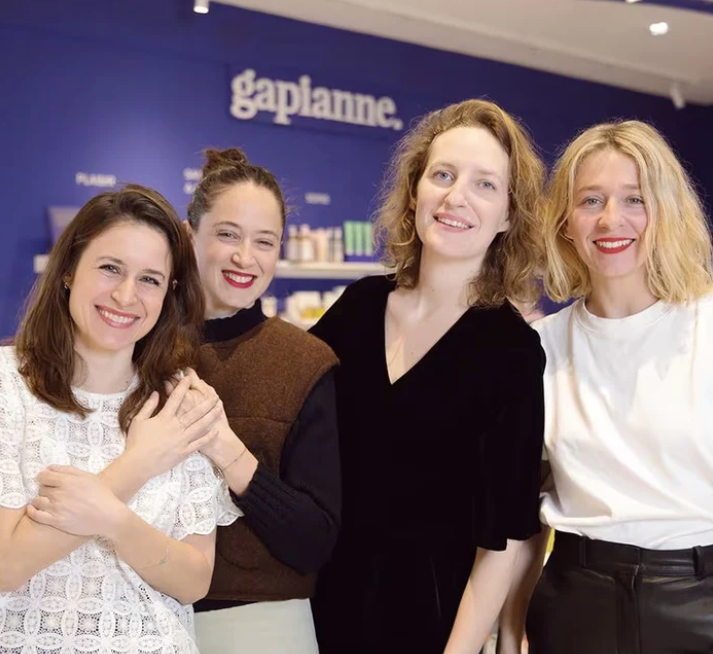 Nice to meet you
Welcome to Gapianne
We are 4 friends: Jen, Victoire, Anne and Marine. Like the 34 million French women, we have encountered various issues related to our intimacy. That's why we created Gapianne, a shop that offers the best organic, Made in France and non-toxic solutions for health, as well as detailed resources to support you. We met ?
Discover Gapianne