Womanizer sex toy: inevitable non-contact stimulator?
This is the question I was asked last weekend. I found myself on the dance floor of a wedding, at 2 am. When a friend comes to see me, knowing that we have just launched a boutique entirely dedicated to feminine intimate well-being , and asks me: "Can I ask you a question? Everything we hear about the famous Womanizer then… can you tell me more? Is it really as good as they say?
Happy to share my opinion on the matter, I begin an enthusiastic tirade on the subject when another woman who was dancing calls out to us: "It sounds exciting to me what you are talking about. Can I join you!?" And in the hubbub of the bass and the party, we very quickly find ourselves a dozen or so women in a circle, glass in hand, to chat passionately about this mystery toy. At this discussion, our doubts and our curiosity about this " clitoris aspirator " mingle.
Trend ? Too daring? Magic ? Why does this intimate accessory that Society titled: "best shot of the year" and which made 4 million women come , revolutionize female pleasure? Is it so unbelievable as they say? And which model to turn to?
Womanizer: 6 reasons why it is revolutionizing female sexuality
First sex toy designed for clitoral pleasure
When German engineer Michael Lenke develops forced-air technology for optimal clitoral stimulation from an aquarium pump in his office in Bavaria, he asks his 57-year-old wife to test it for him. "Vibrations too fast", "too strong", "I have no feeling"… We thank her warmly for having been so patient.
More than 2 years of research have been carried out to achieve its optimal functioning. New versions of the Womanizer come out regularly so that it is the most ergonomic as well as the most effective for everyone. Its inventor describes having come across an American study at the time showing that more than 50% of women had difficulty reaching orgasm . Problem in which few people had been interested.
With the Womanizer vibrator , a guarantee of orgasm in more than 90% of women is announced. This product has therefore been developed for the female anatomy and body, with the aim of stimulating the approximately +8000 nerve endings present in the clitoris.
Forced-air operation vibrates the deep roots of the clitoris
You can recognize a clitoral stimulator easily because it looks nothing like other sex toys. Its compressed / pulsed air system (called pleasure air technology) allows its rounded head to surround and enclose the external part of the clit .
The suction head does not directly touch the glans of the clitoris and creates an airtight / suction cup effect when it emits pulsations of air, while vibrating. This sucking effect is very pleasant and effective in activating even the deepest clitoral nerve endings, raising the excitement and bringing you to the finish line.
A tested and approved sex toy
Lilly Allen had promoted its democratization by introducing it as the face of the brand with the hashtag #imasturbate . She thus promoted the discovery and empowerment of pleasure for women.
Success is there and it never ends… thanks to word-of-mouth like the one I described to you above, the women who have tested the clitoral stimulator spread the word from girlfriend to girlfriend.
Sometimes a person buys a Womenizer on Gapianne and then another the next day, "for a friend". In stores, women of all ages come to see it in person before buying it. We have many customers in their 60s who tell us how liberating this vibrator has been for them.
This goes for all vibrators, but it's healthy and healthy to masturbate!
With the Womanizer, it's when you want, where you want! Waterproof, it can be used in the shower or in the bath for a moment of relaxation. We invite you not to hesitate (if the desire is there. Of course, no obligation) because the effects of masturbation are beneficial for women's health and their sexual well-being. It is not for nothing that the WHO speaks of the right to well-being and sexual health ! Some women find it easier to reach orgasm when using a vibrator. The latter increases the ability to have orgasms during masturbation and sexual intercourse. 74% of French women admit to having masturbated during their life, and that it is the best way for 46% of them to enjoy. Interesting.
Good to know, intimate accessories like womanizers can also relieve pain related to intercourse and pelvic floor dysfunction . It can also allow you to connect with yourself, to better understand your body, your anatomy, what works for you, and thus reboost your libido. In the event of a drop in libido, you can consult our latest article "Low libido in women: boosting her sexual desire" . Finally, using it as a couple can be a great idea. Your partner seeing you having fun, will also have fun. And you will be able to reach orgasm at the same time more easily.
The Womanizer stimulator goes beyond the vision of peno-centric sexuality
Our sexuality is normalized around penetration and male pleasure for heterosexual couples. This is also how we had the idea to create Gapianne. "My partner cums after penetration, then the sexual act stops. Sometimes, right after, I masturbate once I am alone, to reach orgasm."
It's called the orgasm gap, according to a 2019 IFOP survey (SURVEY ON THE "GAP ORGASM" BETWEEN MEN AND WOMEN): "one in four women (26%) say they have not enjoyed during of his last sexual intercourse, i.e. a much higher proportion than among men (14%) and significantly higher than what could be observed in 1992 (at 12% at the time).
The Womenizer is a non-intrusive accessory, as we have seen, which offers external stimulation knowing that only 18% of women manage to climax during penetrative sex, according to a survey carried out in 2019 by Lelo, world leader in intimate accessories. Clitoral stimulation having an essential role in reaching orgasm. So we're delighted that vibrators don't all look like penetrating penises, and are indeed designed to stimulate the organ that gives us the most pleasure: the clitoris, hello my friend!
Today's vibrators: beautiful design objects, elegant and discreet
The womanizer is a beautiful design and ergonomic object (much easier to leave on your bedside table), far from the garish codes reminiscent of porn. No problem for those who prefer more graphic and evocative accessories, but it's good to also have a reinvented proposal that evokes well-being, and makes us want to take care of ourselves . Sometimes, we can even liken it to a luxurious object, a little gem that we like to take out of its case! This is part of the current movement which consists in reinventing the codes of intimacy. Vibrators are more like a computer mouse, a fancy hair dryer, or a futuristic phone.
Our top 6 contactless Womanizer
We have made a selection of the best brand sex toys on the market. They are made of soft silicone and without controversial body products, USB rechargeable. These are the best vibrators that we often use first, when having sex alone or with a partner.
The Womanizer classic 2: the one that revolutionized clitoral stimulation
It is THE flagship product of the German brand, the essential of their range because it is the first to be released. Finally here, it's the improved version of the 1st womanizer, for even more intensity and strong sensations.
Womanizer Starlet 3: cheap masturbation
It is the brand's cheapest sex toy. This compact version at €69 guarantees ease of handling thanks to its lightness.
Womanizer Premium: high-end, contactless pleasure
This sex toy has 12 intensity levels and an elegant design, if you want to discover the joys of suction but with class.
Eco-responsible sex toy: Womanizer Premium Eco
Want to burn with pleasure without burning the planet? Discover this version made from sustainable and renewable materials.

Womanizer Liberty: pleasure air on vacation
Discover Womanizer's Liberty format, ideal for stimulating the clitoris even on vacation thanks to its smart silence feature.
Forced air sex toys: other brands
It's not just Womanizer in life! It may be one of the most recognized sex toys, but other brands of sexual well-being have developed new orgasmic nuggets. Discover other intensity and sensations thanks to LELO or the French brand Puissant .
Sila by Lelo
If you want to invest in the best dedicated accessory, it's unequivocally our favorite sex toy at Gapianne. Its ergonomics are suitable for everyone, it is beautiful and elegant like a Villa Bulle hair dryer.
Coco de Puissant, the French brand for multiple orgasms
Le Coco , Frenchy with double stimulation of the clitoris externally and the G-spot internally.
There are cheaper brands, but the technology is less established. At Gapianne, we decided to focus on quality for optimal pleasure for all.
So to the question " is it really that good? ", we say yes. For what ? Because the Womanizer opens up a new field of possibilities that better suits 80% of women in terms of access to pleasure... Is it magic? NO. It happens that for many reasons, we are not willing, psychologically or physically, to get off on it. Other avenues can then be explored. Our opinion ? He should be reimbursed by social security…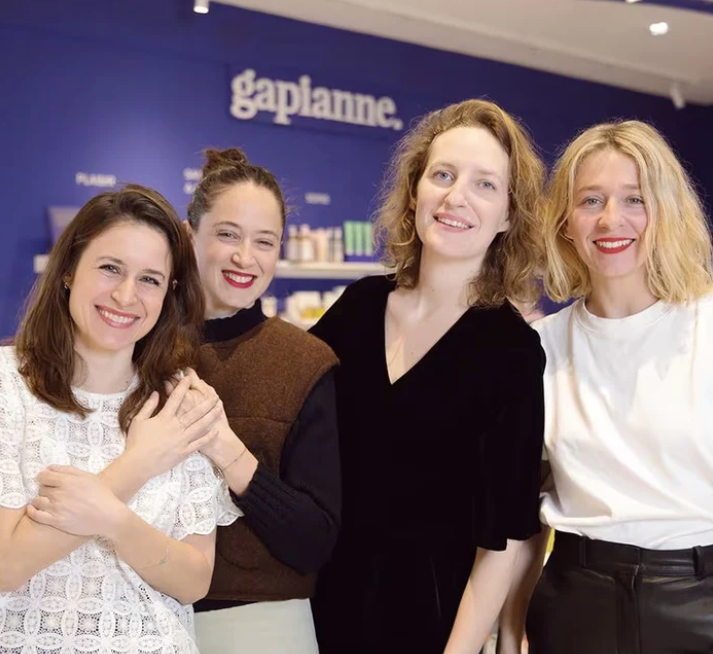 Nice to meet you
Welcome to Gapianne
We are 4 friends: Jen, Victoire, Anne and Marine. Like the 34 million French women, we have encountered various issues related to our intimacy. That's why we created Gapianne, a shop that offers the best organic, Made in France and non-toxic solutions for health, as well as detailed resources to support you. We met ?
Discover Gapianne