A short guide to survival during periods of summer menstruation
So that you can all enjoy your summer swims, including those who do not tolerate tampons, we detail the latest "new products" and the little extras that allow our private parts to have a good summer :)
Swimming without a tampon
Yes, modernity has brought us a lot of solutions to allow us to enjoy our summer and swimming, even if we cannot wear tampons, because it gives us allergies or fungal infections or that we prefer to avoid. the stroke of the thread that protrudes from the shirt. Among these solutions:
1. The cup
We've been talking about it for a while, we even have an article that deals with the subject , because it has literally changed the lives of many women: this internal protection, when you get the hang of it, is a small revolution, because it is reusable (several years) and only needs to be rinsed (and sterilized, but not for each use). Farewell, the threads of tampons sticking out, the hassle of getting rid of used tampons; you just have to empty your cup and rinse it to reuse it.
Some recommendations for the
proper use of the cup
:
We choose it:
Preferably small if you have never had internal sex or if the flow is light or medium; rather large if you gave birth vaginally or if the flow is more abundant.

With or without rod (because the rod can be uncomfortable for some women).
We test the different insertion methods to find the one that suits us best. We prefer the C or Push Down method, for a narrower cup when inserting.
You don't get discouraged on the first try: you have to admit that it's not easy to get the hang of it, but once you have it, you can't do without it.
We do not wear it for more than 8 hours in a row; because we always have in a corner of our little head the toxic shock syndrome (reminder to avoid a dose of unnecessary stress: very rare infectious disease, but it is important to know when you are a woman).
Wash your hands well before and after insertion.
2. Menstrual swimsuit
Another small revolution: menstrual jerseys . See the period panties? Well, it's the same thing in the swimsuit version: an absorbent core that sucks up blood and a waterproof and breathable membrane that prevents water from entering and blood from leaving.
We recommend it rather for the beginnings/ends of periods or if your flow is not very abundant, but there are now menstrual jerseys adapted to average flows .
Our tips:
We favor swimwear with the STANDARD 100 by OEKO-TEX® label: this is one of the strictest OEKO-TEX® certifications: an independent label that ensures the verification of the absence of chemicals harmful to health, often even more so. stricter than the regulations in force and gives a real guarantee for the respect of the skin and the environment. Not insignificant when it comes to our private parts, especially during periods of menstruation.

It is washed before the first use , like any new garment.

No more than 6 hours in a row during menstruation.

On the cleaning side: rinse with clear water the same day in the event of a light flow or a quick wash in the machine and you're done! (you can also rinse the insert beforehand to remove excess blood).

Do not twist it while wringing it , at the risk of damaging the crotch insert.
NB: We think of taking a
small waterproof pouch
to carry it after changing.
For those who support tampons well, however, we can only recommend GOTS certified, organic, chlorine-free tampons, such as those from Jho.
The art of taking care of your personal hygiene during the summer
Prevention is better than cure ; food supplements special vaginal flora
As with many things, prevention is better than cure. As a result, for those who tend to have yeast infections regularly, we can only recommend a small course of probiotics to strengthen your vaginal flora, which can be put to the test by spending a lot of time in a wet swimsuit. Besides, we take this opportunity to give you a little advice: lunch in a wet swimsuit because you were too lazy to change, it's the door open to fungal infections!
Treatments to hydrate and rebalance our private parts
At the same time, very gentle treatments that, in addition to moisturizing, rebalance our vulvar and vaginal area like that of MiYé . This little gem in gel stimulates, strengthens and soothes the intimate, sensitive, uncomfortable or dry area. What else?
The little extra; baby bottom
To take care of our little buttocks, which can suffer a little from the edges of the swimming pool or rubbing with the sand, we do not hesitate to treat ourselves to a specially formulated treatment to avoid small pimples or occasional roughness on this area. The bonus: you can put on jeans right after thanks to its ultra-light texture that penetrates in 2 seconds.

It only remains for us to wish you a wonderful sunny holiday!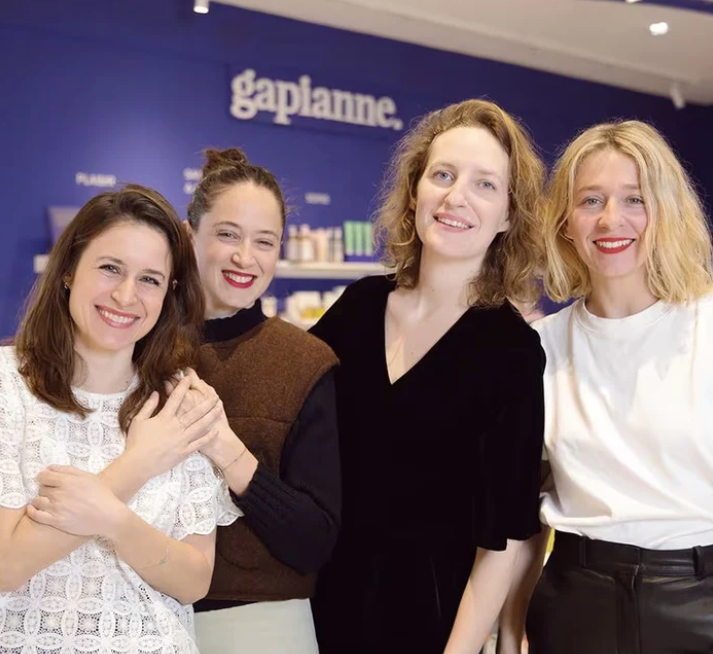 Nice to meet you
Welcome to Gapianne
We are 4 friends: Jen, Victoire, Anne and Marine. Like the 34 million French women, we have encountered various issues related to our intimacy. That's why we created Gapianne, a shop that offers the best organic, Made in France and non-toxic solutions for health, as well as detailed resources to support you. We met ?
Discover Gapianne