Eco-responsible gift ideas made in France
Every year, on birthdays and Christmas, it is tradition that we give gifts to our loved ones. But in an era of ecological awareness, some would say that the ideal gift is the one you don't buy. However, this tradition is well anchored, and deviating from it can be tricky and is not always well received. So how do you find the happy medium? Choosing a gift made with love, right here in France, may be a first solution. Offering organic and natural products is just as interesting. Also think about ethical and committed gifts! Come on, we'll let you discover our list of eco-responsible gifts validated by the Gapianne teams. Good research !
Eco-responsible gifts, marketing or real promise?
The term "eco-responsible" is on everyone's lips, and we now find it everywhere: in advertisements, on labels, on websites... But what does that really mean? It is unfortunately true that, for many, "eco-responsible" has become a simple marketing argument, emptied of its substance. However, a gift can be eco-responsible in many ways. This could be an object made from recycled materials, a locally made artisanal product, or even a plant that purifies the air in our homes.
It is true that the best eco-responsible gift is the one that we do not buy , but it is also true that this tradition is well anchored in our habits and deviating from it may be poorly perceived by some of our loved ones. It is therefore essential to take the time to think about what we buy, where it comes from and how it was made. This not only allows us to make more ethical choices , but also educates those around us through our purchasing decisions.
Here are some criteria to consider:
Made in France (or nearby countries): Promoting short circuits and limiting the carbon footprint linked to transport.
Organic: Without pesticides or chemicals, respecting nature and our health.
100% natural: Designed without artificial additives or synthetic or chemical substances.
Reusable: A product designed to last and be used on multiple occasions, thereby reducing waste.
List of eco-responsible gift ideas
Here, we have listed our customers' favorite products ❤️
To relax
The scented & relaxing CBD candle - Ho Karan
Made in France and 99% natural , offer a moment of relaxation with the OKLM candle . Designed to offer an unrivaled relaxing experience, it releases a captivating fragrance harmoniously blending hemp flower, sage and rosemary with sweet notes of caramel and rhubarb, enhanced by a touch of fleur de sel. The perfect alliance between the gourmet and the aromatic, to transform each room of a house into a haven of peace.
It is therefore the relaxing natural candle par excellence, designed to offer a moment of well-being at any time of the day or evening. With a burning time of 56 hours, it creates a warm and soothing atmosphere.
Usage tips :
First use: To ensure optimal combustion, light the candle until the upper part of the wax becomes liquid.
Wick Optimization: Make sure the wick is straight and centered when extinguished. This will ensure even combustion the next time it is used.
Duration: The OKLM candle offers a prolonged aromatic experience, with a burn time of 56 hours.
Important note: Although this candle contains beneficial properties of hemp, it is not recommended for pregnant women.
Relaxing Pink & CBD Bath Salt - Balance
Are you looking for the ideal gift for a loved one looking for relaxation and serenity? Equilibre bath salt is what you are looking for. Offer a unique sensory experience: a purifying bath with Himalayan pink salt crystals, deep relaxation thanks to CBD, and a delicate touch of rose petals for a truly special feeling. The added moisturizing oils will pamper their skin, leaving it soft and neat.
And what better than our customers to talk about it? Discover Caroline's opinion " The smell is crazy! Plus, the rose petals float in the bath: goddess effect guaranteed! I gave these to a friend for Christmas and she loves them!! "
Made in France with love , this bath salt is 100% natural and vegan.
Usage tips :
For deep relaxation: Fill the bathtub with hot water (around 37°), then add 3-4 tablespoons of bath salt. An immersion of 15 to 20 minutes is ideal to fully benefit from its benefits. Perfect for relaxing after a busy day or physical exertion.
Storage: In order to maintain freshness and beneficial properties, it is advisable to store the salt in a cool, dry place and away from humidity.
Precautions:
This product is intended for external use only. Containing CBD and essential oils, it is not recommended during pregnancy. It is essential to keep it out of reach of children.
Ayurvedic infusion Deep sleep - Cosmic Dealer
Another perfect gift to relax and promote sleep is the Ayurvedic infusion from Cosmic Dealer . This natural and organic herbal tea made in France is the key to a peaceful and restorative night's sleep.
The 80 gram box, with a very careful design, reveals particular attention to detail with its two distinct compartments: one dedicated to cereals and the other to herbs. It's an invitation to a nightly ritual to find the perfect balance between these two flavors. With each cup, its sweet malty, smoky and comforting taste will envelop the recipient of your gift in a cocoon of well-being.
Usage tips :
For optimal tasting, bring water to a boil. Add a teaspoon from each compartment and let it steep for a few minutes.
To take care of yourself
Sublimated skin and hair food supplements - Oden
Are you looking for an eco-responsible gift for a loved one who pays special attention to their skin and hair? Offer him Oden's Chia oil treatment . Not only does it promote cellular regeneration of the face and scalp, but it turns out to be the secret to soothed skin and strengthened hair.
This natural cure is more than just a supplement. It is also rated "excellent" on Yuka and combines organic Chia oil with an antioxidant rosemary extract. Rich in omega 3, it soothes irritated skin, treats conditions such as acne or eczema, and is a protective barrier for sensitive scalps. For those who fear the effects of the sun, it is the ideal companion to limit skin dehydration.
Produced with ingredients of French origin , this treatment proudly bears the Slow Cosmetic and vegan labels . Guaranteed without preservatives, it is presented in a recyclable glass bottle for a beauty gesture that respects the planet.
Usage tips :
This treatment is a perfect gift for anyone looking to enhance their skin and hair. Even more recommended during pregnancy, it provides the nutrients necessary for the child's development.
Dosage: This oil is used as an initial 3-month treatment, taking 2 capsules daily with a meal. Thereafter, one capsule per day guarantees lasting benefits.
Moisturizing and purifying rosemary mist - Oden
Another ecological and ethical gift: the moisturizing and purifying mist from Oden . Soft, natural and invigorating, this moisturizing and purifying rosemary mist from Oden is ideal.
Imagined as a refreshing breath from the south, this 50ml mist without preservatives transports your senses thanks to the blend of French, raw and organic aromatic hydrosols. Rosemary purifies and regulates, lavender revitalizes and regenerates, and mountain savory protects the skin from bacteria. An olfactory journey that soothes the skin and the mind.
The advantages of this product are that it is certified ORGANIC, with 99% ingredients of natural origin and 43% from organic farming and certified Slow Cosmetics. The packaging is eco-responsible with a recyclable and returnable glass bottle. Finally, it is made in France .
Usage tips :
To fully benefit from its benefits, you will need to spray this mist on your face in the morning before moisturizing or at any time of the day for a refreshing sensation.
Anti-blemish makeup remover oil - Oden
Are you looking for the perfect eco-friendly gift for someone who values ​​natural beauty and eco-responsibility ? This cleansing oil is the perfect representation of these two values. Offering unparalleled delicacy to the skin, it eliminates every trace of makeup and impurity, leaving the skin healthy and revitalized.
Designed for all skin types, even those prone to imperfections, its precise blend of carnation vegetable oil and daisy solar macerate offers deep hydration without greasy residue. See for yourself the customer reviews of this oil: " I am won over by this experience of a makeup remover oil and that of Oden in particular. Until now I only used makeup remover foams or gels and I admit that oil is a discovery. Its smell is divine. I completely adopted it, " Bastide tells us. Or even " Having combination to oily skin, I was a little hesitant to try a cleansing oil, but I must say that this one convinced me! It removes makeup easily, you can really feel all the dirt and makeup coming off when you rinse it. After that, my skin is super soft, I love it! I won't change my makeup remover again! " explains Caroline.
Oden is a committed brand . By choosing this oil, housed in a recyclable glass bottle, you are giving a gift that not only takes care of the skin, but also has a lower impact on the environment thanks to its 100% French ingredients and its local manufacturing. .
Usage tips :
This multitasking oil is suitable for removing facial and eye makeup. Use morning and/or evening. For optimal makeup removal, apply directly to the face and massage gently before rinsing with clean water. For deep cleansing, emulsify with water and massage onto face, then rinse.
The reusable razor - Uny
For people concerned about the environment and who want to get rid of everything disposable, we have the solution: the reusable razor from Uny . Designed to be universal, it is the first razor with 6 recyclable blades . It provides an exceptional shaving experience for everyone. Its ergonomic zinc handle not only feels good in the hand, but it is also designed to last.
The addition of the aloe vera strip ensures hydration and soothing after each shave, while its matte rubber back guarantees a secure grip. In addition, it is popular with our customers: " I have switched to reusable razors for a few years now but not having taken care of my first one I bought this one and I love it! It is slightly removable so it adapts perfectly to the shape of the body and it leaves skin very soft because it is cleaner than a disposable razor. I highly recommend it! " Morgana tells us.
Simple use:
Generously apply shaving foam or cream , shave, then rinse. To maintain its durability, keep the razor dry and replace the blades after 7 to 8 uses. It's the perfect gift for those looking to reduce their waste.
For people sensitive to the feminist cause
Live Men's Skin - Hachette
Are you looking for the ideal gift for a loved one concerned about gender equality, passionate about art and literature? Offer a literary journey through the pages of "Peau d'homme" , a graphic masterpiece by Hubert and Zanzim.
This book is a true dive into Renaissance Italy, where Bianca, a young girl in bloom, finds herself at the crossroads of tradition and self-discovery. Promised to Giovanni, a charming and wealthy young man, Bianca, although grateful for this advantageous union, cannot repress her dissatisfaction. But an ancestral secret watches over her, a heritage passed down from mother to daughter: the mysterious "man's skin". By putting it on, Bianca transforms into Lorenzo, a handsome young man, allowing her not only to discover her future husband in a new light, but also to break the chains that restrict her freedom as a woman. Through this dual identity, she explores love, passion and the taboos of her time.
By offering this book, you are offering much more than just a comic strip. It is an ode to feminism, a commitment to individual freedom and a bold exploration of sexuality and love. A perfect gift for anyone looking to nourish their spirit. A must-read for passionate souls and awakened minds.
Feminist board game - Bad bitches only
Do you have a loved one who is passionate about feminist culture and eager to spend fun moments with their loved ones? Give him the "Bad Bitches Only" board game !
This captivating game made in France was specially designed to highlight female icons who have shone in history and pop culture. From Beyoncé to Simone de Beauvoir, via Frida Kahlo, this game takes you on a cultural journey where feminism and fun meet.
This game is an experience where players are enriched by learning about extraordinary women, while miming, drawing, and describing. Perfect for livening up your evenings with friends or family, this game is a perfect combination of culture, laughter, and engagement.
It's a real opportunity to enrich your feminist culture. It's much more than a game, it's a meaningful, inspiring and engaged gift.
👉 Why are we presenting these feminist games to you in this list of eco-responsible gifts? The answer is simple: there can be no ecology without men's oppression of women continuing. If you want to dig deeper into the subject, go to this article on ecofeminism .
♻️New eco-friendly product from Gapianne:
For the end-of-year celebrations, Gapianne is opting for an innovative ecological approach . Instead of traditional packaging, each gift is carefully wrapped in a reusable furoshiki . These stylized packaging are none other than scarves, bandanas and other aesthetic fabrics, from the deadstocks of talented designers. Not only does this initiative give a second life to these textiles , but it also encourages responsible and sustainable consumption . A small gesture for our planet, and an original and elegant way to present your gifts!
Why trust us for your eco-responsible gifts?
At Gapianne, each product tells a story, that of a carefully considered choice in accordance with our fundamental values.
Rigorous selection charter: Integrity is at the heart of everything we do. Our first criterion focuses on product formulation. We don't just choose what's trendy or popular, we ensure that each product is healthy, natural and "clean". This means that we favor compositions without controversial ingredients. We highlight vegan, organic products and those made in France.
An ethical and committed commitment: Our mission goes far beyond the simple sale of products. We firmly believe in the freedom of speech, without judgment. For us, it is essential that everyone - woman, man or non-gendered person - feels included and valued in their quest for well-being. We are feminists, and we are proud to promote products that reflect this belief.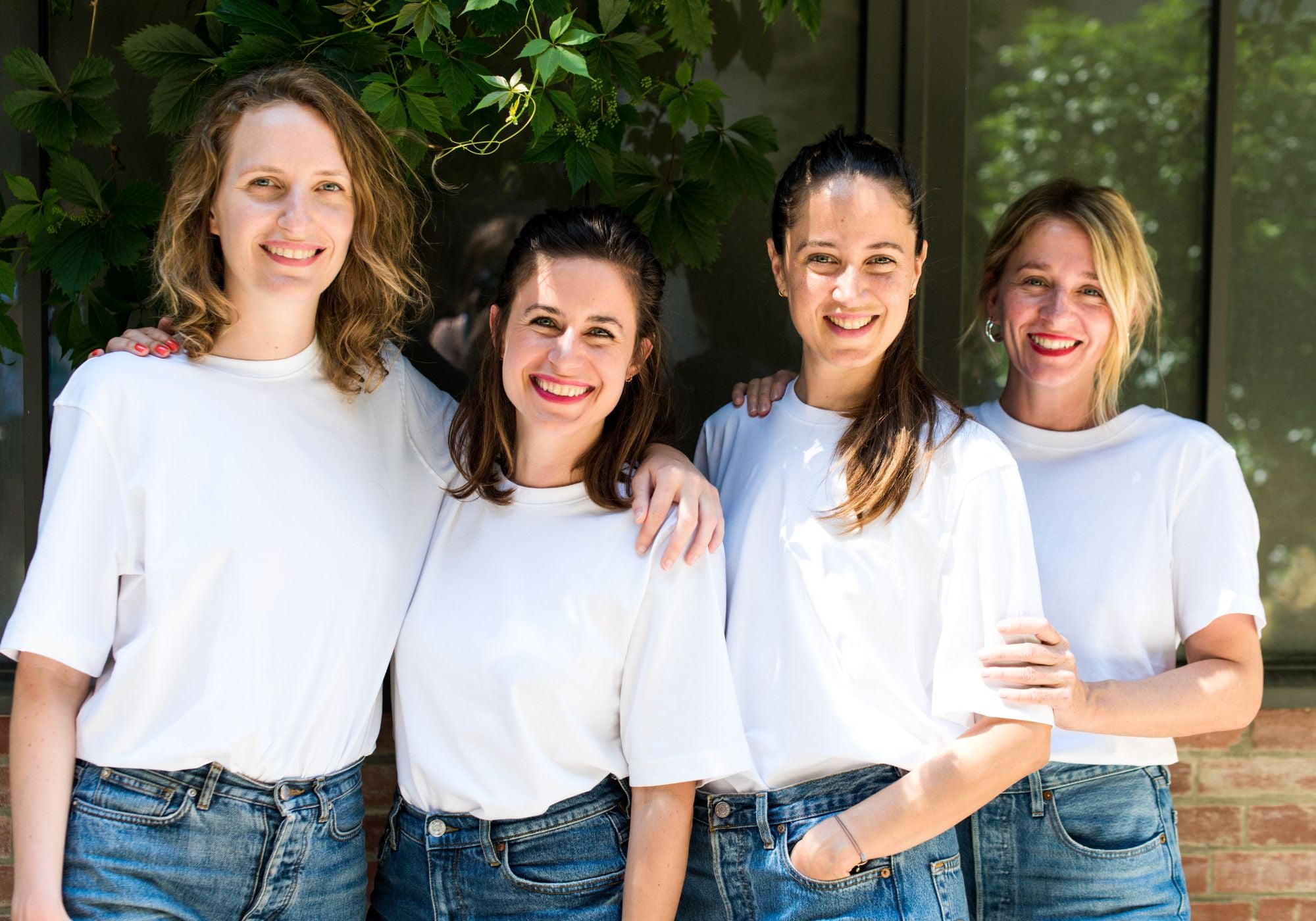 Nice to meet you
Welcome to Gapianne
We are 4 friends: Jen, Victoire, Anne and Marine. Like the 34 million French women, we have encountered various issues related to our intimacy. That's why we created Gapianne, a shop that offers the best organic, Made in France and non-toxic solutions for health, as well as detailed resources to support you. We met ?
Discover Gapianne