How do you know if you have toxic shock syndrome?
Its scary name, "toxic shock syndrome" , we've been hearing about it since our first period, but what is it exactly? How to detect and recognize it ? Because prevention is better than cure, follow our guide, we explain everything to you with Dorothée from Jho (the specialist in menstrual protection without additives and organic).
What is Toxic Shock Syndrome?
It is a rare but serious infectious disease caused by the proliferation of Staphylococcus aureus. Staphylococcus is present naturally in our body and in the vaginal mucosa and it is not necessarily bad. However, you can be a carrier of a particular strain of this bacterium: staphylococcus aureus which can become dangerous if it develops (between 1 and 4% of women are carriers of this bacterium).
What causes toxic shock syndrome?
It occurs in people who menstruate during menstruation

The staphylococcus aureus strain present in the vaginal flora of the menstruating person must produce a toxin called TSST-1

The shock occurs if the person concerned keeps an internal hygienic protection (tampon, cup, sponge) for too long. It is the stagnation of blood in the vagina that can cause a favorable culture medium for staphylococcus.
External protections (menstrual pads and panties) can also present risks (rarer).
What are the symptoms of toxic shock syndrome?
These are the same symptoms as gastroenteritis or the flu at the start of the infection with:
Fever

A drop in blood pressure

Headaches that can lead to vomiting , muscle pain , diarrhea .
You can also feel faint or lose consciousness. It is very important to remove the hygienic protection immediately and to go to the emergency room at the hospital as soon as you notice the appearance of these symptoms.
When the toxin passes into the bloodstream, it will attack the vital organs, which will gradually stop irrigating the limbs. In the most serious cases, it can cause necrosis and the death of the affected person, but these cases are extremely rare.
How to treat toxic shock syndrome?
As we told you, as soon as the symptoms appear and after having removed the menstrual protection, you must immediately go to the emergency room. Once in the hospital, the patient will be given intravenous treatment followed by antibiotics. Most often, it is in intensive care units that the patient will be admitted. If there is gangrene, which is extremely rare, the patient may undergo amputation surgery.
How to avoid toxic shock syndrome?
It is very important to have good menstrual hygiene in order to avoid contracting toxic shock syndrome:
Follow the recommendations for using tampons and cups: between 4 and 6 hours maximum.

Always wash your hands well before putting on or taking off your sanitary protection.

Sterilize your menstrual cups , if you use them.

Do not keep your tampon and other sanitary protection too long , do not exceed 4 to 6 hours with stagnant blood inside your vagina. For the night we prefer menstrual panties and sanitary napkins, which we also change regularly.

Be sure to use a tampon according to your menstrual flow, so as not to keep menstrual blood stagnant inside the vagina for too long.

If you have already had a menstrual staphylococcal toxic shock, do not wear any more internal periodic protections (tampons, cups), to avoid a recurrence.

Do not wear internal sanitary protection outside of your period .
What is the link between Toxic Shock Syndrome and the composition of periodic protections?
The National Agency for Food, Environmental and Occupational Health and Safety (ANSES) published a report at the end of 2019 to assess the safety of intimate protection. In this report, ANSES sought to estimate the risks in relation to Staphylococcus aureus and the composition of cups and tampons. Although the report noted the presence of chemical substances in non-organic menstrual products (tampons, sanitary napkins and panty liners) and cups, there was no evidence of any risk linked to the presence of these substances. The direct relationship with toxic shock syndrome is more related to the conditions of use of intimate protection. The risk of developing a disease increases with prolonged use of internal protection.

There are approximately 20 cases of toxic shock syndrome in France each year. So even if these numbers may seem very low, they have been growing since the 90s and having good intimate and menstrual hygiene is essential to avoid infections!

It is by learning about toxic shock and talking about it rather than avoiding the question that we will avoid it! Gapianne guides you to help you better understand what is at stake, and to react as quickly as possible if you recognize the symptoms. Moreover, we are all different and have our own selection criteria. Let's find the menstrual protection that suits us best by being careful to follow the recommendations for use. You can read our article on tampons and cups or the one on sanitary napkins and menstrual panties to choose your protection in an informed way and decide, for example, to alternate your menstrual protections for more comfort, practicality and safety. !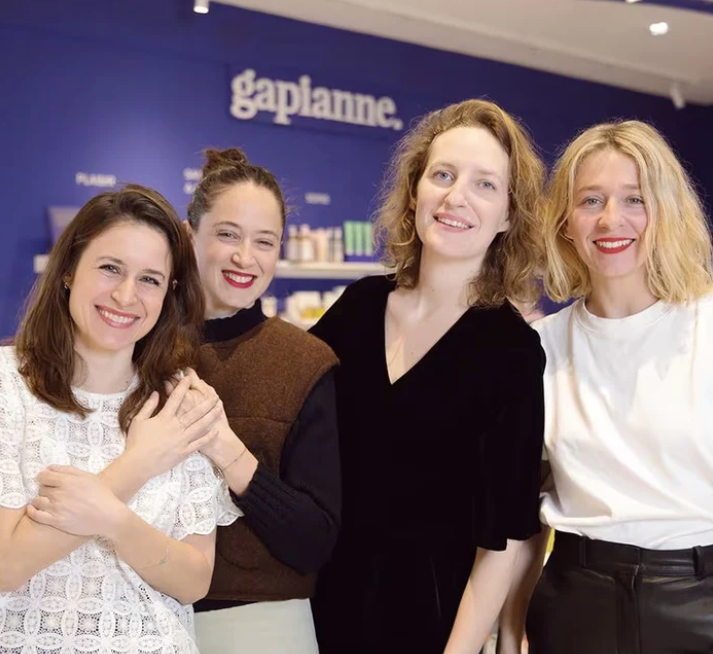 Nice to meet you
Welcome to Gapianne
We are 4 friends: Jen, Victoire, Anne and Marine. Like the 34 million French women, we have encountered various issues related to our intimacy. That's why we created Gapianne, a shop that offers the best organic, Made in France and non-toxic solutions for health, as well as detailed resources to support you. We met ?
Discover Gapianne