Brand of menstrual panties: comparison, opinions and advice
Hello, I am Jennifer, one of the co-founders of Gapianne, in charge of finding the best nuggets for your intimacy .
Today, I share with you a piece of personal experience that may resonate with you and, for those still unconvinced, to have an opinion on period panties. 😉
A few years ago I had Bartholinitis. For those who don't know what it is, it's an inflammation of one (or both) Bartholin's gland(s). These two glands, located behind the labia majora, contribute to natural lubrication during sexual intercourse. When this channel is blocked, it forms a cyst which can become infected and turn into an abscess and in this case, we have no other choice but to have an operation.
Since this operation, it has been impossible to put on sanitary tampons . Not being a fan of traditional sanitary pads , so I started looking for another solution. At that time, we were starting to hear about menstrual panties , I talked about it to my girlfriends who told me that they had tested a few brands.
I placed an order and I admit, I was disappointed. It was said that menstrual lingerie was a revolution for women but personally, at the time, I didn't find it incredible. The model of panties was quite thick so much so that I no longer dared to put on tight jeans. I found that the absorption was not optimal, I felt wet and the smell was really not pleasant.
So when I founded the Gapianne project , I started looking for THE perfect menstrual panties, the one that will really change our life.
At Gapianne, you won't find ALL the intimate products (admittedly!), but you will only find the BEST. No more fear of making a mistake, this research work we have done for you.
Comparison of period panty brands: Moodz, Dim, Smoon...
We looked at the different brands and according to their composition, origin and values . We selected 15 that seemed to meet our criteria.
We have contacted them all, discussed to better understand the manufacture, the history of the brand and the philosophy behind it.
Then we tested them! After months of menstruation and testing we finally selected a panty that ticked all the boxes for us.
Our criteria for the perfect period panties were:
Efficiency , indeed the 1st super important criterion, we want it to absorb and retain the abundant flow or light flow without leaking to be able to last a whole day at work without stressing!
Invisibility , we don't want everyone to know that we have our period and to be able to continue to dress as we want. So no layer effect please!
Comfort , I don't know about you but me during my periods my stomach swells and I have stomach cramps. Having comfortable panties helps you feel better, not tight in panties when you're already not on top!
Comparison of menstrual panties: the advice we can give you
After months of testing, here are a few things that we have understood and that can help you choose the right one:
The effectiveness is clearly not the same depending on the brands and fabrics used, there is a real difference in terms of absorption, thickness and smell !
If your panties are effective and you have chosen the level of absorption adapted to your flow, you can use your period panties all day long without having to change, even for very heavy flows!
Based on this observation, we liked the experience of detachable panties less because the closures on the sides are not very pleasant when wearing pants, for example, they fit into the skin. If your panties are effective and adapted to your flow, there's no point because normally you don't need to change! Otherwise another technique for those who prefer double security: in the event of very abundant or hemorrhagic flows (put on a menstrual cup + panties you are sure and certain not to have a leak!)
The seamless technology avoids having stitches and therefore small holes on the edge of the panties through which blood can seep, thus avoiding stains
The seamless technique by thermo bonding is only possible on "synthetic" type materials (check how the materials are qualified) and is not possible on cotton materials
The photos do not always give the same rendering in real life, especially on the thickness and aesthetics of the panties
If you are between two sizes and/or your belly tends to swell during your period , choose the size above , it's so important to feel good!
The periodic protection we have chosen:
is super effective and invisible under clothing thanks to its super technical materials. It is soft and comfortable with an ultra-pleasant skin-to-skin effect.
does not serve the belly because it is seamless .
has advanced technology (like a sportswear material) allows the panties to dry quickly and avoid wet feeling ,
does not give off an odor !
so which one is it? That of the incredible Smoon brand !
Smoon Period Panties - Medium Flow or Absorbent
Introducing Smoon period panties
The Smoon panties are therefore our favorites after all these tests and comparisons. Smoon is a French brand that offers panties for heavy flow , medium or light flow depending on your needs.
The brand also creates menstrual swimsuits (practical for the summer!) and high-waisted panties . Their underwear is made of oeko-tex certified organic cotton and can be washed by hand or machine.
These super comfortable panties feature absorbent, waterproof technology to help prevent leaks and unwanted stains. In addition, they are made from soft and breathable fabrics , ensuring a pleasant feeling on the skin.
Smoon
Black High Waist Briefs
Smoon panties are suitable even for people with a very heavy flow , thanks to their high absorption capacity. They are available in different sizes , allowing everyone to find the one that best suits their morphology. By choosing Smoon menstrual panties , we are choosing practicality and respect for the environment, because they are reusable and thus contribute to the reduction of discarded menstrual protection (top good deed by the way!)
And for the moment we have favored efficiency over aesthetics because we have not yet found "sexy" panties that are as effective to be honest !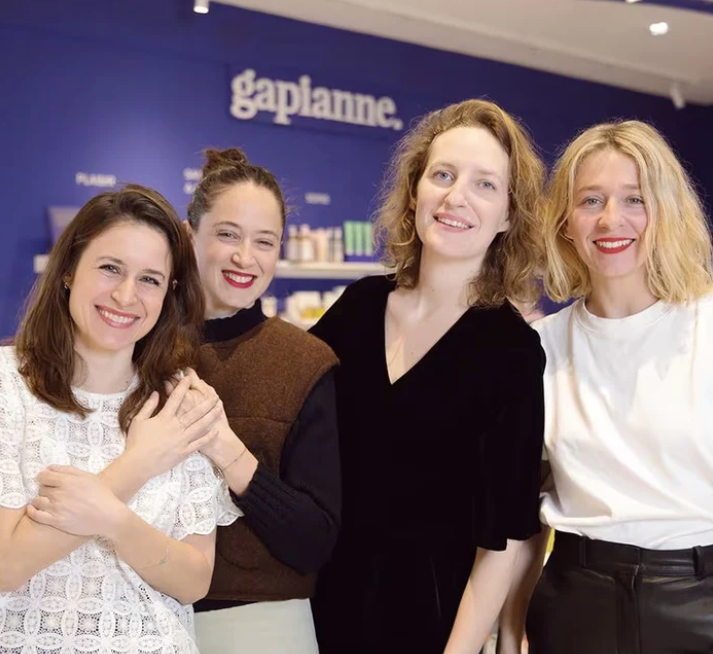 Nice to meet you
Welcome to Gapianne
We are 4 friends: Jen, Victoire, Anne and Marine. Like the 34 million French women, we have encountered various issues related to our intimacy. That's why we created Gapianne, a shop that offers the best organic, Made in France and non-toxic solutions for health, as well as detailed resources to support you. We met ?
Discover Gapianne