How do period panties work?
Are you wearing period panties and wondering how it's possible to feel dry while you're losing blood? Or maybe you are hesitant to purchase them, but you want to understand how these period panties work to be reassured? In this article, we explain to you how these little technological gems work!
How do menstrual panties work?
Are you looking for new hygienic protection and would like to know more about period panties, in particular how they work? At first glance, you wouldn't guess it, but menstrual panties are true technological feats. Designed to absorb our periods, they incorporate technology offering comfort and protection. They consist of three distinct layers : let's explore them together.
1. A draining layer material to feel dry
The first layer is made from a highly draining material . The latter aims to quickly absorb the menstrual flow , thus guaranteeing a feeling of persistent dryness. It acts as an instant barrier between moisture and skin, keeping you dry and comfortable throughout the day.
💡Our advice: Choose OEKO-TEX® STANDARD 100 certified panties. This certification is the guarantee that the panties do not contain any chemicals harmful to your body and the environment.
2. An absorbent and anti-bacterial material to capture blood and neutralize odors
The second layer is made from a material that is both absorbent and antibacterial . It is specifically designed to capture blood effectively while neutralizing odors. Thanks to its antibacterial properties, it also prevents the proliferation of bacteria, guaranteeing optimal hygiene throughout the day.
3. A waterproof (and breathable) material to prevent leaks
The third layer is made from a waterproof yet breathable material. This suit provides maximum protection against leaks while allowing the skin to breathe. Thus, not only does it guarantee optimal safety, but it also offers unparalleled comfort for a feeling of freshness all day long.
Period panties are adapted to different flows
Just as period protection such as sanitary napkins or tampons come in different flow-friendly designs, menstrual panties also offer this variety. Their operation depending on the flows is therefore the same:
Light flow
For light flow days, some period panties are specifically designed with a lower absorbency, suitable for this level of bleeding. For this type of flow we generally find strings for example. Despite their lower absorption capacity compared to models for heavier flows, these panties offer effective and reliable protection for days of light bleeding.
Average flow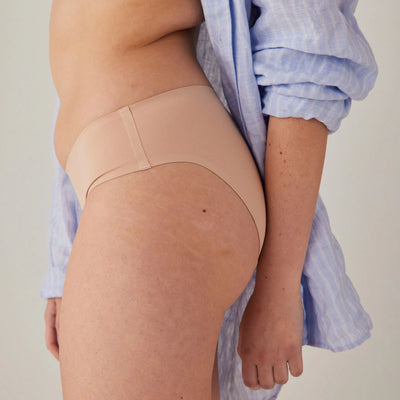 During average flow days, specially tailored period panties are available to manage this amount of bleeding. Although they have greater absorbency and are generally a little thicker than light flow models, they still maintain a high level of comfort. These panties have an appearance close to traditional panties.
Abundant flow
Finally, with a significantly greater absorption capacity, these panties are designed to provide continuous protection for many hours, without fear of leaks. Although they are thicker to meet this requirement, they are made to ensure optimal comfort.
And your activities
In this section, although the technology of menstrual panties remains unchanged , the innovation lies in their integration into clothing such as your swimsuits or leggings. Let's take a look at the different models adapted to these activities.
For Sport
Sports practice requires freedom of movement and optimal comfort, even during menstruation days. To meet these specific needs, there are now menstrual panties specially designed for sports . These protections come in different shapes to adapt to each discipline.
Period leggings are perfect for activities like yoga, running or gym. Incorporating menstrual panties, they offer a dual function: that of traditional sports leggings combined with menstrual protection, without visible seams or feelings of discomfort.
For lovers of cycling or activities requiring more ventilation, menstrual cyclists are the ideal solution. These shorts, equipped with integrated menstrual panties, guarantee optimal protection while allowing better ventilation, which is essential during intense efforts.
These innovations therefore allow every woman to continue practicing their favorite sporting activity with complete peace of mind, without having to worry about leaks or the inconveniences linked to menstruation.
For the bath
Swimming during your period can be a challenge for many women, but thanks to technological advances, it is now possible to swim with complete peace of mind. Period panties suitable for swimming have been designed to address this specific concern.
Thanks to their anti-leak technology and an absorption capacity equivalent to 2 tampons, these panties guarantee optimal sealing. So, you can be assured of zero dispersion of blood in the water, zero swelling once the panties are wet and zero risk of stains on your towel.
In addition, these menstrual panties are made from materials specially designed to resist salt and chlorinated water . And since extra protection is never too much, they also protect against UV rays with a UPF 50+ rating.
Whether it's a one-piece swimsuit or simple swim briefs , these innovations ensure that menstruation days will never again be a constraint when going to the beach or pool.
Read also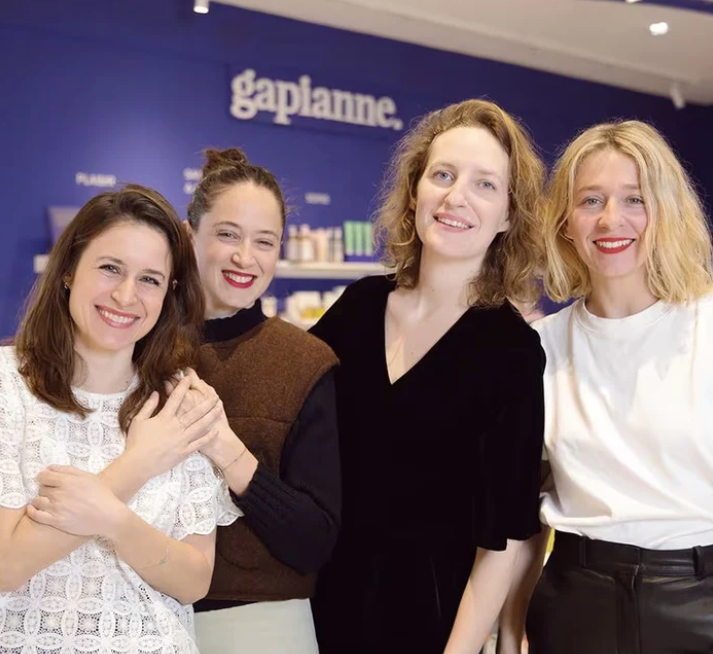 Enchantées
Bienvenue sur Gapianne
Nous sommes 4 amies : Jen, Victoire, Anne et Marine. Comme les 34 millions de Françaises, nous avons rencontré différentes problématiques liées à notre intimité. C'est pourquoi nous avons créé Gapianne, une boutique qui propose les meilleures solutions bios, Made in France et non toxiques pour la santé ainsi que des ressources détaillées pour vous accompagner. On fait connaissance ?
Découvrir Gapianne