Vaginal dryness: solutions against intimate dryness
The vulva and vagina are naturally hydrated, which gives an elastic and slightly moist texture of the mucous membranes, even more lubricated during sexual arousal. It often happens that punctually or continuously a dryness appears. How to fight against vulvar dryness, how to relieve irritation after intercourse or even soothe itching? Does intimate dryness only happen at the time of menopause?
A little zoom on a much too taboo subject which nevertheless concerns a lot of women.
What are the symptoms of vaginal dryness?
Many women come to us to ask for solutions against intimate dryness, often with a feeling of discomfort, the impression of no longer "functioning" normally, and with the desire to put an end to the pain caused by sexual intercourse . You, as Paola Craveiro, the founder of Vulvae , an application dedicated to monitoring vulvar pathologies, reminds us , intimate dryness is really very common and affects 1 in 5 women before menopause and 1 in 2 after menopause.
Intimate dryness is characterized by pain, irritation and itching in the vagina . Pain can occur during sexual intercourse or when using tampons.
Know that you are not alone! So let's try to better understand what is happening in our body and find the most natural solutions possible to remedy it.
What is vaginal dryness?
We talk about intimate dryness to evoke the lack of lubrication that can manifest itself in the vagina and vulva, causing irritation, itching, pain or discomfort. It is a hormone which is the main responsible for the hydration of the vagina and the vulva: estrogen.
What are the causes of this drought?
Vaginal dryness is observed when the production of this hormone by the ovaries decreases or stops .
Menopause causes a drop in the production of estrogen which has a role in the production of vaginal lubrication . However, other factors such as certain medications, infections, gynecological problems, breastfeeding, pregnancy or hormonal fluctuations during the menstrual cycle can also be the cause.
Other external factors can unbalance your intimate health:
If you take hormonal treatment , especially for cancer, depression, or even skin treatments, this can lead to hormonal imbalance or severe overall dehydration resulting in intimate dryness.

Stress, an operation, or even irritation (unlubricated sexual intercourse / friction / too tight jeans) can also weaken your sensitive vaginal mucous membranes and thus upset your balance.

Also, too aggressive intimate soaps or products not adapted to the fragile PH of your mucous membranes are often the cause of imbalances in the vagina and vulva! To note, vaginal dryness can increase your risk of gynecological infections, so it is important not to ignore it, while realizing that it is not necessarily dramatic.
What are the treatments for vaginal dryness?
To treat vaginal dryness , there are several solutions available. Lubricants and moisturizing gels are commonly used and are usually available over the counter. The eggs, which are inserted into the vagina, can also help restore vaginal flora and reduce dryness. In some cases, the treatment is hormonal, especially with hormone replacement therapy .
Here is the Intimate Routine that Gapianne offers you.
1. Clean your intimacy to fight intimate dryness
We start by using a gentle cleansing gel that respects your intimate balance (be careful what you find even in pharmacies can often have a drying effect). Opt for the Jho cleansing gel or that of Wumi (the most hydrating that we have selected). Otherwise, we also recommend Luneale foam and Gallinee soap
2. Hydrate her vulva to prevent vaginal dryness
Then apply a moisturizing intimate care that will re-hydrate your vulva. To do this, use the intimate gel from the superb Miyé brand , or the vulva balm from Baûbo. again the strengthening and soothing treatment from Nideco whose formula composed of pre and pro biotics gently reinforce your vaginal flora.
3. Use a lubricating gel
Choose a lubricant or a dedicated oil during sex to avoid irritation during penetration. The best lubricating gels that we can recommend to you would be the water-based lubricant from My Lubie , and the natural lubricant from Fyne .
In addition, to better understand how to choose the lub' you need, do not hesitate to read our dedicated article .
4. Rebalance your vagina
Now we come to rebalance the intimate flora thanks to food supplements that strengthen your intimate balance. The Dijo brand, and its complements seen on M6 in the show Who wants to be my partner? are the best solution.
5. Hormonal rebalancing (in case of menopause or imbalance)
Evening primrose oil against intimate dryness
According to the advice of Paola de Vulvae, (and validated with a midwife), you can also use evening primrose oil capsules , intravaginally.
Usually these are capsules to be ingested, but you can use them intravaginally, like an ovum . Take one capsule each night before bed, for a period of 30 days. This method relieves discomfort and improves dryness problems! You can even track the progress of the capsules' effect using the Vulvae app.
If the problems persist, it is recommended to review your daily habits or try natural products locally. First of all, you can inform yourself by consulting their guide on vulvar pathologies, then make an appointment with a gynecologist, a midwife or a dermatologist to consider more advanced medical solutions.
Small zoom on the desire and the lack of lubrication of the vagina
We distinguish here that the lack of lubrication at any time of the day , the lack of lubrication during sexual intercourse .
In the latter case, we must try to understand where it can come from and promote communication in the couple . Hormones or medications can, as we have seen, prevent satisfactory lubrication even when you or your partner feels desire and arousal, but that is not the whole story. In some cases, stress, personal concerns, disagreement, everyday life, lack of libido can have a strong impact on lubrication.
Likewise if your partner is doing it wrong and you don't dare tell him or her. First question to ask yourself, do you really want it? If so, then ensure your personal well-being, the health of your couple, and communicate to better understand the causes of what can slow down your body, without feeling guilty, because it can happen to anyone, to anyone. age !
OUR SOLUTIONS TO AVOID PAIN DURING INTERCOURSE
Consult a gynecologist
You can consult a sexologist (we recommend our partners mia.co ) or on the Hello Hédoné platform with our partner sexologist Gabrielle Adrian (sometimes a session can be enough to take a huge step forward and reconnect with your partner in a caring way ).
Refuse pain during intercourse
Having pain is not normal. Because without being dramatic, it can sometimes be really painful, and therefore to be taken very seriously. DON'T FORCE YOURSELF - TALK TO YOUR PARTNER - USE LUBRICANT
Relieve after intercourse
If you are wondering how to relieve irritation after intercourse, we recommend the natural brand that we have selected Baûbo , rated excellent on Yuka, designed to preserve your body's balance, a small soothing balm made for your vulva.
You will find many products suitable for vaginal dryness in our dedicated collection .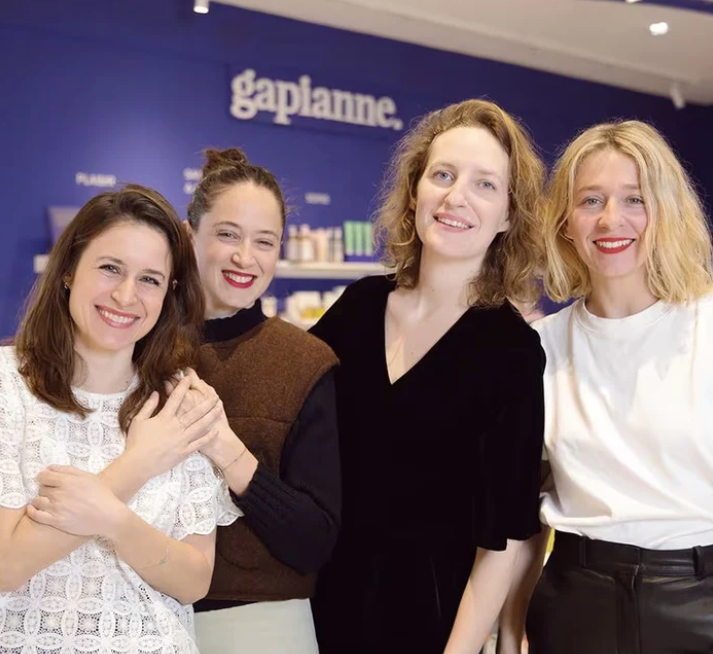 Nice to meet you
Welcome to Gapianne
We are 4 friends: Jen, Victoire, Anne and Marine. Like the 34 million French women, we have encountered various issues related to our intimacy. That's why we created Gapianne, a shop that offers the best organic, Made in France and non-toxic solutions for health, as well as detailed resources to support you. We met ?
Discover Gapianne