Top 10 gifts to give to your mother or mother-in-law
The race for the best Christmas gifts continues! This week, Gapianne has selected something to delight your mom and your mother-in-law. Must-haves with which you are sure to please them.
Here are our top 10 gifts for your mom or mother-in-law:
Through her comics, Liv Stromquist deconstructs and points out the evils of our patriarchal society, thanks to her black humor and her references. In this comic, it's the story of women who are constantly brought back to their status as "women of". Essential for the deconstruction of all of us.
Give your mother or mother-in-law a moment of relaxation with this Ayurvedic tea. It also brings energy, and strengthens our immunity. Perfect for this gray winter! Its malty, smoky and comforting taste is a real hug.
This completely natural serum brings suppleness and vitality to eyelashes and eyebrows. It is perfect for people who want to accelerate their regrowth and strengthen them. It is respectful of the skin, thanks to its double brush and foam tip, it can be applied to the most sensitive skin, and does not sting the eyes!
Cosmic, vegan chocolates with only one gram of natural sugar, extracted from dates. They delight the taste buds with surprising and delicious tastes: Hazelnut & Rose, Black Tahini & Chai, Hemp Butter & Carob, Cashew & Matcha, Toasted Coconut & Turmeric Spice Mix, Peanut Butter & Smoked Salt and sour cherries. A real delight, to share or to keep jealously for yourself.
This deliciously scented candle is perfect for a moment of well-being and relaxation. Its herbal aromas (sage, rosemary and hemp flower), combined with the sweeter notes of caramel and rhubarb (with a hint of fleur de sel) create an aromatic journey that invites relaxation. Namaste.
Our MUST HAVE! This oil effectively removes make-up gently and cleanses the skin of the face of impurities. Thanks to its composition, poppy seed vegetable oil and solar daisy macerate, it preserves hydration and nourishes the skin over time.
This mist is a delicious blend of sea spray and botanicals to scent every room in the house, textiles, and even yoga mats. To accompany moments of well-being just for yourself and to purify your living space.
A good mine in the bottle. Two or three drops of this serum are enough to give radiance to your face. For nourished, hydrated, radiant skin, this is the promise of this serum which corresponds to all skin types and all ages. Its star ingredients: the rare sea buckthorn seed and pulp oil which, with its carotenoid content, responsible for this beautiful orange color, gives a fresh and tanned complexion all year round.
This incense is made from 100% natural Ayurvedic woods, plants and aromatic herbs. You have the choice between two flavors: Jatamansi and Sandalwood. Jatamansi is known to promote a calm and happy mind, ideal for the evening. While sandalwood awakens and reconnects.
Always out of inspiration or afraid of failing! Cover your back with the Gapianne gift card, available on our eshop and in store at Gapianne Annecy.
For those who are more comfortable talking about sex with their mother or mother-in-law, why not take the plunge and buy her a vibrator. This stimulates the clitoris thanks to its unique shape, and allows stimulation of the entire vulva. Its very soft silicone and its flame-shaped head make it an extremely effective massage partner!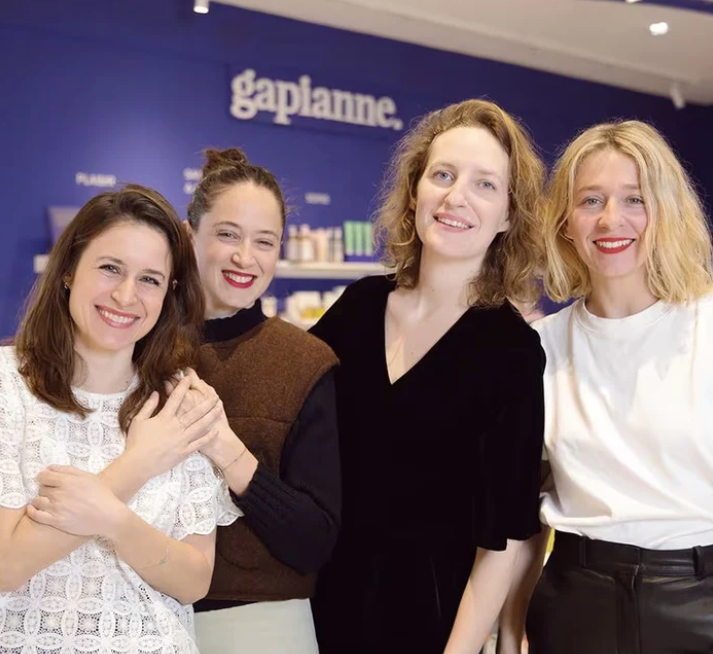 Nice to meet you
Welcome to Gapianne
We are 4 friends: Jen, Victoire, Anne and Marine. Like the 34 million French women, we have encountered various issues related to our intimacy. That's why we created Gapianne, a shop that offers the best organic, Made in France and non-toxic solutions for health, as well as detailed resources to support you. We met ?
Discover Gapianne