The best vibrators for beginners: which sex toy to choose?
Do you think about it? Not sure where to start or what to choose? Here is a short guide and advice for choosing the right first sex toy. Masturbation contributes to our well-being, like a sports session. But the most important thing is to go at your own pace and follow your desires.
Why buy a vibrator?
To do good: It's a way like any other to take care of yourself, to decompress! We spend some time with ourselves, self-massaging. Masturbation is an intimate massage where you give yourself love.


For better self-knowledge: Who better than you to discover your body, its erogenous zones and what makes you feel good? We may read all the books, none can tell you how your vulva is, what your desires and desires are: because we are all unique! Yes, the best sex education manual is already in your hands! Getting to know your body better also means being able to better guide your partner during our relationships and to have fun together. Then if you need help you can always read the Female Masturbation Guide .


To add a little spice to 2 or more: Introducing a sex toy during your intercourse can raise the temperature and make you discover new sensations together. Note that there are also vibrators for couples that will stimulate both partners at the same time.


To feel good in your head and in your body: having fun leads to the release of this hormone responsible for the feeling of well-being: dopamine. It also helps reduce stress, pain and makes it easier to fall asleep.


Perhaps discover orgasm, without pressure and at your own pace : there are no rules, it can happen by surprise in a great moment of letting go. Better self-knowledge can lead you faster to enjoyment.
Convinced ? All you have to do is choose your ally to get started!
Sex toys are more and more numerous and now meet multiple needs. It becomes difficult to make a choice, we want them all! Keep calm and follow our lead...
How to choose your vibrating sex toy as a beginner?
We've put together a guide just for you, beginners, the curious, to help you choose your first vibrator.
STEP 1: GET TO KNOW YOURSELF
Yes, before knowing what you want, discover yourself. Your little object of pleasure can make you discover new sensations.
What do you want to explore? The clitoris is the organ responsible for pleasure , with its 10281* nerve endings, there are things to explore! Know that the outer part is the glans of the clitoris (the one that looks like a small penis, it also has erectile tissue), at the top of your vulva is only a very small part of the clitoris.
Its two large "legs" or corpora cavernosa that surround the vagina and the urinary meatus can be stimulated in many different ways: outside the vulva, inside the vagina ( confused about the difference between the two ? ) and even by stimulation of the perineum and anus.
So go on an adventure, explore your body while masturbating , help yourself to erotic podcasts if you need a boost to get you in the mood.
Excerpt from the Guide to intimate well-being by Gapianne x Mia.
*According to a new study published on October 27, 2022: How many nerve fibers innervate the human clitoris #001, Sexual Medicine Society of North America and International Society of Sexual Medicine.
STEP 2: ANALYZE AND IDENTIFY YOUR INTIMATE DESIRES
Once you have discovered the many facets of your body and the pleasant sensations that come with it, analyze the cravings to understand what suits you best.
Thus, you will be able to determine the stimulations that make you feel pleasure and perhaps even have an orgasm : are these stimulations external? (vulva and glans of the clitoris), anal, or internal (the vagina is very innervated, its size and the texture of the vaginal walls change when we are aroused), or both.
But the erogenous zones are not limited to your sex, on the contrary, think of all these other zones that give you pleasure too (nipples, knee, ear... again we are all different!)
STEP 3: WHAT ARE OUR SEXUAL NEEDS?
And finally, identify what could influence your choice such as:
→ The technology used (Pulsed air, waterproof, etc) – different technologies for different needs;)
→ The size – neither too small nor too impressive? It's up to you
→ The vibrations - the rhythm, the intensity
→ The design (shape and colors) – we combine the useful with the pleasant
→ Usefulness - is it for naughty solo fun, or to spice up during sex?
→ Your budget – it matters!
→ Autonomy, its charging mode – its practicality to meet your desires
At Gapianne, we have selected vibrators that are perfect for beginners, tested and approved!
The vibrating pebble in your hand that no one wants to let go. Its very soft silicone is extremely soft, its shape is ergonomic, it hugs the shape of your vulva and clitoris . Explore the different stimulation modes of this vibrator, more or less diffuse or localized for independent or shared pleasure. The little extra is that it has been designed to stimulate all bodies, to try on your penis partner as well. Hello, scrotum stimulation etc. is a bonus!

This set of vibrators is perfect for beginners and small budgets. You can find something for everyone, whether you are more external stimulation (vulva and clitoris) or more internal stimulation. Smile Makers even have the sex toy that does both with the Billionaire . You can also stimulate the G zone with the tennis coach and its curved head, or rediscover the sensations of cunnilingus with the French lover which offers a soft tongue. Little bonus for their colorful design that we LOVE!
The must-have Coco from Puissant is a must to start masturbating. It is the equivalent on Rabbit, the famous sex toy featured in Sex and the city! You can use the part for the clitoris (pulsed air) or the rod for internal pleasure... or both at the same time! And there, it's bingo, the orgasm happens very quickly and several times. We advise you to choose a good lubricant with it in order to feel all the sensations!
Stimulation: Clitoral (Pulsed Air Technology Womanizer type)
Price: €119 (free delivery)
Size: Medium
Autonomy: 2 hours and it is rechargeable
Other Feature: Waterproof
Anal plug, vibrating egg, other vibrators for the clitoris to test
For people who have other ambitions, we advise you: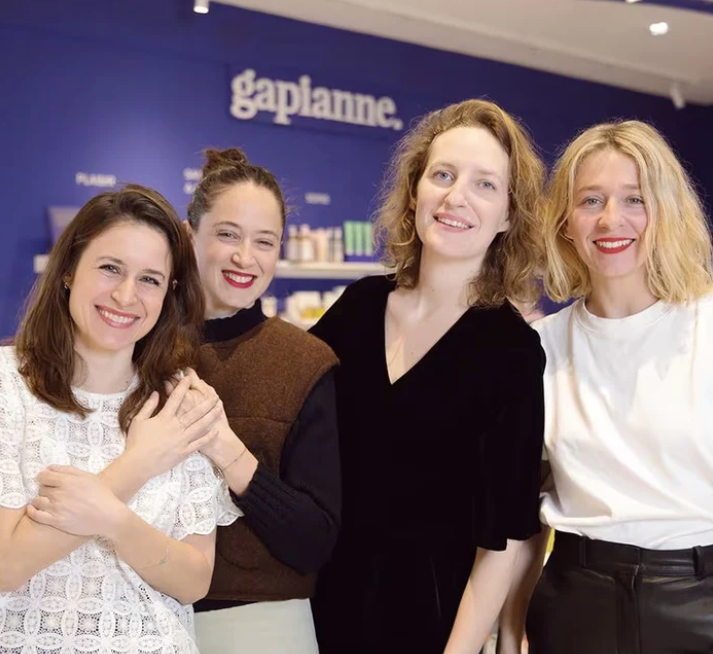 Nice to meet you
Welcome to Gapianne
We are 4 friends: Jen, Victoire, Anne and Marine. Like the 34 million French women, we have encountered various issues related to our intimacy. That's why we created Gapianne, a shop that offers the best organic, Made in France and non-toxic solutions for health, as well as detailed resources to support you. We met ?
Discover Gapianne