The best sex toys for couples: which one to choose?
Beyond the solitary pleasure that allows you to know your body and do yourself good, couples can take great pleasure in masturbating each other . But what about introducing toys, the famous sex toys into your relationship for more complicity, connection and sensations ? Which one suits you best? Vibrators, connected, remote-controlled, waterproof sex toys, clitoral stimulators without contact or with...
Let's come back to these points to understand how to introduce these small intimate accessories into your relationship.
Why use a sex toy alone or as a couple?
Women masturbate 76 times a year on average , and men twice as much as women (according to a study by the Womanizer brand conducted in cooperation with Lucid in 2022). Hence the importance of awareness of intimate well-being for women!
The taboo of masturbation is being deconstructed thanks to sex education which allows us to no longer demonize pleasure and to understand that it is even advisable and good for our health to masturbate!
Find our article on this subject which explains how to connect to your body through masturbation .
Since confinement, the French who have already used a sex toy are for the first time more than 50%!
The sexpert Maïa Mazaurette reminds in GQ that "if masturbation is perceived as disgusting, let's turn it into a really pleasant, legitimate and sympathetic moment. Let's invest in it. Let's think about people or actions that we like 100%, take more time, and if it makes us happy, yes, let's buy sex toys. If you have an ultra-luxury cocktail mixer (which obviously you use every 36th of the month), why not a masturbator? " GQ: Getting into sex toys : Not that easy !
How to use a sex toy as a couple?
We've said it before, but it's worth repeating: to start, check that you individually want it.
Let's remember: there is no injunction to use a vibrator (no, you're not old-fashioned if you don't want to use one). Simply, these small vibrating accessories will stimulate sensitive areas very effectively and can help you feel good, in your body, in your head, in your sexuality... and why not in your couple.
No competition! The sex toy is not in competition with you or your partner, it is a tool to give you pleasure in a different way. Drop your ego and get into the game, it's very exciting to see your partner get off , no matter how.
Concretely, you can use a vibrator while you make love with your partner, activate their sensitive areas to see them take pleasure or caress yourself where it feels good. You can also sometimes masturbate at the same time during the act, because the vibrations can affect both of you.
Couple: how to choose your vibrator or vibrating stimulator?
Here, we are 4 women associates who have observed the discomfort that women can feel in sex shops. That's how we created Gapianne, the first intimate well-being e-shop dedicated to women .
So that they can peacefully choose a sex toy to use as a couple, alone, without judgment and with an experience focused on well-being .
In this regard, go to our Pleasure collection which includes clitoris stimulators, organic lubricants, massage oils , etc. to have a quick look at all our proposals.
And if you have any questions, don't hesitate to ask them in the chat, it stays between us ;)
What sex toy when you start: womanizer, rabbit vibrator, vibrating ring?
Choosing the right vibrator means thinking about your pleasure and that of your partner. Choose the type of stimulation that suits you or him best. As we know, it's not always easy to know which vibrator to use when you're a beginner .
Sex toys designed for penetration
If internal stimulation is more your thing, we have the 2 best G-Spot sex toys to recommend - tested and approved by the entire female team at Gapianne!
Here is the Smile Makers Tennis Coach , slightly curved to find your sensitive point or that of your partner. Its original shape de-tabooizes the act and makes the moment more friendly, less serious, uninhibited.
If you prefer a more minimalist style, Maude's G-Spot vibrator will meet your requirements. It has 5 different intensities to vary the pleasures. Maude is the famous American brand of sexual well-being whose Dakota Johnson (50 shades of grey, just that!) joined the board recently.
The best clitoral stimulators
When looking for a sex toy for couples, internal stimulation is not always what you expect.
If you are in this case, then we recommend clitoral stimulators , which focus not on penetration but on the clit. Alone or with others, the clitoral vibrator can be used during foreplay or at the same time as penetration to accompany internal sensations. This is an opportunity to meet him and discover his super powers!
Toys that stimulate the clit have become increasingly popular with women for their ability to deliver quick and intense orgasms . It's an extremely sensitive area and rich in nerve endings (it has 10,000 of them), which means it can be aroused in many different ways.
Among them, the Dune from the French brand My Lubie , Lelo products or the womanizers from the eponymous brand that will spice up your sexual intercourse or your moment of personal masturbation .
The Dune is a small pebble in medical silicone that tickles the glans of the clitoris and erogenous zones too.
Conversely, the Lelo Sila or the womanizer have a so-called "pulsed air" feature. That is to say that they come to make a call for air around your clitoris and stimulate your pleasure without touching it.
It's revolutionary because with this technique, your clitoris is not desensitized . Indeed, sometimes the intensity of the vibrators is such that your nerve endings are overstretched and you feel less sensations (only for a while, then it comes back, phew!).
Orgasm: the best double stimulation sex toy
Here we go to the next level. With the double stimulation, your vibrator will come with its two tips to stimulate you both outside AND inside to increase even more pleasure. Like the famous rabbit vibrator that Carrie talked about in Sex and The City (we're talking about a time that people under 20 can't know).
Honestly, we have one big recommendation for you, just one: opt for the Coco de Puissante. It is also forced air, so very gentle on your clitoris but waaaah, really effective.
Use only the external stimulation or try at the same time its foldable tip which adapts to your body and is inserted into your vagina. Choose the pulsation and intensity that suits you and let yourself be carried away to 7th heaven.
The best vibrating sex toys for couples
Here is a selection of sex toys that are designed to have fun for two.
For a male partner, discover Tor, a vibrating ring (also called cockring) which is positioned on the penis and which provides intense pleasure to both partners. You can try several more or less powerful stimulation modes.
Empower the other with a remote-controlled sex toy that can be controlled by the partner. The Tiani 2 is the perfect sex toy for couples to spice up lovemaking. Adjust the intensity remotely with a remote control to explore together: one part vibrates inside you while the other can massage the clitoris, while providing pleasure to both partners.
Any other ideas to (sex) explore as a couple?
First, you can take inspiration from our Top 10 gifts to give to your partner because when you love it's Christmas every day.
Otherwise, here are other ideas to get in the mood and have fun as a couple :
Remember that the most important thing in all of this is connection, listening to yourself, and that of your partner.
→ To explore female sex toys in more detail, see our article on how to choose your vibrator ?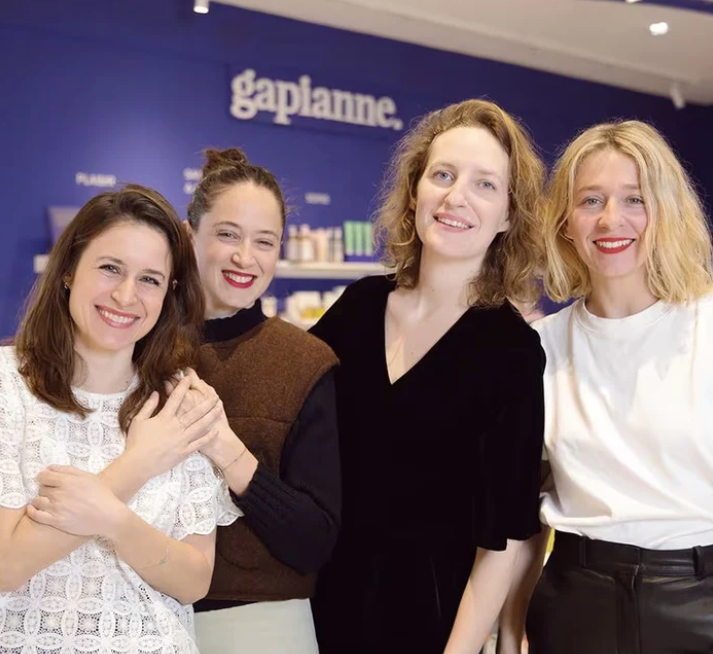 Nice to meet you
Welcome to Gapianne
We are 4 friends: Jen, Victoire, Anne and Marine. Like the 34 million French women, we have encountered various issues related to our intimacy. That's why we created Gapianne, a shop that offers the best organic, Made in France and non-toxic solutions for health, as well as detailed resources to support you. We met ?
Discover Gapianne