An alien has lodged on your forehead. That's it ! First sign that your period is coming. During this period, a hormonal change takes place, accompanied by a high level of androgens. This will accelerate the production of sebum, at the risk of clogging the pores of the skin. These clogged pores retain the excess sebum secreted which results in acne. To overcome this hormonal acne, follow the guide of our anti-acne routine during menstruation, 4 simple steps that do good.
Step 1: Remove make-up and cleanse your skin every day in the morning and evening
Certainly the most important step to have a beautiful skin, the BA BA to adopt whatever your age. In the morning we remove the impurities accumulated during the night on the skin, the best is to opt for a double cleansing with water and oil. The oil will help to deeply cleanse the skin and the water will rid the skin of the last dirt while moisturizing it. At Gapianne, we like simple routines, which are easy to adopt on a daily basis, so we have found Oden's make-up remover oil for you, which allows you to do a complete double cleansing with a single product!
Little reminder, we wash our hands well before touching our face.
On dry skin, pour 2 pumps into the palm of your hand, warm it between your palms before applying it in small circular movements all over the skin and delicately on the eyes.
Rinse with warm, clear water
If you opt for double cleansing, pour 2 pumps into the palm of your hand on wet skin, the oil turns into a foam and massage your entire face.
Rinse with clear water and tadaaa freshness and suppleness, lightly tap your skin to dry it with a clean cloth.
Team "I keep my favorite product for life", we chose this oil because it is also suitable for pregnancy and postpartum.
Not a fan of oils? It takes all tastes ! To cleanse your skin, try Nideco's Clean That Face , this very gentle anti-blemish make-up remover cream moisturizes and detoxifies the face. You can also leave it on as a mask for 5 minutes on the face to unclog the pores of the skin even more deeply. Easy and duplication, we a-do-re.
Gapianne's tips: Our skin also has cycles: during the day, its role is to protect against daily aggressions (dirt, pollution, etc.). And it regenerates at night when it produces up to 3 times more cells than during the day, which is why it's the best time to apply a treatment and boost its regeneration.
Step 2: Nourish and hydrate your skin
Nourish your skin daily with an oil adapted to your skin type for smoother skin with fewer imperfections and a perfect moment of self-love, we massage ourselves while applying it and it feels good! Oden's natural and virgin oils are cold pressed in France and come from organic farming. No other additive for your skin and that's really a gift! Place 2 to 3 drops of this jewel oil in the palm of your hands before massaging your face and neck, morning and evening. If you have imperfections, we recommend Oden hazelnut oil made for combination to oily skin.
To moisturize your skin, we turn to water-based products, you can substitute your day cream for the Nideco moisturizing gel: Oh my periods to prevent the appearance of imperfections linked to the cycle, two weeks before the start of rules. It can also be used as a daily day cream to limit imperfections at each moment of the cycle. Its fluid, non-greasy texture leaves the skin mattified.
Step 3: (BONUS) Provide the nutrients the skin needs
Food supplements can also help you have clearer skin and act over time. We recommend that you try MiYé Clear Skin Elixir , to be diluted in a glass of water every morning for 10 to 15 days, preferably to be taken during the period preceding your period. This supplement will help drain and detoxify the body.
The flowing cycle from Twenty Eight is a synergy of plants in food supplements which has been formulated in particular with burdock and probiotics to limit skin imperfections linked to the menstrual cycle. The fennel present in the formula also relieves bloating during this period. The cure lasts 30 days and can be renewed for 3 months.
Food supplements complement a healthy diet, and will be much more effective if you eat a balanced diet. And no, we see you coming, no one is perfect, so we do our best and don't feel guilty, we eat, we drink water (but not only) and we have fun!
Step 4: Healthy glow boost
If you are told you don't need makeup or very little with Oden's healthy glow serum that instantly illuminates the skin, it makes you want, right? Tested and approved by the entire Gapianne team, it is THE product that is unanimously accepted by us. To be used alone or mixed with your day cream, it is its combination of rare seed oil and sea buckthorn pulp which, with its carotenoid content and its beautiful orange color, will give you a tanned complexion. A must have for those days when you don't feel on top of the top, everything's gonna be okay baybay!
Also find our page What effective treatment against hormonal acne and scars?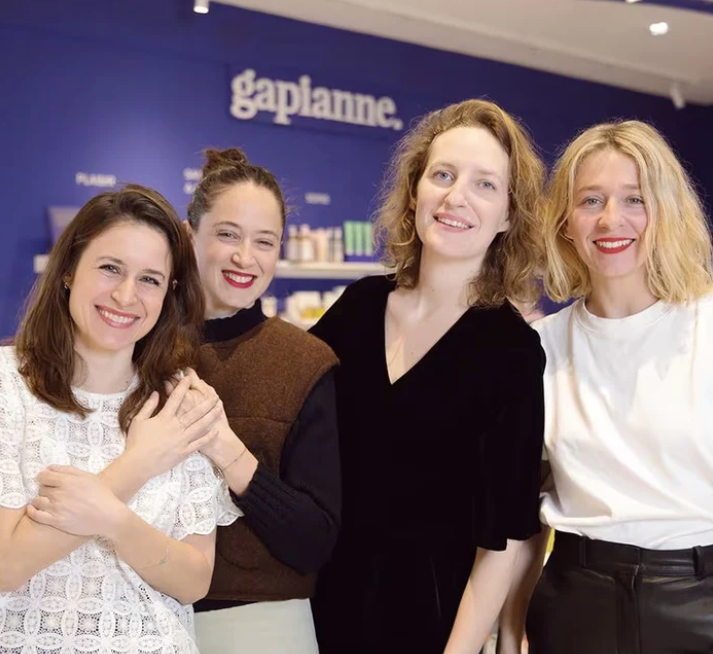 Nice to meet you
Welcome to Gapianne
We are 4 friends: Jen, Victoire, Anne and Marine. Like the 34 million French women, we have encountered various issues related to our intimacy. That's why we created Gapianne, a shop that offers the best organic, Made in France and non-toxic solutions for health, as well as detailed resources to support you. We met ?
Discover Gapianne