Rediscover sex and intimacy with our range of naughty gifts
The world of naughty gifts is vast and full of surprises for all tastes and desires. Whether celebrating a birthday, Christmas, a special occasion or simply adding a little spice to your everyday life, choosing the right gift can transform an ordinary evening into a memorable adventure. In our selection of 9 gifts for sex , you will discover daring, elegant and sensual ideas, designed to continue to fuel the flame and explore new dimensions of pleasure. Let yourself be tempted and offer your partner a journey to discover new sensations!
"Discovery pleasure" box
Are you looking for the ideal naughty gift to surprise your other half or current crush in an intimate and thoughtful way? Do not search anymore ! Our "Discovery pleasure" box is the perfect set to introduce you to new sensations. First, the "Little Guide to Masturbation" will open the doors to a world of discoveries with its 141 pages rich in tips and advice. Then, the soft and elegant French Lover sex toy , made of medical silicone, promises you unparalleled moments of pleasure, while respecting your skin. And to make every moment as fluid as it is delectable, our natural lubricant based on water and calendula will ensure a respectful and pleasant experience. Give him or yourself this box, and share intimate and steamy moments together. 🥵
✨ For whom?
Ideal as a gift for couples looking for shared sensual adventures and wishing to discover and rediscover pleasure together. Whether it's strengthening your intimacy or exploring new sensual territories together, this set is the key to memorable evenings.
Let's discuss game - Gender Games
It's often said that communication is the key to a healthy relationship, but broaching certain topics, especially sexuality, can sometimes feel tricky. The DISCULTONS game is here for you! Created by Léa from the Instagram account @MerciBeaucul , this innovative card game is designed to (re)launch the conversation about sexuality, without the slightest taboo.
DISCULTONS invites you to explore a multitude of themes, from desire to pleasure, including consent, anatomy, and even sex toys or fantasies. Whether you've been in a relationship for a decade, are newly in love, or are in a lighter relationship, this game is universal and adapts to all profiles.
So, ready to offer (or offer yourself) this treasure of communication? Whatever your orientation or identity, this game promises evenings filled with sincere and enriching exchanges.
✨ For whom?
Intended for all people wishing to enrich their communication and mutual understanding on the nuances of sexuality. Whether you are looking for deeper communication or simply curious to explore new territories together, DISCULTONS will greatly satisfy you.
"Self love" box
Taking care of yourself, celebrating your body and taming it remain, for many, subjects surrounded by taboos. Our society, although evolving, still struggles to give full place to gentleness and self-love in our quest for well-being. It is to break these taboos and support you in this essential process that the SELF LOVE box set was designed.
With this box, treat yourself to a special moment, far from judgments, where each product has been carefully selected to invite you to the discovery and appreciation of your own body:
CONNECT with your essence with Baûbo vulva balm, a gentle and nourishing formula for intimate comfort to rediscover.
RELAX with a cup of Equilibre's organic Rooibos and CBD infusion, a recipe that guides you towards serenity.
TASTE Cosmic Dealer's sublime high vibration chocolate, a taste experience that awakens the senses.
DISCOVER and celebrate your body with Julia Pietri's short guide to female masturbation, an exploration tool that breaks down prejudices.
Each element of the box invites you on a journey of acceptance and well-being. Treat yourself to this unique break or share it with someone you love.
✨ For whom?
Intended for all people who want to overcome taboos, honor their body and treat themselves to a moment of self-love. Whether you are looking to strengthen your relationship with yourself, explore new facets of your sensuality or treat yourself to a well-being break, this is a lovely gift to give yourself.
Enjoyment Club
Do you want to offer your other half a guide to explore the wonders of sensuality and sexuality together and bring a little spice to your intimate life? Jouissance Club , published by Marabout, is the ideal naughty gift for this.
This manual, which we affectionately nickname "the pleasure bible", is a true opening to the art of pleasure. It goes beyond simple traditional penetration, and shows the multiple facets of pleasure, for all tastes, regardless of gender or sexual orientation.
With refined and enlightening illustrations, "Jouissance Club" details the erogenous zones and reveals the techniques conducive to ecstasy. He is a caring, joyful and liberating guide.
✨ For whom?
Who is this great gift for? For you and your crust, or your other half, of course. Whether you are curious, a novice or already well informed about pleasure, this guide will allow you to broaden your horizons and experience even deeper and more enriching intimate moments. Whatever your experience or perspective on sexuality, "Jouissance Club" is the gift for a fulfilling exploration of intimacy.
Also read: The best gift ideas for pregnant women >
Libertine lubricating oil with CBD - HO KARAN
Your moments of sensuality deserve the best. HO KARAN Libertine oil , made in France, is an invitation to discovery and fulfillment. Enriched with CBD, CBG and erogenous plants, this 100% natural and organic oil promotes excitement, lubrication, and relaxation for increased pleasure. Alone or in pairs, its oily texture offers a nourishing touch and prolonged glide, while its delicious chocolate-hazelnut aroma awakens the senses and opens the door to naughty games.
✨ For whom?
For all those wishing to rediscover their body, to experience a new level of pleasure or simply to share an intimate moment full of tenderness and complicity. Whether you are looking for deep relaxation or intense emotion, Libertine oil is your ideal accomplice. Yes yes !
Air-propelled clitoral vibrator - SILA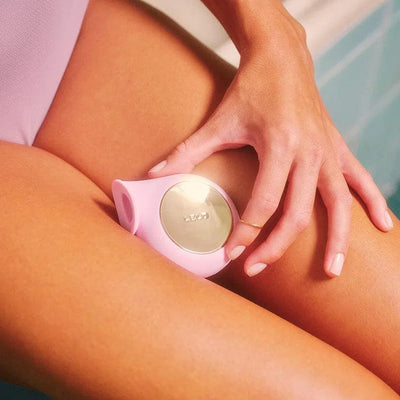 Enter a new era of female fulfillment with the SILA™ vibrator , a technological marvel designed to transcend your pleasure. With its wide mouth and vibrating waves, this vibrator revolutionizes clitoral stimulation, encompassing both the external part and the internal branches for new and deep sensations. Echoing the famous SONA™ massager, SILA™ deploys 8 levels of sonic wave intensity, offering a gradual rise to ecstasy.
Chosen as the best in its category by the Gapianne team, SILA™ is more than just a toy: it is an invitation to explore and redefine the limits of your pleasure. Equipped with the LELO quality guarantee - rechargeable, waterproof, quiet, and made of medical silicone - this gem is built to last, accompanying you on every sensual journey.
Use is child's play: a touch of water-based lubricant , a few presses of its intuitive buttons and let the vibrator guide you to new orgasmic horizons. And as with all precious treasures, regular maintenance ensures its longevity.
✨ For whom?
For women looking for discoveries and new dimensions of pleasure. Whether you are an experienced explorer or a novice eager to experience new sensations, SILA™ is designed to guide you, pamper you and surprise you.
Double stimulation vibrator - COCO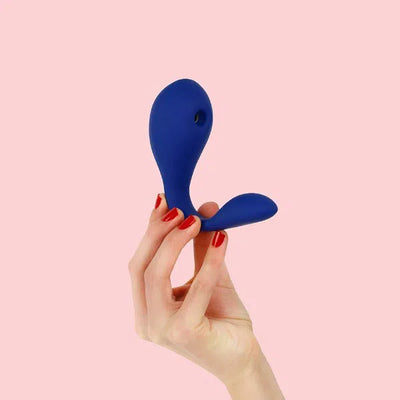 We'll let you discover another vibrator that we particularly like: the Coco vibrator . Immerse yourself in a torrid universe thanks to double stimulation. Fusing advanced clitoral sucking technology with an insertable vibrating shaft, Coco promises versatile ecstasy, whether external, internal or simultaneous, solo or in pairs.
Revealed in the show "Who wants to be my partner?" on M6 , Coco has already established herself as a must-see among more than 15,000 women. In addition to its innovative clitoral suction, the subtly shaped rod precisely targets the G-spot, for a renewed experience with each use.
Every detail has been carefully thought out: 10 distinct vibration modes, an ergonomic design, a soft and respectful medical silicone composition, and guaranteed discretion thanks to its waterproof and silent properties. And for those who are always on the move, Coco comes with a travel bag, a user guide, and a USB charging cable.
✨ For whom?
For any woman seeking to elevate and diversify her pleasure, whether she is a curious novice or a regular looking for new sensations. Coco is the perfect gift to guide you, surprise you and pamper you, no matter where or when. You can even test it with your partner. 😉
Soft and fluffy Dune stimulator - My Lubie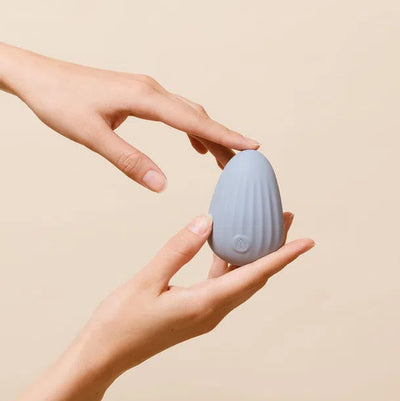 Looking for the perfect gift to introduce your companion to a world of unexplored sensual pleasures? Let us introduce you to the Dune clitoral stimulator . More than a simple accessory, it is a real promise of intense and shared moments.
Dune, by My Lubie, is designed like a soft vibrating pebble. Its ultra soft silicone texture and ergonomic shape are very gentle on the intimate parts, and adapts deliciously to every curve. Far from being just an object, as soon as it nestles in your hand, it becomes an extension of your sweetest and deepest desires.
This treasure of technology is dedicated to external stimulation, capable of arousing the vulva, the clitoris, the nipples, and many other erogenous zones. Its design, both discreet and elegant, hides formidable effectiveness: 5 vibration modes, with an intensity ranging from 1 to 5, for varied and intense sensations. Little icing on the cake: its small head specially designed for targeted stimulation of the clitoris.
Small, quiet and waterproof, Dune invites discovery, whether in the privacy of your room or during more adventurous trips. He is a constant accomplice, for solitary or shared pleasures.
Getting it started is child's play: just press the main button for 3 seconds, then it's up to you! And after each sensual escapade, easy maintenance ensures you preserve its softness and effectiveness for future sensual journeys.
✨ For whom?
For your other half eager for sensual discoveries. The Dune by My Lubie is the ideal gift for sharing moments of complicity and mutual exploration. The adventure of pleasure, to be experienced as a couple or alone, begins here 🫶
Love Box Weekend Let's Enjoy
Are you planning a little romantic getaway soon? The LOVE BOX WEEK-END JOUISSONS is the treasure you were looking for to spend ultra hot moments!
Designed for couples wanting to escape for a weekend, find the essentials to make each moment unique. Let yourself be guided by the "pleasure guide" by Gapianne, while letting yourself be carried away by a "love" playlist specially concocted to awaken all your senses. The podcast episode "Colette confesses" will awaken your curiosity and spark new desires.
The journey continues with an edible CBD massage oil, for delicious and intensely sensual foreplay. Then, to add a spark of excitement, the Smile Makers sex toy will be your ally for naughty games. Finally, for a smooth and gentle experience, the My Lubie natural lubricant will be your best accomplice, and let's not forget the My Lubie condoms for a safe and enjoyable exploration.
✨ For whom?
For your couple or for the person with whom you want to share intimate and unforgettable moments. Whether for an impromptu weekend or a special occasion, the LOVE BOX WEEK-END JOUISSONS is the perfect sex gift to escape and (re)discover yourself.
Love Box Weekend Let's Play
Discover the Let's Play Weekend Love Box , a second precious companion that will transform your romantic getaway into a true sensual adventure.
Designed especially for couples wishing not only to please themselves but also to deepen the understanding of their desires and desires, this box contains everything you need for a playful and sensual exploration. The "pleasure guide" by Gapianne, embellished with a few surprises, lays the first stones of a sensory journey. Then let the notes from the "love" playlist awaken your senses and the episode of the podcast "Colette se confesses" inspire you.
But the real magic lies in the DISCULTON game, a unique opportunity to play while discovering in depth what your partner wants. To accentuate the atmosphere, succumb to the temptation of the Cosmic Dealer aphrodisiac chocolate bar. And so that everything goes smoothly, the natural lubricant will be your ally, supplemented by My Lubie condoms for safe moments of complicity.
✨ For whom?
For your darling, with whom you aspire to spend fun, informative and passionate moments. Whether for a surprise weekend or a special occasion, this box is the ideal way to escape while discovering yourself.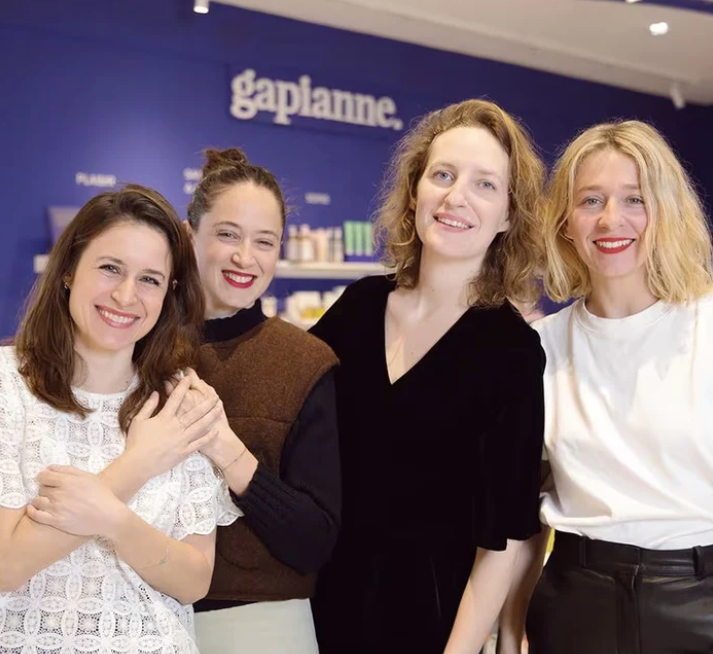 Enchantées
Bienvenue sur Gapianne
Nous sommes 4 amies : Jen, Victoire, Anne et Marine. Comme les 34 millions de Françaises, nous avons rencontré différentes problématiques liées à notre intimité. C'est pourquoi nous avons créé Gapianne, une boutique qui propose les meilleures solutions bios, Made in France et non toxiques pour la santé ainsi que des ressources détaillées pour vous accompagner. On fait connaissance ?
Découvrir Gapianne