Detox cure: what detox foods and supplements to take?
When to do a detox cure?
Do you also after the holidays feel the need to cleanse your liver, eliminate toxins, start a diet and do a total reset of your body ? It's normal: chocolates, turkey, salmon, champagne and all these dishes that we consume with enthusiasm are not the healthiest for our health (but what is good!).
Sometimes even as summer approaches, with the first rays of sunshine, taking care of our body becomes more important than during hibernation. It's time for salads, facials, antioxidant smoothies, natural herbal teas and food supplements to boost the body. But how to detoxify easily on a daily basis?
Why do a cure to eliminate toxins?
Embarking on a detox cure can be a good way to purify the body, to have more energy, better digestion, sleep better and have greater mental clarity. It is desirable, no ? A cure can also be the opportunity to accompany a diet if you want to lose weight. Might as well kill two birds with one stone!
What are the foods to eat daily during a home detox cure?
The body may need a little boost so in addition to a balanced diet, rich in fiber (hmm hmm fruits and vegetables) and water (yes the 2L per day it helps at all levels!) . Add to this a course of food supplements according to your needs and you will feel much better in a few weeks.
What food supplements for a detox cure?
Supplements to boost vitality and energy
Want to have more energy and motivation? A cure of the food supplement
Energy and vitality
de Even would do you good: these
nutrient-rich supplements
help reduce fatigue with its complex rich in vitamins B and C in addition to Ginseng which helps to strengthen the immune system and hibiscus which brings vitality.

Supplements to quit smoking tobacco
If you are one of those who have decided to
quit smoking
this year, know that a cure of food supplements can help you. In the all-natural cure
"Living well quitting smoking" by Bodhea
,
the dandelion associated with the freshwater micro algae chlorella
will facilitate the detoxification of the body, stimulate the liver, facilitate digestion and improve transit.
This cure is to be done for 30 days.

Supplements for the resumption of physical exercise
For those who want to resume sport after several weeks off, we have chosen the natural cure for you. " I'm Taking Back the Sport " by Bodhea : eleutherococcus, sea lettuce and ginger help to:
improve resistance

 

to physical exertion
recover well

 

after exercise
stimulate the immune system
combat temporary fatigue
This cure is to be done for 30 days.
CBD for a boost
In addition, after sport you can regularly drink a cup Balance Ginger & CBD Infusion which is ideal for giving yourself a little boost after sport.
To facilitate the rest of the muscles and avoid aches, we also advise you Balance eucalyptus and CBD bath salts which allow to relieve the muscles, to relax and unwind.
How to do a bowel detox cure?
For healthier digestion and gut wellness , you can rebalance your intestinal microbiota thanks to Dijo's dietary supplement cure which acts thanks to its probiotics on the well-being of the belly by reducing bloating, digestive disorders, chronic fatigue and immune deficiency.
To properly eliminate waste and toxins, and participate in cleansing the body , you can also take a cup of "Digestion" herbal tea from the Mijane brand after the meal. With peppermint, chamomile and sweet woodruff
facilitate digestion
soothe bloating
and stimulate the liver
How to make a detox cure for the liver easily?
Do you know Ayurvedic tongue scraper ? Every morning when you wake up, you scratch your tongue a dozen times to remove the bacteria on it. This eliminates bad toxins accumulated during the night and prevents bad breath. For the more adventurous, you can scrape your tongue longer in order to... massage your liver! And yes, this Ayurvedic ritual has been proven for hundreds of years and helps eliminate the toxins accumulated in this organ.
We guarantee you that to try it... is to adopt it and not be able to live without it!
You can combine its use with Cosmic Dealer oil mouthwash which cleanses the mouth and protects the gums while having fresh breath.
How to do a cure to detoxify the skin?
To rid the skin of all excess and literally get a new look, you can opt for an IN and OUT routine. Thanks to an internal body cleanse with a food supplement and an anti-imperfection beauty routine.
We start with a 15-day cure of Miyé Clear Skin Detox Elixir to be diluted in water: the DIM extract in synergy with burdock and nettle helps to:
rebalance estrogen
stimulate liver functions
regulate sebum
reduce acne
In addition, one can apply Dot is not an option by Nideco once a week on the face: for deep cleansing, this anti-blemish and blackhead paste helps cleanse, rid impurities and eliminate blackheads.
Cleansing your body is purifying your mind
All these actions, of course, will be increased tenfold if you regularly practice a sporting activity, at your own pace. Start with an achievable goal so you don't get discouraged. Do you want to break this too sedentary rhythm? Try to go out, you walk every day for 20 minutes, you will see the benefits on your mind and your body!
Why not take advantage of the start of the new year to try a new activity, yoga, boxing, tennis, the choice is yours, as long as it helps you feel good.
Also, a detox may be necessary following a miscarriage in order to prepare for a new pregnancy . A better diet, playing sports and feeling less stress increases the chances of getting pregnant and preserving the fetus. We send you love and for those who want more inspiration, you can find our entire detox selection here .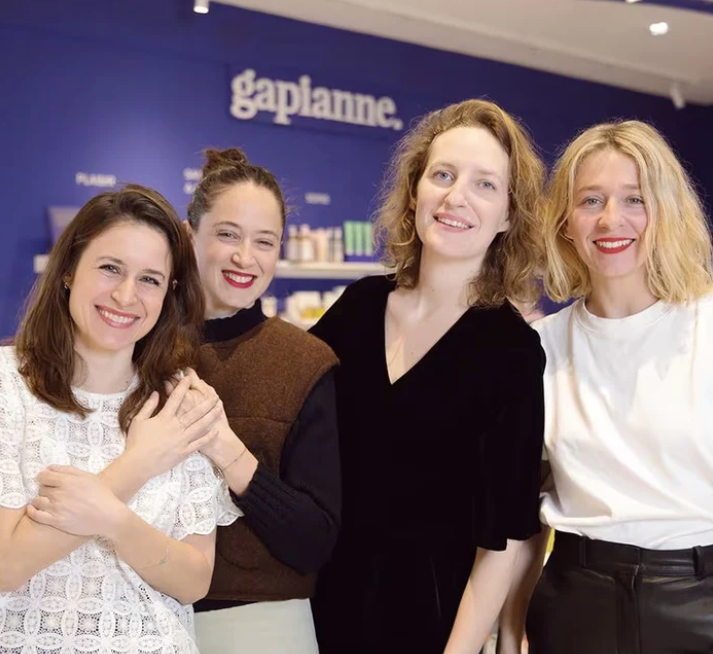 Nice to meet you
Welcome to Gapianne
We are 4 friends: Jen, Victoire, Anne and Marine. Like the 34 million French women, we have encountered various issues related to our intimacy. That's why we created Gapianne, a shop that offers the best organic, Made in France and non-toxic solutions for health, as well as detailed resources to support you. We met ?
Discover Gapianne