The best gift ideas for couples
Would you like to give a gift to share with your lover? Gift boxes for couples are a great idea! Whether to celebrate a special moment in your love life or simply to please, we let you discover our selection of gift ideas for couples . More than just gifts, these boxes are an opportunity to rekindle the flame, add spice to your relationship, (re)discover yourself and build even stronger bonds. Discover a world overflowing with pleasure and without taboos!
Love Box Weekend Let's Enjoy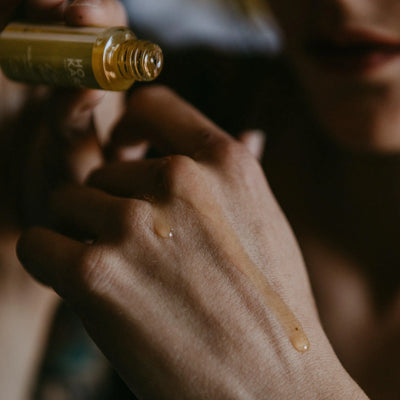 A romantic weekend planned? Discover the Jouissons weekend Love box , an ideal companion that will make your getaway as a couple a memorable adventure of sharing and connection.
Designed for couples wishing to deepen their bond and better understand each other's wishes and aspirations, this box is a gold mine for mutual and above all fun discovery. The "pleasure guide" by Gapianne is enriched with unexpected surprises that will allow you to live an authentic experience. You can also let yourself be carried away by the episodes of the podcast "Colette se confesses" which are real sources of inspiration.
You will also find the game DISCULTONS, a golden opportunity to play while getting closer. Add a gourmet touch with the Cosmic Dealer chocolate bar. And to complete the experience, a Smile Makers sex toy to spice up lovemaking and a natural lubricant that guarantees you comfort and softness, accompanied by My Lubie condoms, for moments of closeness with complete confidence.
✨ For whom?
For your other half, with whom you want to experience moments of laughter, learning and affection. Whether for an impromptu escape or a special celebration, this box is the key to a moment of escape and mutual rediscovery.
Love Box Weekend Let's Play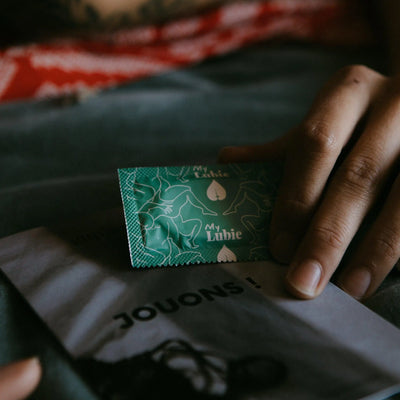 Another format that should please you: the Love Box Weekend Let's Play . Designed for couples who want to venture on a journey of mutual discovery, this box allows you to explore, connect and enjoy the most intimate pleasures.
Start the experience by immersing yourself in the "pleasure guide by Gapianne", an enriching guide sprinkled with a few captivating surprises to tickle your imagination. To add a touch of sensuality to the atmosphere, let yourself be carried away by our "love" playlist, specially designed to evoke passion and romance. Need inspiration or naughty secrets? The episode of the podcast "Colette confesses" is here to stimulate your curiosity. Add to this the DISCULTON game, a fun way to deeply discover your partner's wants and desires. And to tickle your taste buds, the Cosmic Dealer aphrodisiac chocolate bar promises you unique taste sensations. Also make sure you have a pleasant and safe physical experience with My Lubie natural lubricant and condoms, guaranteeing intimacy that is both gentle and passionate.
✨ For whom?
The Love Box Weekend "Let's Play" is designed especially for couples looking for a unique experience. Whether you are at the start of a relationship, wishing to get to know your partner better, or you have been together for years and are looking to rekindle the flame, this box is made for you. It is perfect for those who want to add a touch of adventure and discovery to their romantic weekend. If you are planning a romantic getaway, celebrating another year spent together or simply spending some special time together, treat yourself to this box. It's the perfect gift to say, "Let's take a moment, just the two of us, to play, explore, and get even closer." 🖤
"Desire and pleasure" gift box
Looking for the perfect naughty gift to surprise and spoil your partner? The "Desire and Pleasure" gift box is the gem you are looking for. This box is a delicate touch that celebrates and honors female pleasure.
There you will find the book Jouissance Club which is a real invitation to discovery. It is a true reference that is full of a multitude of ways to experience pleasure, offering both an instructive and stimulating discovery. The Vulva Balm, for its part, offers post-intimacy tenderness, an external treatment carefully formulated to provide softness and comfort. Add to this the aphrodisiac CBD herbal tea from the Équilibre brand - an infusion to enjoy as you wish, whether hot for cool evenings or cold for a refreshing touch of energy.
Offering this box is offering a break of sweetness, exploration and well-being. It's recognizing and celebrating femininity.
✨ For whom?
For this exceptional woman in your life, the one you love to pamper and discover again and again. This box is not only an ode to her femininity, but also an invitation for both to explore new areas of complicity. Whether your partner wants to deepen her relationship with her own body or aspires to shared intense moments, this box set is a promise of joint sensual escapes.
"Let's vibe" gift box
Enter a dimension of deep pleasure, whether you are alone or in pairs, with the Let's Vibe Box . Perfectly designed for those wishing to (re)discover their body and fully embrace their sensuality at each stage of life, this box is a treasure of intimacy.
In this box you will find the Womanizer Compact . The legend of intimate pleasure is reinvented in compact format. This revolutionary clitoral stimulator, thanks to its pulsed air technology, promises an intense experience. Its suction effect is so unique that it will transport you to unsuspected heights of pleasure. Designed to accompany you everywhere, it is discreet, waterproof and rechargeable. A real ally for moments of escape. You will also find the Natural My Lubie lubricant 75 ml. For a smooth and harmonious experience, opt for this hydrating and soothing lubricant. Designed to intensify pleasure by avoiding friction, its clean, vegan and French composition makes it irresistible. Finally, you will discover Baubo vulva balm 15ml. A final touch to pamper your privacy. This balm, 100% natural and organic, is a daily caress for the vulva. Soothing, hydrating and softening, it is tested and approved by both gynecologists and dermatologists.
✨ For whom?
It is an intimate gift to give to your partner, or a close friend wishing to explore their intimacy. It is the ideal gift to show that you care about her well-being and her personal discovery, by offering her the tools to connect with herself or to share intimate moments with her partner.
"Sex and fun" gift box
Are you looking to give a gift that is out of the ordinary and breaks taboos? The "Sex and fun" box set is the perfect solution. Designed to bring humor, discovery and connection at the same time, this box is an invitation to explore one's intimacy in a fun and caring way.
Fun, thanks to the sex toy spinning top which is not a simple clitoral stimulator. Made in France with a soft finish, this little gem is versatile, ready to awaken your external erogenous zones. Benevolent, thanks to the Let's Talk game from Gender Games. Whether you've been a couple for decades or are spending your first evening together, this card game, which can be played by two or more people, is a unique chance to deepen the understanding of each other's wants and needs. Ready for a sincere conversation peppered with bursts of laughter? To top it off, you can add a touch of sweetness to your intimate moments with our best-seller. My Lubie's water-based lubricant offers a natural sliding sensation, while being non-toxic and edible. Made in France, it is perfect for those who want to combine pleasure and indulgence.
✨ For whom?
For daring couples looking to rekindle the flame or simply to share funny and companionable moments. For that special someone with whom you want to explore, learn and laugh together, breaking taboos with confidence. Whether it's a birthday, a memorable date or simply a surprise to spice up everyday life, this box is the ideal gift for those who want to combine intimacy, fun and discovery.
"Aphrodisiac" gift box
Open the door to a warm and sensual atmosphere with the "Aphrodisiaque" gift box . Ideal for those chill evenings spent snuggled up with your lover, where the dim lights meet the sweet scents of oils and infusions. Imagine yourself sharing an intimate moment, exchanging delicate massages and savoring every moment. This set is your invitation to deepen your connection and transform your ordinary evenings into extraordinary moments.
Let yourself be immersed, as a couple, in a sensual and invigorating massage with My Lubie oil. Designed to caress your skin, it invites you to softness and complicity. Its unique formula not only offers an unforgettable massage, it also takes care of your skin, leaving it soft, luminous and delicately scented. Relaxing and hot time guaranteed! In addition to a massage oil, take advantage of this cocooning moment to awaken your libido with My Lubie's aphrodisiac herbal tea. Formulated with a special blend of active plants, this herbal tea is your ally in enhancing passion and interest. In addition to stimulating desire, it works by calming stress, creating the perfect atmosphere for connecting deeply.
✨ For whom?
Intended for couples looking to deepen their bond and explore new facets of their intimacy, or those simply wishing to spend a warm moment together, this box is the perfect invitation for sweet and warm evenings. You will share moments of tenderness, relaxation and awakening of the senses.
But also …
Tiani, the remote-controlled sex toy for couples - Lelo
Looking for a moment of complicity and shared pleasure with your partner? Discover Tiani, the remote-controlled sex toy for couples from Lelo. This jewel of innovation combines double stimulation, both internal and external, promising a symphony of pleasures to both partners.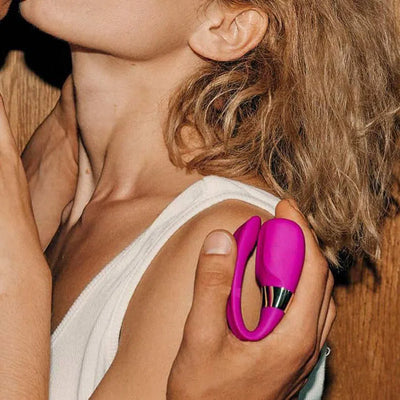 Main Features :
Double Ecstasy: Tiani is designed to provide pleasure to both partners simultaneously. While the vibrating head targets the clitoris, the inserted rod stimulates both the G-spot and the partner's penis during penetration.
SenseMotion™ Remote Control: Control your pleasure... or let your partner do it, with this wireless remote control that operates up to 12 meters away.
Elegance and power: In the great Lelo tradition, Tiani combines luxurious design with formidable power for an unparalleled experience.
Respectful of your body: Made from medical silicone, Tiani is not only gentle on your skin, but it is also waterproof, rechargeable and silent.
Usage tips :
Before starting your adventure, apply a natural water-based lubricant to your private parts or directly to Tiani. Turn it on via the remote control and discover a world of sensations. Whether as a duo or solo, the varied modes of vibration and intensity will meet your desires.
For those who like to combine relaxation and pleasure, Tiani is also suitable for your intimate moments in the shower or in the bath.
✨ For whom?
Whether you have been in a relationship for years or are experiencing your first moments of intimacy, the Lelo Tiani is designed for all those looking to renew and intensify their bond in bed.
Massage candle - Maude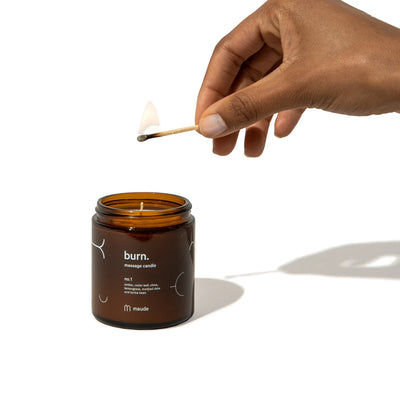 Prepare for a unique massage experience with the Maude candle . Combining softness and sensuality, this candle is the secret ingredient for intimate and companionable moments.
Amber & Lemongrass will transport you to a warm and captivating atmosphere, while Eucalyptus will awaken your senses with an invigorating freshness. Whether you're in a passionate or relaxing mood, there's a Maude candle for every moment.
This candle transforms into a hydrating massage oil, made from jojoba and soy oils. Its soft and light texture will caress your skin, leaving it hydrated and scented.
Usage tips :
For an ideal massage, light the candle and let it melt for 10 to 15 minutes. Once the oil is ready, extinguish the candle and gently pour the oil onto the skin or apply it with your fingertips for a gentle, sensual massage. When finished, extinguish the candle by blowing out gently to preserve its scent and lifespan.
✨ For whom?
The Maude Scented Massage Candle is intended for anyone looking to add a touch of sensuality and well-being to their intimate moments.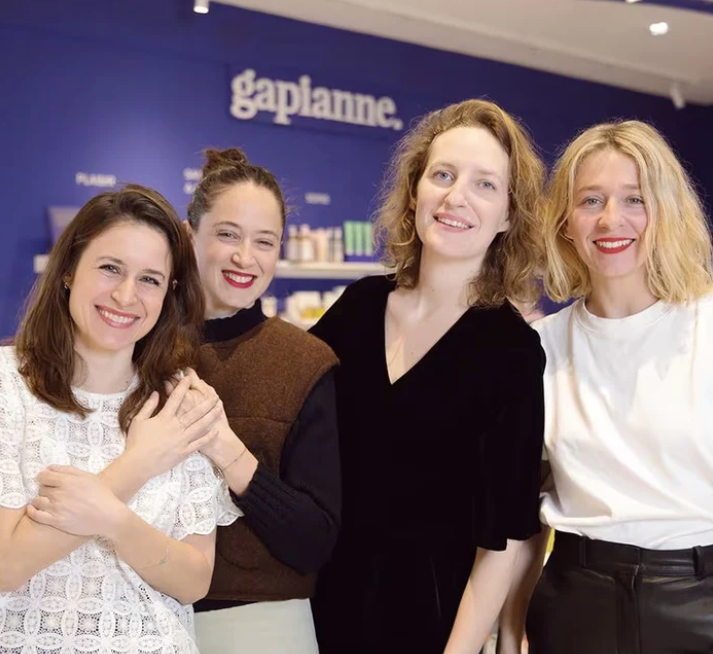 Enchantées
Bienvenue sur Gapianne
Nous sommes 4 amies : Jen, Victoire, Anne et Marine. Comme les 34 millions de Françaises, nous avons rencontré différentes problématiques liées à notre intimité. C'est pourquoi nous avons créé Gapianne, une boutique qui propose les meilleures solutions bios, Made in France et non toxiques pour la santé ainsi que des ressources détaillées pour vous accompagner. On fait connaissance ?
Découvrir Gapianne