What about free instinctive flow?
Jess, Clem and the girls of Collectif Junon thrill Paris with their program of feminist and eclectic events, their eponymous blog since 2015 deconstructs the preconceived patterns of sexuality of our time. If you open your eyes, you may have seen Clem on his blue Pussyclette delivering their brilliant magazine Hysterique to the four corners of Paris. Gapianne joins forces with Juno to present you with a selection of topics that the collective has gone over with a scalpel, and of course the number 2 of Hysterique is available for sale , good reading!
One of our readers suggested an idea to us one day: talk about Free Instinctive Flow. At the time I had already heard of it but nothing more. So I decided to do my little research and offer you an article from my point of view of semi-surprised.
First of all, what is FIL (Free Instinctive Flow) or FFI (Free Flow Instinct)?
It is a technique said to be revolutionary by many people, consisting in physically controlling his menstrual flow, and which aims to remove tampons, pads, cups and other hygienic protection from his life and simply let your menstruation flow in the toilet… or behind a tree! (JOY !!!!).
It's a bit of everyone's dream to stop worrying about your period, isn't it? But what is ?
The solution: contraction and listening to your body, so this method cannot be exercised overnight. After going around dozens of blogs and sites, here are the steps to take to finally say goodbye to your sanitary protection.
First of all, during your first learning cycle, young Padawan, you have to "connect" with your body, try to feel what is happening in your uterus, but also at the exit of your vagina. .
You should start to feel the flow coming out of it, not continuously, but in small periods and small doses (well otherwise, no need to concentrate to feel that our ovaries are literally banging their heads against the walls!).
It is still advisable to wear protection during this period of "self-understanding" otherwise you would run the risk of staining your new sofa and your new panties!
Concentrate on the region of your sex, and there you may feel discomfort, a little tickling. Avoid wearing tight clothes to better listen to your feelings" advises the Pinupbio blogger.
Then when you understand your body, how it works and what it means, you now know when to hold back (because that's the goal of this method after all).
While wearing a towel at first or your old pajamas that you wanted to turn into a rag for dusting, you may start to tense your perineum (the muscle that also serves to hold you back from peeing) when you feel the blood in fusion, ready to go out. You can then start to hold your flow inside until you feel the need to go to the bathroom to let it flow freely.
"At the beginning we go there very often because it is difficult to feel our sensations and we are anxious. I obviously advise you to start practicing this method at home. It is apparently our perineum that will allow us to hold ourselves back. (Pinupbio)
"These women do not control their uterus but their pelvic floor, that is to say the exit from the vagina, and they prevent the blood from coming out at the level of the vulva", informs Dr. Jamin in an article on the subject.
It is strongly advised to try this at home at first and wear your old panties with holes, you know the ones you've been keeping for 10 years "just in case...", because you still risk ending up with blood on your clothes.

At the beginning you will have to go to the toilet quite often because, your muscles not being used to it, you will feel a little more pressing need. Then, as the cycles progress, you will get used to it and be able to keep your flows for several hours (no more than 2 hours if you want to avoid infections, a bit like when you have to/had to change your tampon. The principle of cup without cup finally! (THE GOOD DEAL!).
Then, after a while, you won't even have to think about it, your perineum will work mechanically. There you go, when you feel sure of yourself, your body, your period, you can then invite us to have a bonfire with your remaining protections! A barbecue would be cool too! (invite me).

The benefits of Free Instinctive Flow
Ecological: good for the environment, you will no longer use protections that require a lot of chemicals to be created and then destroyed.
Economical: no more spending on protection, you spend around €2000 on sanitary protection in your lifetime! Nah but seriously!!
Good for the body and the mind: you protect your flora and you learn to understand your body and to listen to it, to be comfortable with it and above all to assume your rules.
Disadvantages of Free Instinctive Flow
The toilets: protections or not, you will always have to have a toilet on hand to let your period end its way.
Infections: Ouch! Be careful, despite what we can sometimes believe, the inside of your vagina is not a healthy or sterile place, it is therefore prone (yes yes prone!) to developing infections, so you will have to go to the toilet every two hours at most.
Small flow: indeed, this technique does not work if you have heavy periods, otherwise you will go to the toilet every 3 minutes, it's a bit annoying.
Since writing this article, when I cherished my cup and couldn't bring myself to another way of living my flows, I started using menstrual panties which I love very much and which teach me precisely to grope on the field of the Free Instinctive Flow, then business to follow!
Article written by the Junon collective and relayed by Gapianne as part of a collaboration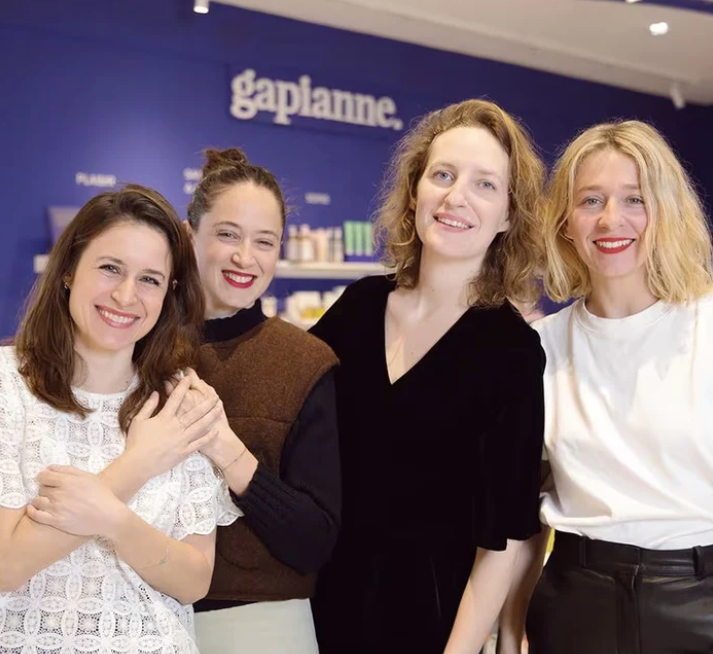 Nice to meet you
Welcome to Gapianne
We are 4 friends: Jen, Victoire, Anne and Marine. Like the 34 million French women, we have encountered various issues related to our intimacy. That's why we created Gapianne, a shop that offers the best organic, Made in France and non-toxic solutions for health, as well as detailed resources to support you. We met ?
Discover Gapianne