The "sacred feminine": yoga and feminine energy
Article written by Aida Atroun
Co-founder of The Yogi Surfer, Aïda advises and accompanies through a yoga that respects the biological differences of women by adapting techniques and postures for a re-connection to her nature, to her "sacred feminine".


The life of the female body is subject to as many changes as injunctions: our periods, hormones, weight gain or loss, "being feminine", motherhood, menopause, in short, permanent challenges.
Did we say wellness?
How to find a state of well-being in this context? Well, we try, we try to understand, to listen to each other, to observe each other. To move, to touch because being a woman is a complex experience, full of adventures. Without pressure, today for Gapianne, I'm talking to you about Yoga and the sacred feminine.

This discipline, we no longer present it and yet it covers very different realities. Yoga is an age-old practice originating in India that includes physical, mental and spiritual dimensions . For several decades, its popularity in our Western societies has been accompanied by a great diversity of practices: Hot yoga, Yoga & dance, hatha yoga, Vinyasa, ashtanga, kundalini, Yin, fertility yoga, yoga barre... and the list is long. .

However, this discipline takes from the Indian tradition (among others) some basics that we will find in most courses: a practice of asanas (posture), pranayamas (breathing) and meditation to find this almost magical connection between the body and mind.

Today, whatever Yoga you practice or wish to practice, the feminine energy may be in the spotlight or in a corner of your head. The sacred feminine is that energy which manifests itself through creativity, emotions, sensitivity, intuition, subtlety, feeling, touch, reproductive power, sensuality.

The yogic tradition recognizes 7 main chakras , which represent energy centers within our carnal envelope. The sacred feminine is connected to chakra number 2, the sacral chakra : Svadhisthana . Its element is said to be water.

Physically, it is between our pubis and our navel. Does this pleasant or unpleasant sensation felt in the lower abdomen speak to you?
So how do you connect to your feminine energy?
Working on our feminine energy in yoga means, in a very concrete way, working on the opening of the hips, the perineal muscle or even the lower back, while taking into account the different phases of our cycle.
Between menstruation and the ovulatory phase : we will practice a dynamic yoga (lighthouse posture warrior II)
Between the post-ovulatory phase and your menstruation : we will practice a hatha yoga (Malasana flagship posture)
During your period : restorative yoga (Supta Baddha Konasana or the posture of the goddess of sleep (without inversion).
These examples of how to adapt your practice can help you step back and be more in tune with your body and its cycles, to reveal, tame, simply observe your femininity. And maybe transcend yourself?

Above all, if like many women, your phases are difficult to identify, follow your best intuition.
Follow Aida on Instagram
| | |
| --- | --- |
| A little cosmic in your life? The 7 Chakras chocolates without sugar (but very tasty!) from Cosmic Dealer will lead you to your sacred feminine. | |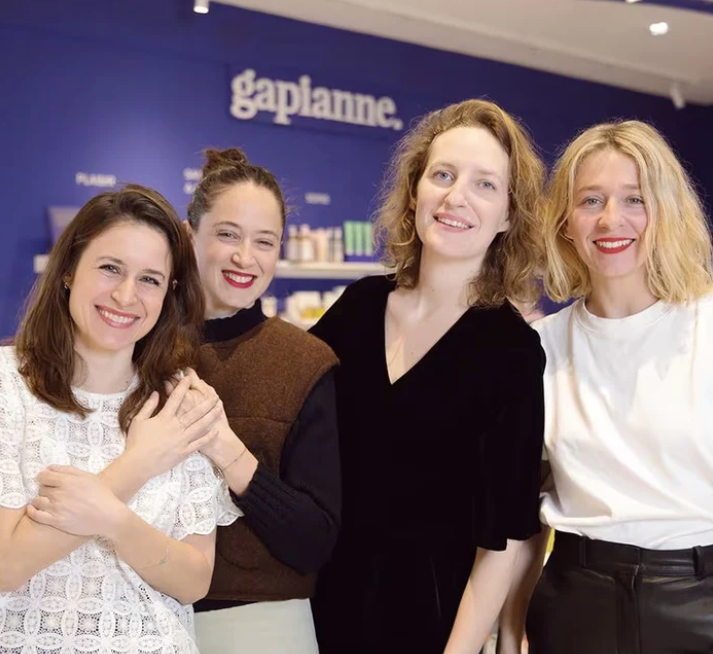 Nice to meet you
Welcome to Gapianne
We are 4 friends: Jen, Victoire, Anne and Marine. Like the 34 million French women, we have encountered various issues related to our intimacy. That's why we created Gapianne, a shop that offers the best organic, Made in France and non-toxic solutions for health, as well as detailed resources to support you. We met ?
Discover Gapianne