Pregnant women: Which cosmetics to use during pregnancy?
Today we caught up with Kenza Keller, founder of talm, the care brand for moms, during pregnancy and beyond. This clean care expert explains to us which products to use in your routine when you are planning a child, are pregnant or postpartum.


The genesis of the brand
Gapianne: Hello Kenza, thank you for speaking on Gapianne on a subject that is close to our hearts: pregnancy and postpartum. You founded TALM in 2020 after having your daughters, can you tell us in a few words about the genesis of the brand?

Kenza Keller: It was when I became pregnant with my first daughter that I realized that it was complicated for a woman to find products that were really suitable and reassuring for her and for her baby at that time of birth. life. Despite 10 years of experience in beauty, when I got pregnant, I spent a lot of time trying to decipher the composition of products. Trying to figure out what I was or was not allowed to apply to my skin. For example, I learned that it was dangerous for a pregnant woman to use essential oils or that there were endocrine disruptors in certain formulas which could be harmful. This idea therefore germinated and I wanted to offer a skincare range that could be 100% safe from the first day of pregnancy. But I also wanted to support them after childbirth, throughout the postpartum period, during breastfeeding and which could both meet the real needs of women and support them in their hydration, in the elasticity of the skin. , etc. That's how it all started!
What cosmetics during pregnancy?
Gapianne: TALM is a cosmetics brand designed for pregnancy, can cosmetics be used during pregnancy and which ingredients should be preferred?

Kenza: Yes, it is totally possible to use cosmetics during pregnancy. I would say to favor natural, organic ingredients, but also to turn to short and minimalist compositions. I would recommend trying to lighten up your skincare routine and lighten the number of products you use in your bathroom by making sure they don't contain unwanted or controversial ingredients.
Conversely, what are the ingredients to banish from your bathroom when you are pregnant and why?
Kenza: You have to try to remain vigilant with the compositions and the lists of ingredients that we call the "INCI list" found on the back of the packaging. For example, it is not recommended to use certain essential oils, ingredients that are too stimulating such as retinol, fruit acids or ingredients derived from petrochemicals such as mineral oils. What I would recommend would be to make sure to avoid some of these molecules but also to favor natural and organic products.
For you, what are the areas that you can pay special attention to while pregnant?
Kenza: Obviously, the belly is a very important area at the beginning of a pregnancy, but also throughout the postpartum period. However, this is not the only area that can be taken care of. The chest, hips and generally the whole body and face will have significant hydration needs. So I would say to have a global approach, that's why talm products can also be used for the body as well as for the face. For example, opt for a routine that provides flexibility and elasticity to prevent the appearance of stretch marks, tightness and itching, but above all to ensure that you feel comfortable in your skin before, during and after pregnancy. .
We often think of stretch marks on the stomach and breasts, why recommend using oil more than cream to avoid them?
Kenza: At talm, we strongly believe in alternating hydration, which is in fact a skincare routine that alternates two phases, two complementary galenics: water and oil. In the morning, we favor the application of a serum and a balm to deeply nourish the skin and provide it with all the elasticity and hydration it needs to function all day and we alternate the evening with the oil to protect the hydrolipidic film and seal the skin's hydration. For me, more than one texture or another, I really recommend having an alternation between these two oily and aqueous phases.
What advice would you give to stressed moms-to-be to relax? What substitutes for essential oils and herbal teas?
Kenza: I believe that the way to unwind and relax is absolutely personal. I would recommend learning about relaxation and stress management practices like sophrology. Today, there are many experts in sophrology, in perinatality, who can really support women in their mental preparation before childbirth, but also after. If possible, you should try to take time for yourself, have a massage, treat yourself to moments of pleasure, for example thanks to a food that you like, music that comforts you, a film that makes you good… I think that this well-being also goes through its little things. We live in a rather complicated and anxiety-provoking period, we must try to create small moments of breathing on a daily basis.
How to make the transition between her pregnant cosmetic routine with her postpartum? What can you put back into your routine, and when can you return to a normal routine?
Kenza: Generally, at the time of the desire for a child, the period of conception or the beginning of the pregnancy, we change certain habits which will be part of the duration and will remain even after childbirth (we see it from elsewhere at talm with our customers).

Finally, I recommend always thinking about skin comfort and hydration, promoting suppleness and elasticity of the skin by giving it plenty to drink and continuing to massage. Dry brushing is also an extremely beneficial technique that boosts blood and lymphatic circulation. I would say that a transition between a pregnant woman and postpartum cosmetic routine does not necessarily have to be, it can be the same, there is not necessarily a difference in my opinion. In addition, we can integrate massages that will revive the machine at the circulatory and lymphatic level and perhaps also integrate practices such as the infrared sauna for example, which cannot be practiced during pregnancy or breastfeeding, but which can also help to transition after the arrival of a baby.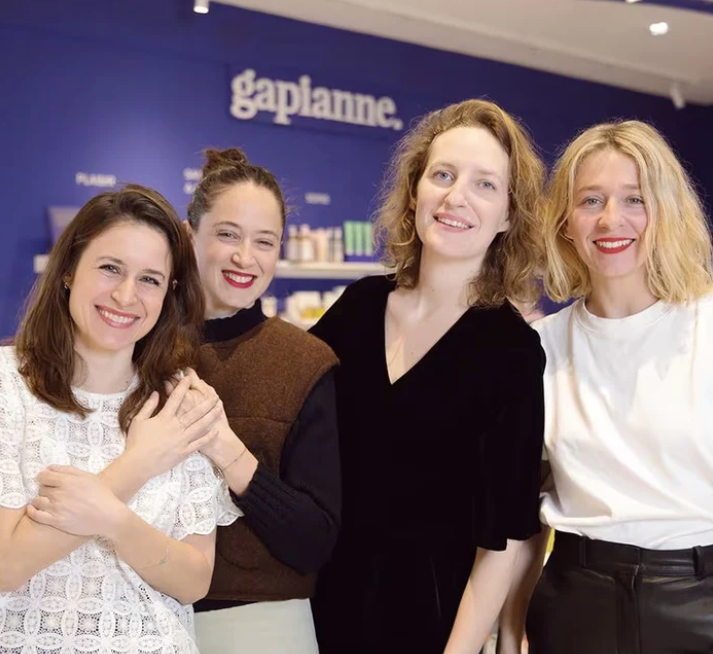 Nice to meet you
Welcome to Gapianne
We are 4 friends: Jen, Victoire, Anne and Marine. Like the 34 million French women, we have encountered various issues related to our intimacy. That's why we created Gapianne, a shop that offers the best organic, Made in France and non-toxic solutions for health, as well as detailed resources to support you. We met ?
Discover Gapianne