10 intimate wellness essentials to take care of yourself
Take the time to have fun
The lubricant! It is making a comeback in our beds, to the delight of our private parts, because no, it is not limited to certain practices. Solo fun? Lub! With an intimate accessory? Lub lub! As a duo or as a group? Lub lub lub! To be used without moderation, we love the creation My Lubie (15€) by Anne Kerveillant. 100% Frenchy, vegan, natural and organic, water-based, its texture is very soft and has been designed to also hydrate you during use, enjoy!
Confined.es for confined.es, maybe it's an opportunity to try a vibrator? At less than 50€ we recommend the very soft silicone Smile Makers , with their names as funny as 80's porn (yes, that's called humor babe), they also each have their own specificity. Come on, let's do the presentations from top to bottom: The Surfer , powerful and compact, it's a perfect clitoral massager for beginners. (24.95€). The Billionaire , a versatile "bullet vibrator" that can be used for internal and external stimulation (€44.95). For targeted stimulation on the G-spot, call on the Tennis Coach (€44.95). An accessory that completely hugs the curves of your vulva and makes your clitoris quiver, it's The Fireman (€44.95). And last but not least, discover all the erogenous zones of your body with the tongue of The Frenchman , of course (€44.95).
_________________________________________________________________________


Want a multi-function pleasure accessory? Then take a look at
Olly, the vibrator from the French brand Fyne (89€)
created by Célia Gosse & Jalil Hajjaj who imagined the brand as a couple.
Flexible at 90 degrees and with 10 vibration modes, it is ideal for exploring the erogenous zones of the body alone or in pairs. Thanks to its vibrations, it can stimulate the clitoris and be used inside the vagina to stimulate the G-spot for example. Thanks to its flexible handle, it can even be used by two people!
If the vibrations seem a little strong to you at the beginning, do not hesitate to use the technique of "layering" by using it above a garment or the hand.
_________________________________________________________________________
Discover new masturbation techniques with the CLIMAX series. Created by Laurène Dorléac, this series of educational videos explains the different masturbation techniques for people with vulvas.
Based on several scientific studies and a survey of 107 women to understand the different techniques, we guarantee that you will necessarily learn something new with these masturbation techniques.
________________________________________________________________

The little guide to female masturbation by Julia Pietri (€16.90). Its name may not mean anything to you, but you may remember the giant Clitoris erected on the Trocadéro esplanade on March 8, facing the Eiffel Tower. This action that made the rounds of the media was signed Julia Pietri, and it is perhaps also thanks to her that you know what a clitoris looks like, thanks to her Insta account and now publishing house Gang du Clito.
In short, this awesome girl has also written a great book on female masturbation, simple, clear and without taboos, it should be put in everyone's hands, even (and especially) in those of the teenagers you know. On good terms. ________________________________________________________________________
To take care of your vulva after love and every day (jeans too tight and so on) it's Le Baume de Baûbo , a real revolution for our private parts. Formulated especially for mucous membranes, this balm is natural and organic with an oily and melting texture, is very easy to apply and provides instant relief. unisex, yes yes you read that right, people with penises can use it too! (It can be used on the glans, testicles and also to massage the perineum).
________________________________________________________________________
Ahhh after the premenstrual pains come the rules and their batches of pain which are also almost inevitable. It is to help all people who suffer during their periods that Mijane has created these pain-relieving organic herbal teas with a combination of 6 plants in the elixir of relaxation (€14.50).
If you have an abundant flow, we recommend the elixir of the moon (14.50€) and to better manage moods and your digestion it is the elixir of malice (14.50€) which works wonders.
________________________________________________________________________
There is no age to take care of your perineum! Quite simply because it is a muscle that holds your organs starting with the bladder and helps to experience more pleasure when you have sex. Perineal beads allow you to gently build muscle by doing
Kegel exercises:
wearing them for just a few minutes a week makes a real difference. At Gapianne we have prepared
a selection of perineal beads
for you. Did you like this article? Would you like to find more information? Tell us by DM on Instagram or by email hello[at] gapianne.com. Sources: Premenstrual pain, knowledge is progressing, Figaro Santé 2016, based on a study published in Journal of Women Health: The Association of Inflammation with Premenstrual Symptoms.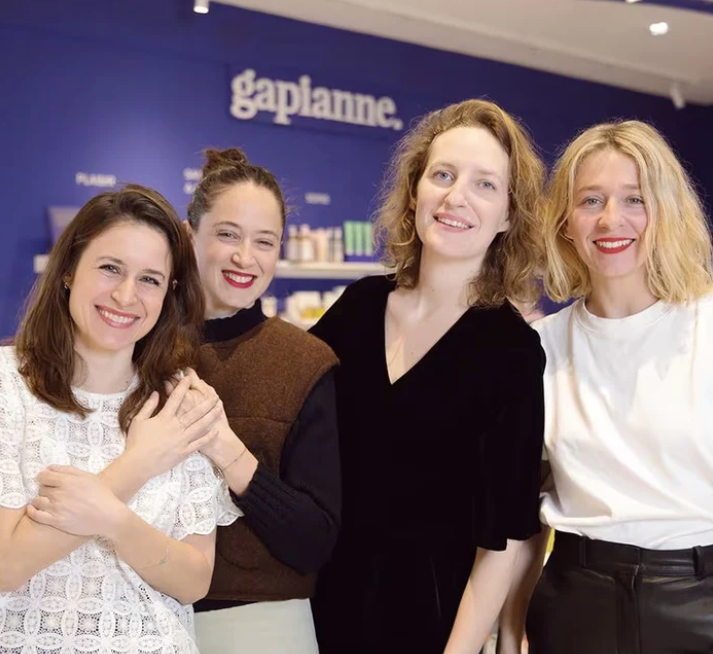 Nice to meet you
Welcome to Gapianne
We are 4 friends: Jen, Victoire, Anne and Marine. Like the 34 million French women, we have encountered various issues related to our intimacy. That's why we created Gapianne, a shop that offers the best organic, Made in France and non-toxic solutions for health, as well as detailed resources to support you. We met ?
Discover Gapianne