TOP 10 Valentine's Day gifts: Original ideas 2023
YOU ALSO EVERY YEAR ARE YOU LOOKING FOR THE BEST GIFT IDEA TO PLEASE HIM ON FEBRUARY 14? DON'T WORRY, IN 2023 GAPIANNE IS GIVING YOU A HELP TO MAKE A DIFFERENCE IN HIS EYES ! THANKS TO OUR VALENTINE'S DAY SELECTION AND OUR SENSUALITY & INTIMACY ACCESSORIES, YOU WILL SCORE POINTS WITH THE ONE OF YOUR HEART. LET'S GO FOR THE TOP 10 GIFTS TO OFFER THAT WILL INCREASE YOUR PARTNER ON VALENTINE'S DAY!
GIFT IDEA N°1 - OH YES BOX: FOR AN ORGASMIC VALENTINE'S DAY 🔞
Find in this box 3 of our flagship products:
Coco sex toy by Puissante
Goliate hot/cold orgasmic gel
My Lubie's natural intimate lubricant
The famous Coco de Puissant has several qualities that will make your partner scream with joy (and pleasure): 10 internal vibration modes as well as a suction mode to stimulate the clitoris at the same time. The Coco stimulator from Puissant bends to give 2 times more sensations and is likely to offer an orgasm in a few minutes to your partner. By the way, it's a great idea for a gift to yourself for solo moments of happiness .
GOLIATE Organic Orgasmic Gel is a gel designed for the well-being of the clitoris and the happiness of the body . His missions ? Take care of the clitoris with ingredients of natural origin and stimulate it by providing a hot-cold effect for even more satisfaction.

Finally, the My lubie water-based lubricant is a best-seller: natural, odorless and hydrating , it accompanies your foreplay and hot nights thanks to a better feeling of sliding. Masturbation, oral sex or penetration, it ticks many boxes!
This box is our top 1 Valentine's Day gift ideas to make in 2023 to a woman, a person with a vulva, a coupl
A box designed to make you blush with pleasure. 3 star products: the Coco vibrator from Puissante, the orgasmic gel from Goliate and the natural and vegan lubricant from My Lubie.
Choose your color of Coco: team BLUE? team ROSE?
Sale price

$167.00
Regular price
(/)
IDEAL GIFT N°2 - WELL-BEING BOX: FOR A RELAXING VALENTINE'S DAY 😌
We have gathered 4 products in this original Well-being gift:
a 100% cocoa bar from Cosmic Dealer
relaxing CBD bath salts from the Equilibre brand
natural and organic massage oil from My Lubie
Nideco comforting anti-stress balm
The Cosmic Dealer brand offers you artisanal cocoa that contains no added sugar or sweeteners . Composed of pure cocoa, rich in nutrients, micro-dosed with plants and some spices, this chocolate bar is surprising as much by its taste as its composition. Let yourself be tempted by its nutritional benefits and experiment together.
To this gift is added eucalyptus and CBD bath salts reserved for a pure moment of relaxation . Your partner will simply have to fill their bathtub with hot water, add a few tablespoons of bath salts and relax their muscles and their mind for long, well-deserved minutes. Ps: add a few candles, slip into the bath with your significant other and enjoy a sweet and romantic Valentine's Day .
What could be better than a massage to reconnect with the body of the other? My Lubie body massage oil contains a blend of Jojoba, Safflower, Moringa oils that penetrate the skin without leaving a greasy feeling and will make your skin and that of your partner soft and radiant .
To finish this gift idea: concentrated in essential oils, the comforting anti-stress balm from Nidéco calms moments of stress and soothes the body and morale . This balm promotes falling asleep and will take care of your partner's well-being.
With a Valentine's Day gift, let's go for a well-deserved winter cocooning session ❄️
Give sweet moments with this set of 4 well-being essentials: a chocolate bar (but not just any bar!), CBD bath salts, massage oil and anti-stress balm.
Sale price

$96.00
Regular price
(/)
PERFECT GIFT N°3 - SEX & FUN BOX: FOR AN ACCOMPLISHED VALENTINE'S DAY 2023 😍
Our Sex & Fun Gift Box is composed of:
a My Lubie natural lubricant
Powerful Toupie clitoral stimulator
of the game Let's talk about Merci Beaucul
Composed of water, the My Lubie lubricant will accompany your spinning top vibrator to perfection, traversing the curves of your intimacy or that of your partner. Add to that a moment of complicity thanks to the cards from the Let's Talk game by Merci Beaucul. Let's discuss will immerse you together in the heart of a benevolent exchange through questions that address different aspects of sexuality. Created by the famous Instagram account Merci Beaucul, Let's talk allows you to approach deep conversions on the desires of your partner , the knowledge of one and the other, your common or divergent desires.
Give him this unusual gift for a naughty, intimate and playful Valentine's Day 💬
Offer a funny and playful gift with this box that helps us to know a little more about our intimacy with 2 (or more), all that without taboos.
Composition: a very soft clitoral stimulator, a Let's Talk game and a natural water-based lubricant.
Sale price

$107.00
Regular price
(/)
GIFT IDEA FOR VALENTINE'S DAY N°4 - HEALTHY GLOW SERUM ☀️
Composed of carotenoid-rich sea buckthorn seed and pulp oil, this vitamin serum deeply hydrates the skin and gives it a tanned appearance, putting aside the dull winter complexion. And yes, in winter we all lack the sun! And our face needs light and vitamins to face the cold and fatigue. This gift idea will revitalize your partner's skin to restore its radiance and protect it from winter greyness.
This serum, very rich in natural active ingredients, illuminates and revitalizes your skin to restore its radiance for an immediate healthy glow effect!
Sale price

$37.00
Regular price
(/)
VALENTINE'S DAY GIFT N°5 - I AM EVERY WOMAN BOOK: A FEMINIST IDEA ✊
The book I am every woman is a powerful and inspiring comic by Liv Strömquist. About all the "wives of" always associated with their husbands (behind every great man is a woman, isn't there?), I am every woman contains thought-provoking stories on a variety of feminist issues. Liv Strömquist's work has helped challenge traditional notions of gender roles and stereotypes in society. Choosing this book as a Valentine's Day gift is a committed gift , much better than a bouquet of flowers!
Discover the story of women "of" who had to endure the behavior of their husband or lover.
Liv Stromquist is a Swedish comic book writer, television journalist and radio host. In these comics, the author wonders about the condition of women in our society. The Sentiments of Prince Charles and The Origin of the World have also been adapted for the theatre.
Sale price

$24.00
Regular price
(/)
BEST GIFT IDEA N°6 - SILA STIMULATOR: TO SPICE UP YOUR NIGHTS 🌶
Offering this pulsed air clitoral stimulator will allow your partner to gently discover new ways to reach orgasm. Equipped with 8 different intensity modes, the LELO SILA will stimulate your partner's clitoris with sonic waves while gently surrounding her vulva to provide progressive ecstasy until orgasm .
With a wide mouth and vibrating waves, this vibrator deeply stimulates the clitoris and the surrounding erogenous zones for delicate and intense pleasure. The SILA clitoris stimulator offers 8 levels of sonic wave intensity for progressive pleasure and new orgasmic sensations.
Sale price

$182.00
Regular price
(/)
LOVERS' PARTY GIFT N°7 - APHRODISIAC BOX: IT HEATS GENTLELY 🔥
Here we find the My Lubie massage care oil but this time accompanied by an aphrodisiac Desire infusion. This infusion was also designed by the French brand My Lubie in collaboration with a phytotherapist. This package made in France promises you a moment filled with tenderness and sensuality .
Give your partner this box that will make him (you!) melt.

Find 1 massage care oil and 1 aphrodisiac infusion made in France.
Sale price

$53.00
Regular price
(/)
GIFT SELECTION IDEA 2023 N°8 - HEALTHY GLOW & ENERGY TRIO GIFT ⚡️
To complete our Top 10 Valentine's Day gifts, here is the Healthy Glow & Energy box consisting of:
a soothing anti-pain serum from Miyé
Ayurvedic organic tea
a good-looking serum
Miyé's soothing and decongestant serum will offer your significant other relief during their menstrual cycles (pains, cramps, discomfort). It's the thoughtful gesture that gives pleasure and shows the consideration you have for your partner. A few drops in the palm of the hand to massage the sensitive areas and provide him with an attentive massage will be enough to feel a little better. At the same time, opt for Cosmic Dealer's organic tea made of 100% natural Ayurvedic green tea made in France as well as Healthy Glow Serum for a pure moment of relaxation .
Give your loved ones a 100% natural and 100% made in France intimate well-being box to radiate indoors and outdoors.
Sale price

$81.00
Regular price
(/)
ORIGINAL IDEA N°9 - MY 1ST IS DESIRE, MY 2ND IS PLEASURE 🎶
In this Desire & Pleasure box, you will find:
the Jouissance Club comic strip by Jüne Plã
Baubo vulva balm
Cosmic Dealer organic green tea
Jüne Plã's Jouissance Club comic strip tackles the notion of pleasure and fulfillment in an original and playful way. Inspired by the Instagram account with 990,000 subscribers, this book gives drawn advice for a more in-depth and educational exploration of sexuality. Thanks to Jouissance Club, surprise your partner with new gestures, ambitious surprises and put your finger (literally) on many hidden pleasures.
Taking care of your vulva or that of your partner is important! Thanks to Baûbo and its magic balm , say goodbye to damaged skin , the discomfort of friction and the feeling of intimate discomfort. 100% of the ingredients come from Organic Farming and Baûbo products are made in France. It's flawless, tested and approved by many customers !
Finally, to perfect this Valentine's Day gift, add the cosmic dealer green tea. Cosmic Dealer Organic Green Tea is a great way to get the right daily dose of antioxidants and health benefits. Drinking this organic green tea will help boost your partner's metabolism, reduce stress, and improve digestion .
Offer an original gift with this box dedicated to female pleasure.
Find the bible of pleasure with Jouissance Club, an aphrodisiac herbal tea and a vulva balm (15 mL) to use after intercourse.
Sale price

$51.00
Regular price
(/)
IDEA TO OFFER ON FEBRUARY 14 N°10 - DISCULTS: THE INTIMATE GAME THAT (RE)ACTIVATES CONVERSATION 🍑
As explained in idea number 3 of this top 10 of the best Valentine's Day gift ideas, the Let's Talk game was created by the Instagram account Merci Beaucul (190,000 subscribers) in collaboration with Gender Games. Let's discuss is a card game on which questions are written that invite you to open intimate dialogue in complete confidence. Aimed at couples who last or on first dates, gay and straight people or even cisgender, trans & non-binary people, this inclusive game brings everyone together .
Let's talk about the game that (re)starts the conversation about sexuality without taboos and with kindness. Enjoy intimate moments, (re)get to know each other, ask the right questions and deepen your mutual trust.
Sale price

$27.00
Regular price
(/)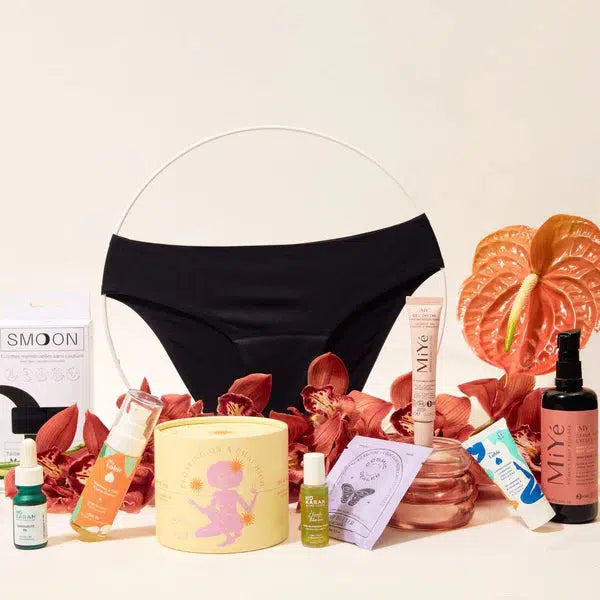 PERSONALIZE YOUR VALENTINE'S DAY GIFT
Here is our Top 10 romantic, committed, thoughtful gift ideas for Valentine's Day. You can also personalize your gift by choosing the products that interest you on Gapianne.
Valentine's Day collection
The Valentine's Day selection