Vivatech - Did you say VULVA TECH?
WHAT IF INNOVATION WAS FINALLY AT THE SERVICE OF WOMEN'S HEALTH
At Gapianne, we centralize in one and the same place a whole selection of intimate care and accessories designed to accompany women on a daily basis. We will be at Vivatechnology on June 15, 2023! A great first thanks to the Femtech France collective , which will make it possible to represent innovative projects for the health and well-being of women. Follow our adventures with the #VULVATECH.
DID YOU SAY VULVA TECH?
There are several technological advances and innovations that have positively impacted the health, well-being, and independence of women and people with vulvae.
New options for feminine hygiene products have been developed (more sustainable alternatives that give women more choice in menstrual protection and reduce the impact on the environment),
Products specifically designed for the care of the vulva, such as gentle intimate cleansers that respect the vaginal pH and moisturizing creams to prevent irritation or infections.
Technology has made it easier to access information about the vulva, vaginal health, and issues related to female sexuality. Online platforms, mobile apps and discussion forums allow us to find answers to our questions and connect with others who share the same concerns.
When it comes to sexual health, intimate accessories and connected devices have evolved to include vulva-specific options, such as clitoral stimulators and pelvic floor strengthening devices. These technologies can help women explore their sexuality, and maintain their reproductive health and intimate well-being.
FEMTECH AT THE APPOINTMENT AT VIVATECH!
"Femtech" refers to these digital technologies and services focused on the health and well-being of women and people with vulva in general. These have long been excluded from clinical trials, medicine and healthcare practices, creating an imbalance in the solutions provided to half the population.


Femtech Awareness

 

highlights the specific problems faced by women and encourages

the development of suitable solutions.


For the first time, a FemTech village will be set up this year at the heart of VivaTech . And Gapianne, the first concept entirely dedicated to female well-being will be present.
"There is an urgent need to support women in their intimate issues, from the first period to menopause, by offering benevolent educational advice and by selecting innovative and alternative solutions to take care of their bodies, their cycles. " Victoire Bastide, co-founder of Gapianne.
NEW ADAPTED SOLUTIONS FOR WOMEN'S INTIMATE PROBLEMS
Identifying the best innovations to deal with intimate matters means allowing women to flourish on a daily basis in their bodies, their cycles and to take power over their intimacy instead of being subjected to it. It is essential for us to raise awareness about Femtech for several reasons.
1. Improved reproductive health
Femtech offers devices for birth control management, menstrual cycle tracking, fertility, pregnancy and menopause. These tools allow women to better understand their bodies, make informed decisions about their reproductive health and benefit from more personalized follow-up.

For example, to improve pain related to the menstrual cycle, we have found an ANTI-PERIOD PAIN AND ENDOMETRIOSIS DEVICE - BLUETENS. The Bluetens device, which is a medical device that naturally and instantly relieves pain related to menstrual cycles and the symptoms of endometriosis thanks to electrostimulation. The box is connected to 4 electrodes that you can control from an application on your phone to adapt the program to your pain. This replaces all unnatural treatments and calms the pain of endometriosis.
The Bluetens electrostimulation device for menstrual pain and endometriosis (and not only!)
2. Provide access to more comprehensive health and wellness care
Raising awareness about Femtech also helps reduce disparities in health and well-being by giving women easier access to accurate information and services tailored to their needs.

For Gapianne, an essential subject that is too taboo for women's intimate well-being is sexual fulfillment . For the freedom to freely dispose of one's body, we have a duty to promote and guarantee access to sexual and reproductive health and rights. Sexual well-being is one of them. According to the WHO :
"Sexual health is fundamental to the overall health and well-being of individuals, couples and families, as well as to the social and economic development of communities and countries. Sexual health, when viewed positively , is understood as a positive and respectful approach to sexuality and sexual relationships, as well as the possibility of having pleasant and safe sexual experiences, free from coercion, discrimination and violence.

In order to inform and end taboos, more and more projects aim to provide advice on sexuality, orgasm, contraception and other topics related to sexual health.

Technologies have been developed especially for the pleasure and anatomy of people with vulva. For example, discover COCO, THE DOUBLE STIMULATION - POWERFUL VIBRATOR , which thanks to pulsed air technology will deeply stimulate the clitoral roots and will give women both external and internal pleasure. A revolution worth seeing.


Coco, the revolutionary sex toy from Puissante

3. Promote autonomy and self-management
Femtech also empowers women to take charge of their own health by giving them tools to monitor their well-being, track their symptoms, and make informed decisions about their health. This promotes autonomy and self-management, allowing women to be actors of their own well-being.

In this area, Gapianne has selected for mothers who want and can breastfeed, THE PORTABLE AND DISCREET BREAST PUMP - PERIFIT PUMP , wireless, electric and which slips into their bra, allowing them to finally have their hands free and follow breastfeeding closely thanks to its mobile application.

Perifit pump, the portable and connected breast pump

4. Boost innovation and research in this area
It's time to close the gaps in women's health, promote gender equality in health, and improve the lives of women by providing them with tools and resources tailored to their specific needs.

An example of a tech nugget that considerably improves another equally taboo problem, that of urinary leakage, which will affect 1 in 5 women in her life: THE CONNECTED PERINEAL REHABILITATION PROBE - PERIFIT. The latter allows you to strengthen your perineum after childbirth, an operation and throughout life, at home, and to follow your progress thanks to a dedicated application.
Perifit, the connected perineal rehabilitation probe
It is important to note that every woman is unique and health and wellness choices should be made individually taking into account personal factors and appropriate medical advice.

Find all our alternative solutions on gapianne.com .
If you want to know more about other Femtech projects in France, discover a first mapping by domains and types of products / services of French startups claiming to be Femtech.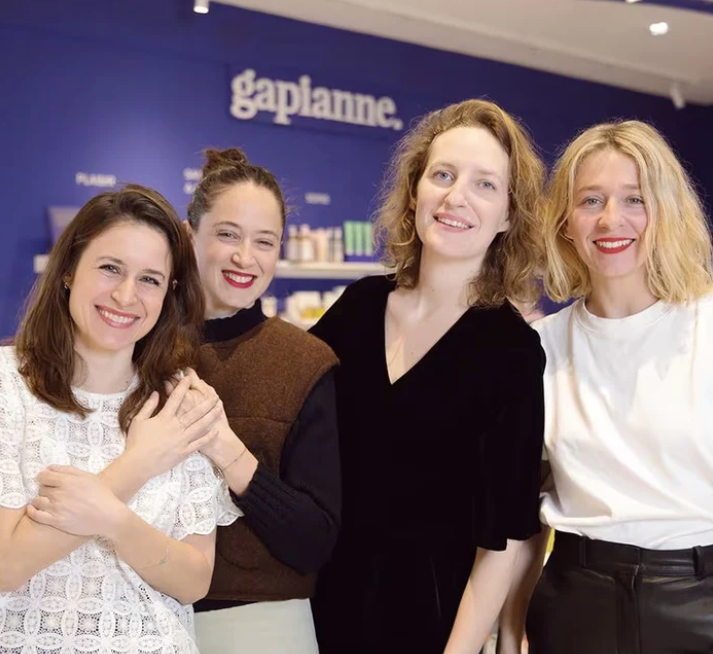 Nice to meet you
Welcome to Gapianne
We are 4 friends: Jen, Victoire, Anne and Marine. Like the 34 million French women, we have encountered various issues related to our intimacy. That's why we created Gapianne, a shop that offers the best organic, Made in France and non-toxic solutions for health, as well as detailed resources to support you. We met ?
Discover Gapianne