All about our hair
Body hair is one of the main concerns of French people in summer. Some are even scared to death that they stick their noses out of their jerseys. Good news for them, the hairs are out this year.
See this post on Instagram
French model Mara Lafonta
We say "bye" to the eyes of others. Don't be ashamed of your body hair; whether or not they are shaved/depilated. They are all beautiful, whether they are blonde, brown, red, long, short, curly, thick, etc. If we like them, we keep them! Like hair, it is up to everyone to do what they want with their hair.
In any case, it is normal to have hair, and especially everyone has it. In this article, to ease your complexion, we answer the questions that come up most often about hair.
1- What are the bristles for?
Contrary to what one might think, the hairs are not there for aesthetics. Like all parts of our body, they have a purpose. Centuries ago, we had no clothes, our only weapon against the cold was our hair which kept the heat of our body. Today, they still do, except they are less dense, because we now have sweaters to keep us warm. The second role of hair is to protect our skin, our eyes and our intimate area from any potential infections or foreign bodies.
Pubic hair, in addition to these two functions, has other roles:
They retain odors and hormones produced by our intimate area, which plays a role in sexual attraction.

They limit vaginal dryness.
2- Are the hairs thicker when you shave them?
Everyone has hair, even when we are born in the form of down. It is after puberty that they become thicker and darker thanks to the secretion of androgens. Like hair, there are blond, red, curly, long, thick, etc. It is not the way we shave our hair that will determine its color and thickness. Indeed, the hair does not become thicker when it is shaved, or does not grow faster. All of these causes are simply due to our genes. You should know that the hairs can grow by a maximum of 0.4 mm per day. Growth rate and density decrease with age. How often you shave will only depend on whether or not you have naturally fine, fair hair. However, it is true that hair grows faster in summer.
3- Why does it itch during regrowth?
Often, the reason why it itches is that your skin, but also your hair, is too dry. This dehydration will contribute to the appearance of irritation, redness and dandruff. It is caused or amplified by the cutting edge of the razor. The latter cuts the hair, while creating a small superficial exfoliation of the epidermis. This inflammation of the epidermis causes itching.
To avoid these irritations, we advise you to apply a shaving cream or foam. This will help your razor blades glide better over your skin. Make sure your razor blades are sharp. Hydrate your body so that your skin is more supple. Finally, you should know that shaving against the direction of the hair strongly contributes to this itching.
4- How to avoid ingrown hairs?
Irritations can also arise from other more problematic situations such as ingrown hairs. During regrowth, the hair comes out of the skin through an orifice which is the follicular canal. The latter can close, following waxing or epilating, preventing the hair from crossing the skin. As a result, it gets stuck under the skin, causing a red ball or pimple to appear where the hair was supposed to come out. In order to reduce the risk of having it, we advise you to hydrate yourself with a cream or to use the SOS ingrown hair serum from UNY . If the inflammation worsens, we advise you to make an appointment with a dermatologist.
SOS ingrown hair serum - 28 €
This natural and vegan serum is revolutionary! It releases the hairs by providing softness and refining the skin. It disinfects and moisturizes irritations as well as small pimples.
Universal cream - 24 €
This aftershave care is natural and universal. It meets all the needs of your hair. This universal cream moisturizes, soothes irritation, fights ingrown hairs and slows down regrowth.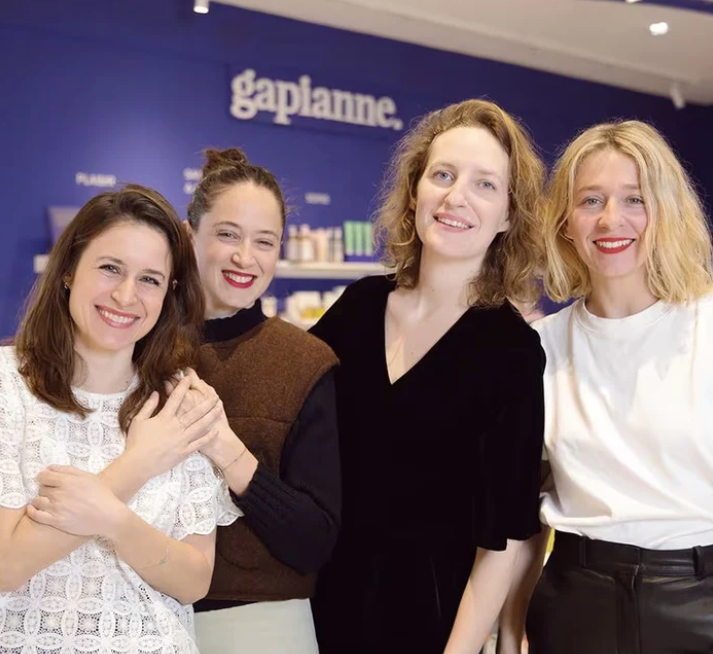 Nice to meet you
Welcome to Gapianne
We are 4 friends: Jen, Victoire, Anne and Marine. Like the 34 million French women, we have encountered various issues related to our intimacy. That's why we created Gapianne, a shop that offers the best organic, Made in France and non-toxic solutions for health, as well as detailed resources to support you. We met ?
Discover Gapianne