Perifit pump: Review on the portable electric breast pump
For some people, breastfeeding can be a real challenge, especially when you need to go away, go back to work or when your baby has difficulty suckling directly from the breast. This is where the Perifit breast pump comes in to offer you a wireless and practical breastfeeding solution , far from the classic pumps bought at the pharmacy, full of wires, noisy and not at all discreet. Come on, we give you our opinion on this portable electric breast pump, tested and approved!
What is the Perifit Pump breast pump?
The Perifit Pump is a portable, autonomous and electric breast pump that you can slip into your bra or brassiere to extract your breast milk while having your hands free. Already, it looks good, right?
How does this electric and portable breast pump work?
It uses advanced technology (2 years of Research and Development were needed to design it) and ergonomics to simulate your baby's natural suction . It is designed to mimic the movements of an infant's mouth and tongue, stimulating your milk production effectively and comfortably.
You can adjust the suction intensity while enjoying different massage modes to stimulate lactation and get the most out of your milk.
The Perifit Pump works on rechargeable battery, no need to bother with an electrical outlet. It is also equipped with a phone app that allows you to easily control breastfeeding settings and measure your production. It is designed to be silent and discreet , super practical for expressing milk at work or in transport.
The advantages of the Perifit Pump
Express your milk wherever you want
Thanks to this breast pump, you are no longer limited to one place to breastfeed your baby. Whether you're at work, on the go, or just need some time for yourself, slipping the lightweight device into your bra lets you get your milk out whenever you want.
Stimulate milk production
This technological solution is specially designed to stimulate the production of breast milk . First, it adapts to all nipples thanks to their soft silicone breast shield. Then, thanks to its adjustable massage modes , it imitates the movements of the baby's mouth to promote lactation. By using this breast pump regularly, you can increase your milk output and ensure a sufficient supply as needed.
A discreet and stress-free experience
Have you ever heard of a classic pump? Already we feel a bit like a dairy cow plugged in like that, the noise is also heavy!
Perifit's breast pump is designed to be silent and discreet , allowing you to express your milk in peace, wherever you are. Its near-silent operation saves you from any discomfort or worry when using it in the office or in public.
Easy to wash with only 5 pieces
Made up of 5 dishwasher-safe parts, the Perifit Pump is very easy to clean. No multiple tubes or wires to wash at the end of each use!
Use and maintenance of the Perifit Pump
Using the breast pump is simple and intuitive. You just need to follow these steps:
Be sure to carefully read the user manual that comes with the device
Clean it thoroughly before and after each use to maintain optimal hygiene.
Assemble its different parts by following the instructions provided.
Place it on your breast and adjust it so that it is well positioned and comfortable.
Activate the device and choose the suction mode that suits you best.
Let it do its thing and relax while your milk is pumped out.
Once the printing session is over, disassemble it and clean the different parts in accordance with the recommendations in the manual.
Fast and convenient delivery
Gapianne offers fast and convenient delivery. You won't have to wait long to receive your order, allowing you to start enjoying its benefits as soon as possible.
Guarantee
The pump is guaranteed for 2 years and the accessories (breast shield, bottle, etc.) are guaranteed for 90 days. Returns are free 14 days after delivery.
---
FAQs (Frequently Asked Questions)
What is the difference between a manual breast pump and the Perifit brand?
The Périfit breast pump differs from manual breast pumps by its advanced technology which imitates the baby's natural suction. It offers a more pleasant experience and optimal stimulation of milk production. In addition, the Perifit breast pump offers greater freedom because it is cordless and lightweight.
How long does it take to express milk with this breast pump?
The time it takes to express milk with this device varies from person to person. However, thanks to its efficient technology, most mums find that they can express their milk in a relatively short time, usually between 15 and 30 minutes (sometimes 10 min according to reviews).
Is its use painful?
No, its advanced ergonomics and adjustment options allow you to adjust the suction intensity according to your personal comfort.
Is it easy to clean?
Yes, it is even very easy to clean because it is composed of only 5 parts. Breast pump parts are removable and can be cleaned in warm soapy water or even in the dishwasher.
Can I use the Perifit Pump if I'm on the go?
Absolutely ! The Perifit breast pump is designed to be portable and practical. You can take it with you on the go, whether at work, on a trip or just on outings. It gives you the freedom to express your milk wherever you are, allowing you to feed your baby in peace.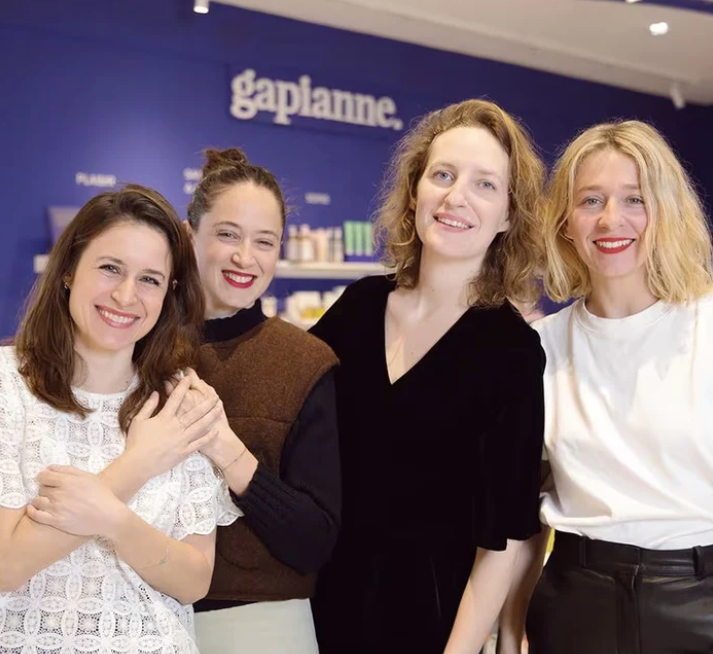 Nice to meet you
Welcome to Gapianne
We are 4 friends: Jen, Victoire, Anne and Marine. Like the 34 million French women, we have encountered various issues related to our intimacy. That's why we created Gapianne, a shop that offers the best organic, Made in France and non-toxic solutions for health, as well as detailed resources to support you. We met ?
Discover Gapianne