Low libido in women: boost their sexual desire
We have all experienced the crossing of the desert during which sexual desire is at zero . We can sometimes be completely OK with this, but some women say they are unhappy with this drop in desire. Still a taboo subject, the loss of libido in women is often not discussed by women with their health practitioners.
Stress, subway, sleep, or the release of our favorite series back on Netflix... many factors impact our sexual desire.
Rest assured, many cultures have struggled to cultivate desire and maintain their libido. Some even kill animals looking for dried tiger penises, shark fins or rhinoceros horns for their so-called stimulating properties...
But is it necessary at all costs to maintain your libido? Why and how to boost the desire and desire for sexual experience? Let's go back together to its definition.
Definition: What is libido?
Libido refers to the interest or desire for sex . Good. At Gapianne we like, as you know, to have a holistic approach to things, and therefore to think that to have a healthy libido (i.e. adapted to your needs and not those that society imposes on you), you must take into account a multitude of psychological, cultural, physical, relational, hormonal and emotional changes.
Libido is an energy that can be felt on different levels and can fluctuate over time depending on multiple factors. It is also important to understand that libido is an individual experience and can vary from person to person. Some women may have high libido over their lifetime while others may have low or even zero libido.
What are the causes of low libido in women?
First, we reassure ourselves, it is very common and totally normal to go through phases where we have less desire for sex. The libido fluctuates according to the moments of life, age, moods. Having a loss of libido and therefore having less desire to make love is often linked to:
to stress
tired
problems within the couple, with partners
to a lack of communication
an anxious or sad state: personal problems, pressure at work...
In a relationship with ? the decline in sexual desire can be linked to the passage of time, the lack of novelty or being together often.
Not creating enough space or lack can cause desire to drop. Creating moments for oneself to better find the other often makes it possible to create this lack and revive the desire for the other.
On the other hand, it is also possible that a medical subject affects your libido such as cancer, certain treatments or even a thyroid problem. Finally, hormonal imbalances will also have a real impact on your libido, such as stopping or taking the pill, peri-maternity, menopause or peri-menopause .
This is why if this drop in libido lasts too long, you can consult a doctor, a psychologist or a sex therapist. As a reminder, the very first reason for consultations in sexology is none other than the sexual disorder and in particular the loss of libido which affects between 35 and 52% of women. You can dig into the subject in our article When desire is very small, co-written with the sexologists of the mia.co platform.
Important and reassuring information on which our sexologists insist: a single session is often enough to pinpoint the origin and reboost desire! So no more reason to hesitate.
Should we rekindle this famous "flame"?
And after all, if it was not serious not to want?
As far as the couple and celibacy are concerned, we realize that there are many things that have been socially imposed on us for too long and that it would be good to deconstruct!
The lack of hindsight of our Western societies on love and the couple is overwhelming. We advise you to start reading The Feelings of Prince Charles by Liv Strömquist, which deconstructs the clichés attached to the heterosexual couple, by taking up sociological, historical and psychoanalytical elements in a comic strip that does good. This comic was a small revolution for us:
In addition, we can also quote the Sexperte Maïa Mazaurette in her book Beyond received ideas which makes us laugh with her article "Should we maintain our libido like we run a marathon?" Maïa reminds us that it is also possible to simply accept that a libido is extinguished , that it is ok to think about the planet, music, or pottery... "instead of moaning about ingratitude in front of this half-empty glass, let us observe it half-full: if our libido is exhausted, it is also to finish a work of art, to plant this plane tree or to have children. inside !"
Conclusion... It's not just sex in life!
How to increase libido in women?
It's true, you can totally take care of your libido, your intimate well-being and your sexual health , that is to say cultivate it as you would do sports, as you maintain a balanced diet or we practice meditation.
To give yourself the means for a dazzling libido, here is what we recommend:
(Re)discover your body and that of your partner
To boost your sexual desire, we advise you first to get The Little Guide to Female Masturbation , a book written by Julia Pietri. Julie is a French journalist and author specializing in issues of sexuality. This book is a practical and informative guide for people who wish to explore their own sexuality and their bodies through the practice of masturbation.
The book begins with an introduction to the history of female masturbation and the importance of breaking taboos around this practice. It also addresses the various myths and prejudices that may exist around female masturbation.
Here you will find the different techniques of female masturbation , exploring methods such as clitoral, vaginal and anal stimulation, as well as the use of sex toys. Practical advice is also given on the functioning of the clitoris , the use of lubricants , breathing and relaxation to increase the pleasure and intensity of orgasm.
Internal anatomy of the sexual organs of people with vulva by mia.co.
Try new positions during sex
Always with the idea of ​​understanding how his body works and how his pleasure and that of others works, you can try new actions to spice up your sexual activities. In this regard, enjoy reading the bible Jouissance Club by Jüne Plã , an illustrated cartography of pleasure. Jouissance Club (inspired by the eponymous Instagram account) is a book written by Jüne Plã, a French feminist author and activist. Published in 2019, this book is an essay that explores the taboos and stigma surrounding female sexuality, and seeks to free women's voices on their own experience of jouissance.
excerpt from the Jouissance Club Instagram account
There are explanatory diagrams on sexual positions , but also on the different erogenous zones of the body and many other subjects related to sexuality and personal fulfillment. It is a nugget to consult urgently to discover new ways of masturbating, new positions, sexual practices, alone, in pairs or even more and to boost your sexual desire thanks to knowledge.
Lack of desire: sex toys and lubricants are your friends
To regain your libido, there are a whole bunch of intimate accessories specifically dedicated to female pleasure. Our Pleasure collection also offers clitoral stimulators , intimate lubricants and oils , aphrodisiacs , games and gifts.
For example, you can masturbate with the SILA, a pulsed air clitoral vibrator or even try Coco the vibrator and its double stimulation: internal and external.
By the way, take advantage of our comparison of clitoris stimulators , and our advice on vibrators if you are a beginner .
Educate yourself with visual resources
To go further in the knowledge of your pleasure, you can also consult Climax, the first educational series dedicated to female pleasure where you will find scientific and educational advice to better understand your body and your sexuality.
Reinvent a sexuality that is unique to you
The notion of performance (we have to make love 3 times a week, otherwise our couple is going badly) is socially invented and creates a kind of anxiety in us about the frequency of our intercourse that has no reason to be.
We must learn to detach ourselves from these received ideas in order to flourish in a rhythm that is ours (while exchanging with our partner if he or she feels frustration).
We loved listening to the episode Should we learn to make love from the podcast Live happily before the end of the world in which Delphine Saltel talks about what is socially codified and helps us to rethink our sexuality, to relearn how to love. On good terms.
Finally, to be fulfilled in one's libido, it is important to invent "one's own sexuality", a rhythm that is one's own. In her liberating book, Laura Berlingo gives us the keys to reinventing a sexuality that suits us , that looks like us, far from the injunctions and clichés we were talking about above. "With the ambition to know our body, to exercise our consent, to state our desire, to seek our pleasure." We had the pleasure of receiving her on the subject in an episode of our plural.les podcast dedicated to sexual well-being to listen to here to dig into the subject.
Some ideas to increase your sexual desire during your next sexual encounters: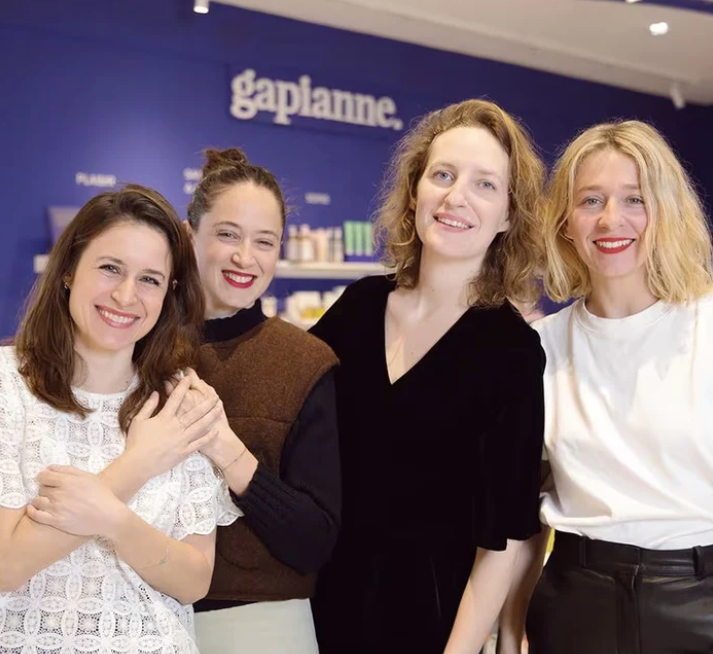 Nice to meet you
Welcome to Gapianne
We are 4 friends: Jen, Victoire, Anne and Marine. Like the 34 million French women, we have encountered various issues related to our intimacy. That's why we created Gapianne, a shop that offers the best organic, Made in France and non-toxic solutions for health, as well as detailed resources to support you. We met ?
Discover Gapianne