Top 10 gifts to give to your partner
"All I want for Christmas is youuuu"
That's it, the Christmas movies have invaded our TV. The netflix & chill season is open. The first Ferris wheels and Christmas chalets have opened their doors. Eh yes ! The festive season begins. But who says Christmas, says going in search of gifts for loved ones and it's not always an easy task!
What if this year it was "All I want for christmas is Gapianne"? In this article, we reveal our top 10 gifts to offer to your partner.
1 – The little guide to female masturbation by Julia Pietri
This feminist guide by our friend Julia Pietri (aka @Gangduclito) is a real hit with everyone. You are sure to please him. Why this book? Quite simply, because it's an ode to pleasure, to the clitoris and to our body quite simply. It breaks taboos around female sexuality (which still remains too little explored for some) through surveys, stats and testimonials. A real story of experiences, in which you will see how it is possible and normal to masturbate without feeling guilty. In short, educational content to have all the keys in hand for a fulfilling sexuality.
Julia Pietri's Little Guide to Masturbation, €16.90
2 – Coconut from Powerful
Like bigoût chewing gum, this vibrator is designed to stimulate the clitoris and the vagina, a solution for everyone, thanks to its two heads. On the one hand, its vibrating rod can be used in the vagina or on the clitoris, and on the other a head with Pulsed Air technology to vibrate the clitoris in depth and without contact (wow effect guaranteed). Its rod bends to be able to enjoy external pleasure, internal pleasure separately or both at the same time. This double stimulation is suitable for all desires for use alone or in pairs. You are sure to do a flawless!
The Powerful Coco vibrator, €119
3 – Libertine oil from HO KARAN
Give him/her a real moment of relaxation! Lubricating, this intimate oil can also be used as a massage oil. With CBD, it helps to relax and release pressure, it can help those who have trouble letting go to reach orgasm. It is also composed of plant extracts that have aphrodisiac properties and its little extra is that it is edible! Perfect for discovering new sensations.
Libertine oil by HO KARAN, 46€
4 - Let's talk about Gender Games
Discovering your partner, while having fun: it's possible! Let's discuss is THE cool card game created by Léa, sex therapist behind the Insta account of conscious and positive sexualities @MerciBeaucul. Discuss a full range of questions with your partner (from desire to pleasure, including consent, anatomy, sex toys, fantasies, etc.), to learn more about you and perhaps address those subjects you don't dared to speak! Communication and exchange, two essential ingredients for a fulfilling sex life, so we play?
5 – SILA by LELO
WOW! Where to start ? It's our real favorite at Gapianne. With a wide mouth and contactless vibrating waves, this must-have sex toy deeply stimulates the clitoris and the surrounding erogenous zones for delicate and intense pleasure. Eight intensities of sonic waves stimulate the clitoris, while her mouth delicately surrounds the vulva to bring progressive satisfaction, just delicious, thank you Christmas elves.
6 – Goliate Orgasmic Gel
Its advantage? This is its hot-cold effect. This gel is called orgasmic because it is thought to stimulate your clitoris with an extract of essential oils. This gel with an entirely natural composition, allows you to discover new sensations and why not accentuate your orgasms. Non-sticky, it can be used for a moment alone, but also for two. Have fun, while having fun!
Goliate Hot-Cold Female Orgasmic Gel, 30€
7 – A cartography of pleasure, club enjoyment by Jüne Plã
This is the BA-BA, for a fulfilling sexuality! With more than 950K subscribers on Instagram, Jüne Plã suggests putting penetration aside to focus on the 1001 ways to give yourself pleasure in a different way, in an uninhibited, jubilant and benevolent way. Find in his book explanatory diagrams, an inventory of movements to be carried out to obtain or obtain pleasure. In the same educational approach, the mapping of the multiple areas that provide pleasure is available in this book. A book to put on every bedside table.
Jouissance Club, A cartography of pleasure by Jüne Plã, €16.90
8 – The Dune vibrating roller by My Lubie
Mmmmh, we love its soft material, and above all fluffy! Dune, when you take this intimate accessory in your hand, you don't want to let go. Its silicone is extremely soft and its shape ergonomic. It's a real "hug" for the vulva that hugs your curves. It is used in external stimulation, on the vulva, the clitoris, the nipples and all your erogenous zones. Gender-neutral, this vibrating roller allows you to gently explore your partner's pleasure.
9 – My lubie massage oil
Give her an intimate moment with this massage oil. Explore your partner's body, indulging in a moment of pleasure with this captivatingly scented massage oil that hydrates and soothes your skin. Reconnect with your senses with your partner, while doing good to their skin. Let yourself be carried away by the touch that is essential in our sexuality. After this intimate moment, your skin will be softer, radiant and plumped up. Yum !
My Lubie massage and body oil, 35€
10 – Gapianne gift card
Does your partner already know everything about Gapianne? Or are you afraid of not finding happiness? As the end-of-year celebrations approach, Gapianne has brought out its gift cards . You will be sure not to miss anything!
BONUS: Love box by Gapianne
Give your partner a getaway for 2, for an evening with our love boxes. "Get laid" and "Sexplorer" are the key words of these boxes. In each of them, you will find an intimate guide, a hot playlist, an episode of Colette confesses and condoms. Then, it all depends on your desires: getting to know each other or spending a moment of sensuality while having fun.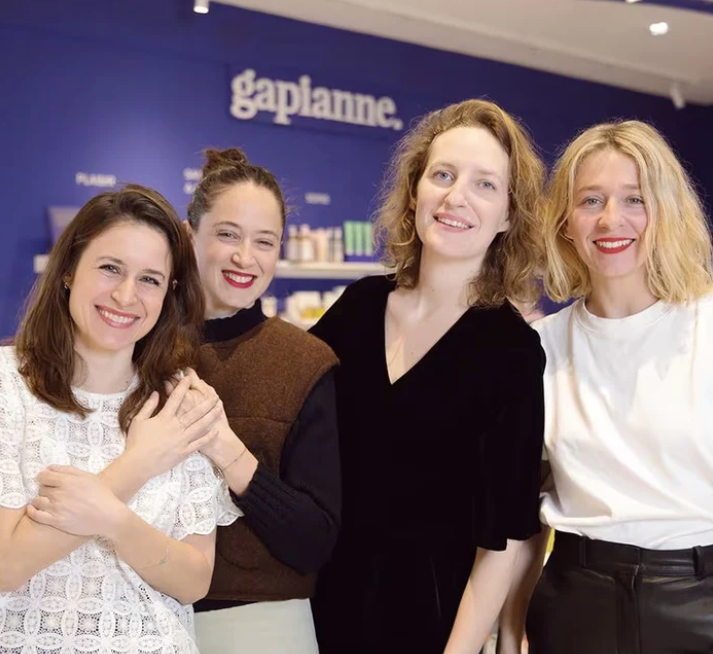 Nice to meet you
Welcome to Gapianne
We are 4 friends: Jen, Victoire, Anne and Marine. Like the 34 million French women, we have encountered various issues related to our intimacy. That's why we created Gapianne, a shop that offers the best organic, Made in France and non-toxic solutions for health, as well as detailed resources to support you. We met ?
Discover Gapianne