Top 10 gifts to give to your sister, cousin, best friend
That's it, Christmas is in a month! The end of the year often rhymes with a frantic pace. We help you find the future happiness of your sister, or your cousin, or your friend for Christmas. In addition to having an original gift, you will surely have the coolest and most feminist.
1 – In the Palace of Mirrors by Liv Strömquist
In this comic strip, they will discover the author's view of this small object that never leaves us: our telephone. He is our best friend but can also become our worst enemy. A point on which Liv Stromquist and Angèle agree: "All that in one object, love, hate and danger". To devour!
IN THE PALACE OF MIRRORS - LIV STROMQUIST €22,00
2 – Womanizer starlet
The Starlet is the essential of the revolutionary clitoral stimulator: the Womanizer. What's so amazing about it? FORCED AIR. This technology allows its rounded head to surround the external part of the clitoris to make it vibrate in depth…waaaaow. The stimulation head does not directly touch the clitoris and creates an airtight / suction cup effect when it emits pulses of air, while vibrating. The excitement rises little by little thanks to the suction effect. Frankly best. gift. ever.
WOMANIZER STARLET 3 - THE COMPACT CLITORAL STIMULATOR €69,00
3 – Balance CBD bath salts
It is ideal for relaxing during these end-of-year celebrations in a very hot bath in front of a Christmas film. In addition to its relaxing effect thanks to CBD, we love its eucalyptus smell. Well, we grant you, you need a bathtub, otherwise your surprise may fall into the water.
EUCALYPTUS & CBD RELAXING BATH SALT - BALANCE €30,00


4 – Oden Vitamin Serum
Our favorite skincare! This natural serum will in a few drops bring light and radiance to the skin of his face. The star ingredient of this serum is the rare sea buckthorn seed and pulp oil which, with its carotenoid content and therefore its beautiful orange color, will give them a tanned complexion. Suitable for all skin types and perfect for putting a bit of sunshine into their routine this winter!
HEALTHY GLOW VITAMIN SERUM - ODEN €34,00
5 – THE Care set AND menstrual panties
The star of periods: menstrual panties. Smoon's is the most comfortable and efficient of all the ones we've tried. It is also for this reason that we have teamed up with them to create "IN MY CYCLE" boxes that follow the different stages of the menstrual cycle. In each of the boxes, they will find Smoon panties, a guide written by Gapianne, two treatments, as well as another surprise. It's a perfect Christmas gift for her sister, cousin or friend.
6 – Small baûbo vulva balm
This little balm hydrates the vulva and soothes all itching, vulvar dryness and daily discomfort. After sport or when you wear jeans that are too tight (yes we've all been there!) It's also a good way for beginners in masturbation to discover the shape of your vulva. Like the face, we hydrate her vulva!
ORGANIC MOISTURIZING VULVA BALM - BAÛBO FROM €15.00
7 – Fessetime by Nidéco
We want soft buttocks! In winter our buttocks are locked under our pants, which can cause some imperfections. This treatment tones the skin and corrects imperfections such as small pimples and other redness. It can also be applied to areas of rough skin, for pimples under the arms or for back acne. Magic
TONIFYING PURITY TREATMENT FOR THE BUTTOCKS - NIDECO €22,00
8 – The French lover
It's a real candy for the clit (and design too)! This vibrator, thanks to its tongue shape, can stimulate all the erogenous zones of your body. The range of accessories from Smile Maker is perfect for beginners, its silicone is very soft and very pleasant, 100% Safe, which does not contain phthalates, waterproof and it washes very easily. Its price is also very affordable for a sex toy.
THE FRENCH LOVER, THE CLITORIDAL VIBRO - SMILE MAKERS €49,95
9 – The happy cycle serum
We take it everywhere with us! This serum relieves pain related to the menstrual cycle. This natural care is decongestant and soothing, it is applied by massaging the areas that hurt us, stomach, back, heavy legs. You slip it into your bag because it acts in a few minutes when you massage the area concerned. And besides, it smells good!
PAIN-FIGHTING SOOTHING BODY SERUM - MIYÉ FROM €25.00
10 – Gapianne gift card
NEW ! Gapianne took out her gift card. Since intimacy is always a taboo subject, your cousin, your sister or your friend may find it difficult to talk to you about it or maybe they will be more comfortable choosing it themselves. In order to respect their privacy in complete discretion, opt for the gift card. You will be sure not to miss anything!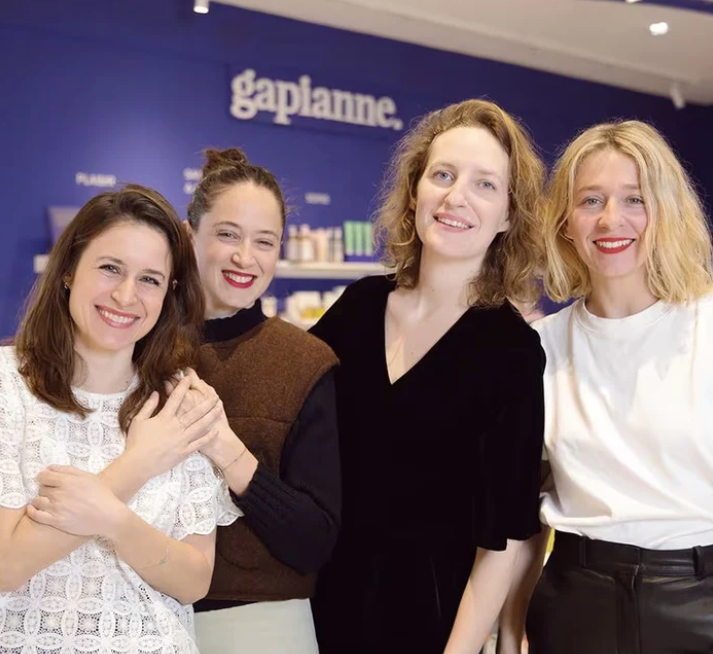 Nice to meet you
Welcome to Gapianne
We are 4 friends: Jen, Victoire, Anne and Marine. Like the 34 million French women, we have encountered various issues related to our intimacy. That's why we created Gapianne, a shop that offers the best organic, Made in France and non-toxic solutions for health, as well as detailed resources to support you. We met ?
Discover Gapianne